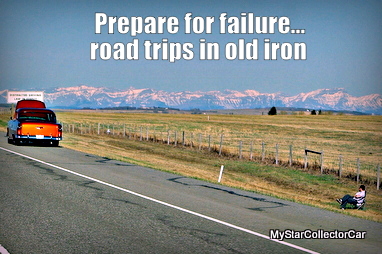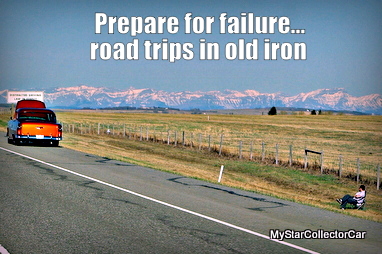 There is daylight at the end of this long, cold and obnoxious winter and we can finally see the spring season on the horizon.
Many car guys are ready to cure their cabin fever with a plan to hit the open road in their rides because winter hibernation for the old car and its happy driver/owner is over for another year.
The next part of the equation is how to survive on the road with as few misadventures as possible this year and we can offer a few suggestions, based upon the practical experience of a few roadside nightmares.
The first thing you need is a good flashing emergency light to display when you end up on the side of the road. We will not say "if" in this instance because you are realistically looking at "when" in the area of old cars stranded on the road.
We recommend those new-fangled LED flashing emergency lights because they are very visible and they last a long time on a battery charge.Think of the concept of a roadside breakdown emergency light time requirement in terms of your longest prediction of down time and double that time frame. You will need a long time on that emergency light battery.
Those of us who have spent a couple of hours broken-down in an old car (on a major city street just past an exit lane at rush hour) know why other drivers need to know you are motionless because they will not figure out the concept on their own.
We speak from grim experience on this one and it was not fun in the traditional Walt Disney sense- it was more like a Stephen King sense.
Another road rule is never trust your gas gauge because many old cars have gas gauges that are more of a guesstimate than a fact-based assessment of your current fuel inventory.
Note that if you think a gas gauge that reads ½ full is a true reflection of your gas tank, then you will have plenty of time to enjoy the walk to the nearest rescue point and ponder that thought along the way.
Always bring as many spare parts as possible when you are on a road trip. Old cars are simple and this fact will be their blessing when you are stranded on the side of the road with a fried belt, generator, alternator, water pump, starter, regulator, points or any other malady that affects old rides long after their best-before date.
The curse is that an old car is more likely to have breakdowns, along with its secondary curse of a trunk with a flat spare and no spare parts.
Most car guys can tackle these problems as long as they have a replacement part. The crucial issue is a trunk full of replacement parts because you do not want to search for parts to fit a rare, outdated car in the middle of the night 60 miles from the nearest town where your strongest hopes to get replacement parts is a local Walmart.
Things will go wrong in an old car in a Hall of Fame Murphy's Law kind of way and this point is a certainty in a death-and-taxes kind of way; so be prepared for roadside adventures in a mechanically-inclined Boy Scouts kind of way.
Jim Sutherland