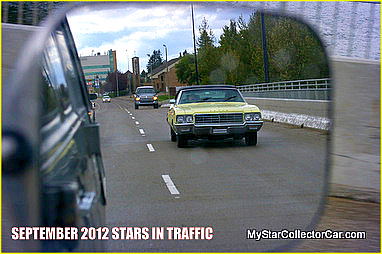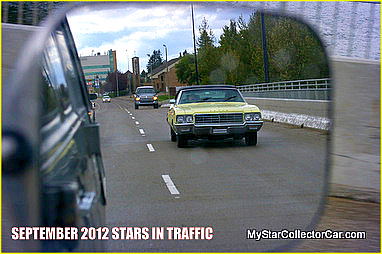 Late summer always denotes a change in the season.
Days get shorter, night time temperatures get colder and leaves start fading from brilliant early summer green to "I'm on my way out" dull green.
Car guys notice the subtle shift too.
There's a bit of complacency in early summer because car guys know that there are several more weeks left in primetime driving season so the old ride doesn't see as much time on the road.
There's a practical side too, because some of these old rides really don't like heat so they'll stop and vapor lock at the worst time.
Later on, the game changes dramatically. The days of driving old iron on the streets are setting like the fading summer sun so car guys put their old classics out in traffic a lot more than they do in June.
Here are some good examples of Stars in Traffic from Summer 2012…
For past mscc Stars in Traffic please follow this link- https://www.mystarcollectorcar.com/3-the-stars/stars-in-traffic/1598-august-2012-stars-in-trafficis-there-anything-cooler-than-an-old-ride-in-new-traffic.html