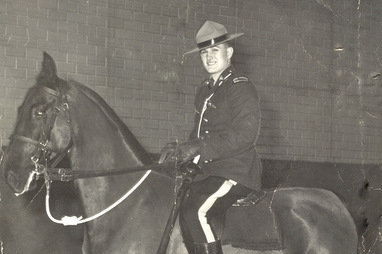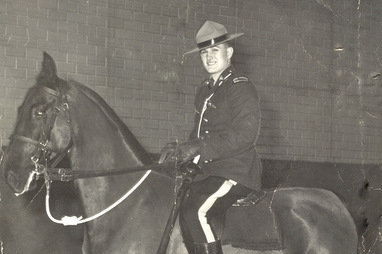 It seems almost inconceivable that 25 years have passed since the death of my brother Stu.
He was always a larger-than-life figure in our family as the eldest sibling in a family of ten kids.
Stu was one of those highly driven people who measured himself against the world in every facet of his life.
His death on March 3rd, 1986 was a highly unnecessary outcome to a series of misadventures that garnered national attention.
He was a Staff Sergeant in the RCMP in 1986 and he was killing time in Ottawa prior to a return to Bogota, Columbia as a part of an international drug investigation team. Now one would assume that Ottawa would be a lot safer than Columbia in the 80s and that assumption would be very accurate.
But Stu had broken his leg on an icy Ottawa sidewalk in January 1986 and things subsequently got very complicated for him. The initial problem was that nobody would stop and assist him as he lay on the sidewalk waving his arms for help.
So he crawled to a nearby house and got help. The lack of compassion spurred him to write a letter to the Ottawa Citizen newspaper outlining his predicament-and Stu was a formidable writer.
The problem got worse for Stu as the cast was not properly set on his broken leg. Stu's steadfast fear of Murphy's Law was again weaving its magic on his life. Eventually Stu had a re-cast placed on his leg, after which he suffered some unexpected pains in his chest that were diagnosed as pleurisy by his physician.
It turned out Stu actually had clot movement from the fracture to his lungs. It also turned out to be fatal. He died in his Ottawa home trying to dial for help.
The result was instant devastation for our family. We couldn't comprehend how such a powerful character could ever succumb to something like a broken leg. Stu had been in many dangerous situations because of his investigative work in the international drug trade.
We weren't immune to the concept that Stu might die due to the hazards of his job, but none of us saw this scenario from a mere broken leg in Ottawa of all places. It left us with a big vacancy at the head of our family.
We had all embraced Stu as a very driven guy who loved his fun as much as his work. He had seen the world and he was one of those guys that absorbed his world like a sponge. He was big on detail and he could weave a picture like nobody that I had ever met in life.
Even if he wasn't my brother I would have been more than happy to listen to his encounters with everybody from Walter Cronkite, former UN Secretary General U Thant and Pierre Trudeau to Jimmy Buffett.
A visit back to Red Deer was always a big holiday for Stu. He loved his home-town and he loved dialing down to a relaxed pace while he was home.
The biggest sign that Stu was home was the giant stack of books and magazines outside of his bedroom. He read everything from War and Peace to Archie comics in an effort to satisfy his reading addiction.
He competed at everything in life from football, hockey, basketball and track to Trivial Pursuit. First place was the only acceptable position for Stu, so it was always fun to beat him at anything just to rile him up.
Now 25 years have already passed since Stu's untimely death. It's funny how I remember watching him play high school football when I was a pre-schooler.
Our Mom was very concerned that Stu might break his leg playing football, and that is the only reason I remember the game at such a young age. I took it literally as a child and assumed that meant his leg would break off completely. Who knew that a broken leg would one day actually kill the guy who was Superman in his family?
It still seems crazy-even after all these years.
Jim Sutherland