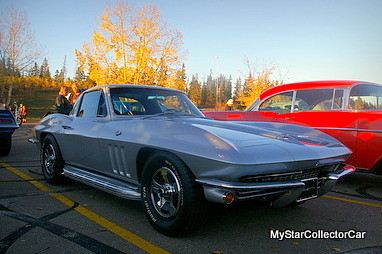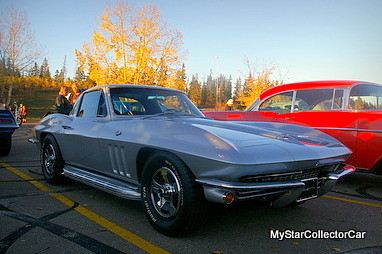 The Chevrolet Corvette is one of the most iconic cars on the planet.
There are differing views-even among Vette guys about what is the "best" era of this legendary car.
One thing is certain-the 1963-66 Sting Ray is always at or near the top of every list. Make no mistake about it; these cars are blue chip investments.
But Laurie Johnson isn't an investor-he's a Vette guy and one of his biggest regrets in life was selling his beloved 1963 Corvette.
This '66 Sting Ray was the answer.
Obviously, to understand the genesis of Laurie's commitment to Corvettes you have to do an inventory of what he's owned- a 1963, 72 and a 1980 version of the Chevy legend.
They were as Laurie said, "great cars in their own way but over time the one he missed the most was the '63".
Maybe it was the passage of time, maybe because it was his first Corvette or maybe it was simply a case of preferring this era but Laurie knew he had to own another Sting Ray.
The search took time because initially Laurie was in the hunt for a big block Vette-that limits your target area and it drives the price up exponentially. Anybody who has been near a classic car auction in the last 20 years will attest to that reality.
Laurie found the perfect car. It was a '66 Sting Ray with the legendary small block 327 300-horse engine. This was a documented 3-owner car with 55,000 original miles. It had been through an 18-year hibernation period and it was totally original except for the paint-as Maxwell Smart used to say, it missed true survivor status "by that much".
Cars that sit for nearly two decades develop some mechanical problems and this Vette was no exception. Laurie is the real deal…a hands-on car guy so the problems were mere bumps in the road, but it did take 2 years to get this Vette back to his exacting standards.
Time was really irrelevant to Laurie because the Vette he left behind stuck in his memory banks over several decades-the "painful memory" decades. Consequently, a few years spent bringing one back was time well spent-as Laurie says, "It was a search for his lost past".
All car guys get the search for the past and most have done it-especially Vette guys who let the first one go...
Jerry Sutherland
CLICK HERE to Like us on Facebook
CLICK HERE to Follow us on Twitter
CLICK HERE to Follow us on Pinterest
*Re-post if you like this MSCC article…thanks.