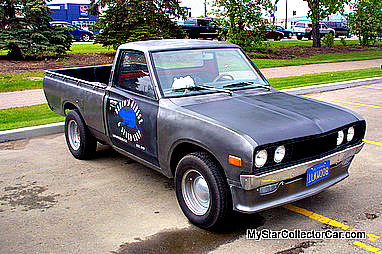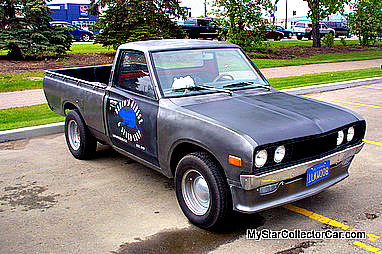 In 1974 Japanese automakers were just starting to make serious inroads into the North American market.
Cars like Toyota Corollas, Honda Civics and Datsun 510s made sense in an era when OPEC held the world oil prices hostage.
Not many truck guys thought Japanese even though Toyota and Datsun offered smaller versions of the venerable pickup.
Radio is too young to remember the early years of Japanese trucks on a personal history level but he did get attached to these rare vehicles in his formative years. He found this '74 Datsun pickup after he'd purchased a yellow one. Initially, this truck was destined to be a donor because of its pristine dash but when he took delivery he realized that this Datsun was far too solid to be a parts source.
This actually makes sense because Radio had several hoops to jump through in order to buy the truck so the ends justified the means. The seller "wasn't the friendliest guy on the planet," according to Radio. He objected to Radio's opening offer and rather than counter offer he simply "considered it an insult".
Radio explained, "all he had to do was wait a second and I would have bumped it". That didn't work out so a few weeks later the same Datsun was for sale and Radio opened with his 2nd price-the guy jumped on it then realized he was dealing with the same guy who'd handed him an insulting offer. He nearly shut down the deal adding credence to Radio's initial assessment of the seller's attitude.
The truck isn't pretty-it has a vise grip door handle and the pint job isn't mint but it runs like then proverbial top. Improvisation is the key-the tail lights are zip-tied to the truck, the gas tank leaks and the fuel gauge left Radio stranded by the side of the road but like most old car guys-he's learned to improvise.
Radio admits "the 3-speed automatic is working pretty hard on the highway" but the truck runs like a road warrior. The black paint is good enough for Radio but he does want to pinstripe it "rat rod style".
Improvisation is a tradition that's been around since the first guy decided to build a hot rod-this Datsun is no exception. Radio had added 14-inch Chevy truck wheels, B210 floor mats and a scavenged Grant steering wheel. He did the brakes, fixed the signal light arm and hit the road with a load of spare parts and a few tools.
Radio was a in a big rush to drive this truck several hundred miles to a Datsun meet on its initial run but he made it just under the wire. He was working with plastic filler on the truck and his buddy was hooking up the gas tank within hours of departure. He ran out of time but hit the road with the details left undone.
The little Datsun is noisy-Radio said "you have to turn the window a full half crank more to cut the sound but I like that it's rough. That's the look I'm going for. People are going for that look".
Radio has added a retro sign to the door of this Datsun truck.
It fits-he's clearly a retro guy.
Jerry Sutherland
For more truck stories please click here-https://www.mystarcollectorcar.com/3-the-stars/star-truckin.html