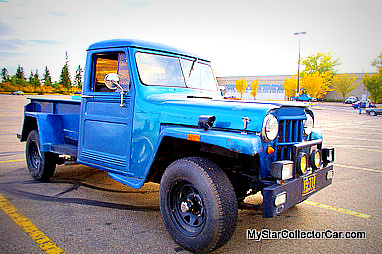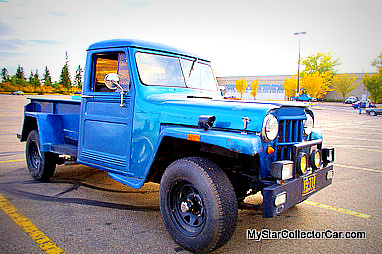 You would have to work pretty hard to ignore a 1955 Jeep pickup truck at a car show.
They are not exactly plentiful-then or now, so we took notice when this Jeep truck showed up at a car show.
It turned out that its young owner was the proud heir of his late uncle's prized truck and Clint Taylor was very willing to keep the truck in the family.

The truck had been a big part of his Uncle Craig's life, so much so that it was included in his funeral procession.
The new young owner had a shaky start to ownership when Clint lost a wheel off the truck only 3 weeks into his inheritance. Clint learned an early lesson about vintage vehicles: expect the unexpected.
The truck has ample power under the hood because it has a 1978 Corvette LT1 to move it down the road. Clint and his mother (Craig's sister) assured us that Craig was not afraid of a good time.
And a 'Vette engine will get a 1955 Jeep to any good time in a big hurry. For Uncle Craig, that included 4×4-ing to meet his basic philosophy that a "truck needs to be driven". That makes sense to us at MSCC.
Clint's uncle was the inspiration for Clint's car fever from his pres-school days when Uncle Craig bought him a push toy car for a present.
We liked the tribute decal to Uncle Craig in the rear window.
Clearly the man spurred a next generation car guy with his nephew Clint and, even though we never met Craig…
'we admire him for his efforts- and his rare Jeep truck that is still in good hands.'
Jim Sutherland
More car and truck stories at-https://www.mystarcollectorcar.com/3-the-stars/star-truckin.html
Copyright 2011.