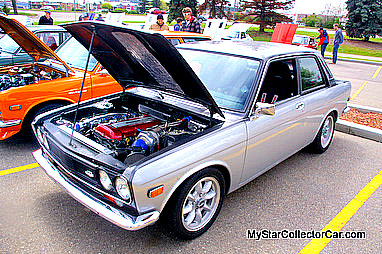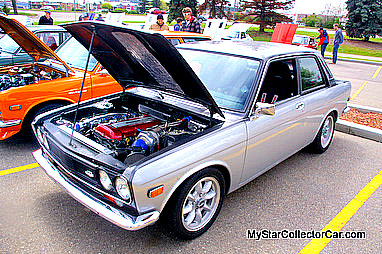 Datsun 510s were built for one reason-affordability.
'They were peppy little cars with a practical boxy exterior that meshed well with a roomy interior.'
They were light plus they had great handling and a decent power to weight ratio.
Datsun 510s developed a fanatical following based on these attributes.
The 510s also gained a reputation on the track because they were indestructible and they were easy and relatively cheap to set up for power and road track performance.
In 1970, nobody ever imagined a civilized "400 horsepower at the rear wheels" Datsun 510.
Elliot Mereski found this Datsun 510 a few years ago and as he says, "it was pretty much like this when I got it". Actually it was like many projects-on the cusp of completion but the owner finally gave up on the job and Elliot jumped at the opportunity.
The car came complete with an S-13 Red Top motor and S-15 6 speed transmission the previous owner faced the pain and expense that comes with purchasing and installing a high performance engine.
Experienced car guys know that this is only a part of the "buy a project in pieces formula" and the Datsun was no exception. The car came without an interior and with more electrical problems than an average sized hydroelectric dam.
Elliot was undaunted by the task-in fact he took on the extra challenge of power windows and a sophisticated car alarm.
He's had some growing pains with the car. He took his dad out for a trial run early in the game and attracted the attention of a local police officer after as he phrased it, "I was goosing it a little bit. After he stopped me he took one look at the car-it had no hood and no interior. He told me to get out of here because he didn't want to see me again".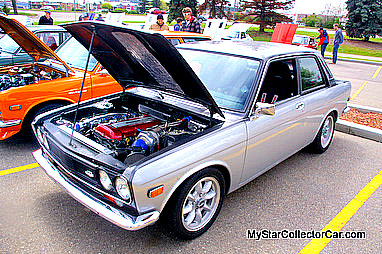 Advice well taken–Elliot took the car home and finished the "little things" that left undone seem to attract attention from authorities. Elliot confessed "my Mom still won't ride it no matter how much is done". Best guess…she calculated the 510's power to weight ratio.
The car is actually very civilized at lower boost and Elliot claims that it will get 30 miles per gallon on the highway at 16 pounds boost and a paltry 345 horsepower.
The Datsun 510 was the right car at the right time in 1970-an affordable little car that reliable and fun to drive. Nobody could imagine that the same rules would apply 40 years later.
'Thanks to the magic of 21st century technology and a young guy named Elliot who had the talent to put the pieces together…this Datsun 510 still defies the odds.'
Jerry Sutherland
For more great car stories please click here-https://www.mystarcollectorcar.com/2-features/stories.html