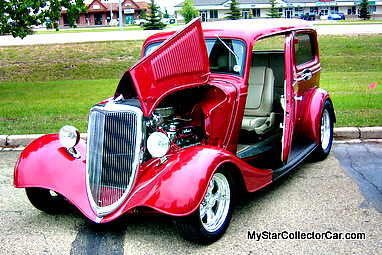 One of the big debates in car world is the "what's under the hood?" debate.

For many car guys, the popular and affordable Chevy 350 will work well under any hood.
But then you have guys like Jim Karasek who would rather get run over by a Kenworth than put a Bowtie in a Blue Oval.
His unbelievable 1934 Ford resto-mod has one common theme in the "mod" part: it is all Ford under the hood of this beauty. In fact, it is a 351 4 bolt main Cleveland that has been massaged into a 460 HP street machine through a C-6 transmission.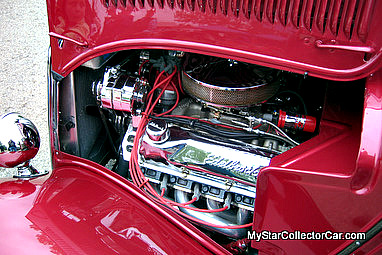 Surprisingly, it is far more expensive to put a Ford mill in a Ford body because General Motors has cornered the market on Chevy/Ford marriages and they can do it for much less than Ford in the aftermarket world.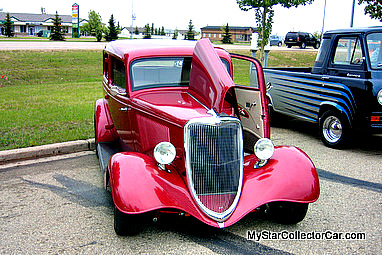 Case in point, Jim showed me an engine mount bracket that cost him 2500 dollars because it was a Ford component, An equivalent GM bracket would have cost him 1/3 of the price to handle his A/C, alternator and power steering on the '34 Ford.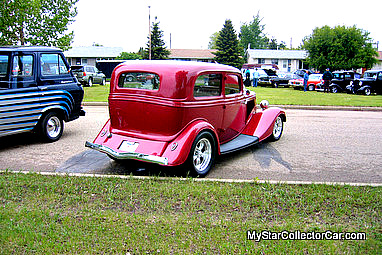 But Jim is fiercely protective of his Ford brand so his sedan is all-Ford.
Jim chose a Ford model with more seats because he likes to travel in style and comfort –with extra room for passengers to enjoy the ride with him.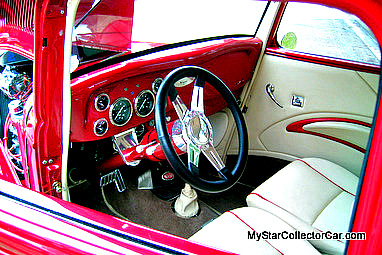 Unofficially, it might get a little fast for passengers with Jim behind the wheel. Four years of construction have provided Jim with enough Ford power to run his rod at 130 mph -with his hands off the wheel if he dares to tempt fate and good judgment…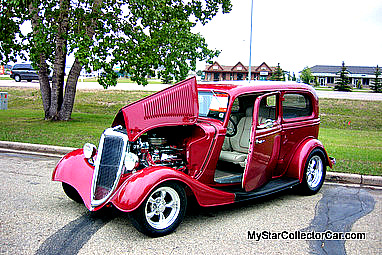 The car has a beefed-up and boxed original frame that has a modern suspension, steering system and dropped front axles with discs to stop quickly and when necessary.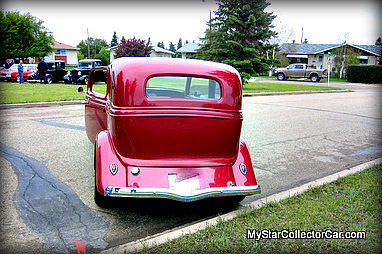 Hats off to Jim for his beautiful '34 Ford and his fierce brand loyalty to the Blue Oval.
Jim Sutherland
More car and truck stories at-https://www.mystarcollectorcar.com/