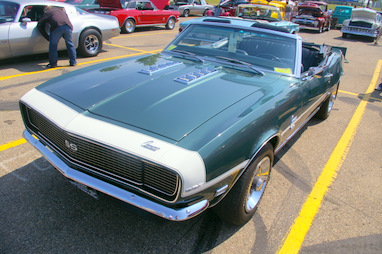 Gord is a guy who was born to own a '68 Camaro-he has owned, and still owns other cars, but the ultimate car in his world is the '68 Camaro.
'He's wanted an RS SS 396 Camaro convertible since he was 6 years old.'
That's why he went through a painstaking 3-year search for this incredible SS 396 convertible with the full support of his wife Sue.
Sometimes the sun, the moon and the stars align in life-this car and its owner are clearly an example of that scenario-a home run in car guy world.
Gord insists on bone stock original parts in his car so when the Camaro had the typical vacuum problems with the hideaway headlights, he didn't do a retrofit to electric headlight cover openers. Instead, he went through another long, expensive and meticulous search until he came up with a NOS system for the vintage Chevy headlight system.
In other words, he paid a big price for the knowledge that his headlight doors work exactly the same way as they did back in '68.
Before he actually found the right parts, Gord went through a series of misadventures in a vain attempt to keep his old system running-it was one of those Star Trek scenarios where Kirk ordered Scotty to "jerry rig" the warp drive.
Like Star Trek, it didn't always work. In the past, you could often find Gord up early at a car show manually closing his headlight doors to give the illusion they actually worked.
That's a minor blip in the car and car owner relationship and Gord did all this with the complete approval of his wife-Sue has been a full supporter of his car hobby (particularly the Camaro project) and she truly enjoys the car show lifestyle.
She must-she's put on thousands of miles in the passenger seat of this SS 396 Camaro and she's enjoyed every minute.
As for Gord, he only has one problem after acquiring his ultimate automotive dream…
"his other cars get jealous".
Jerry Sutherland