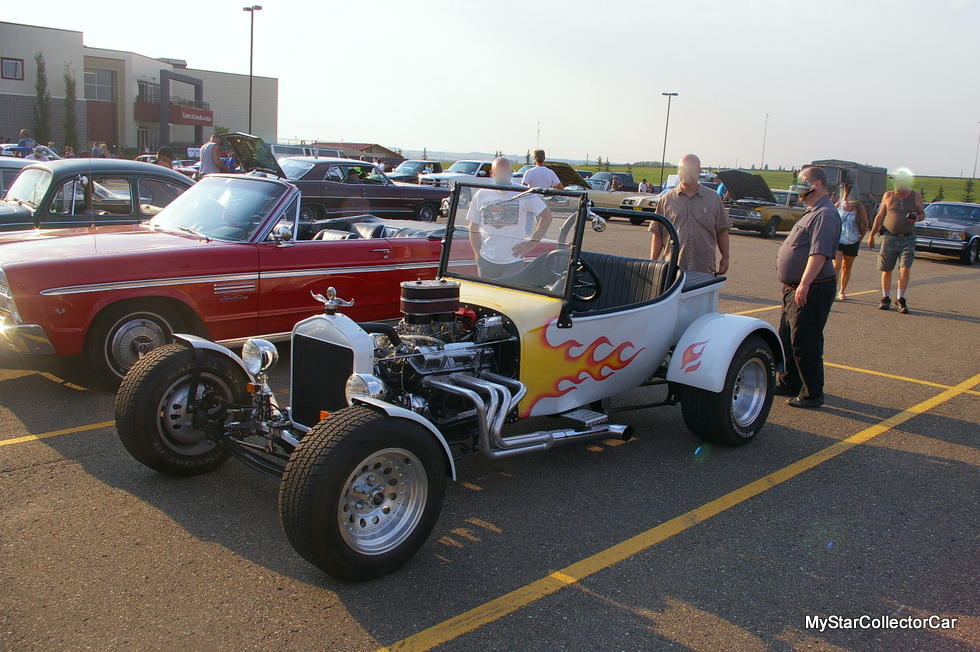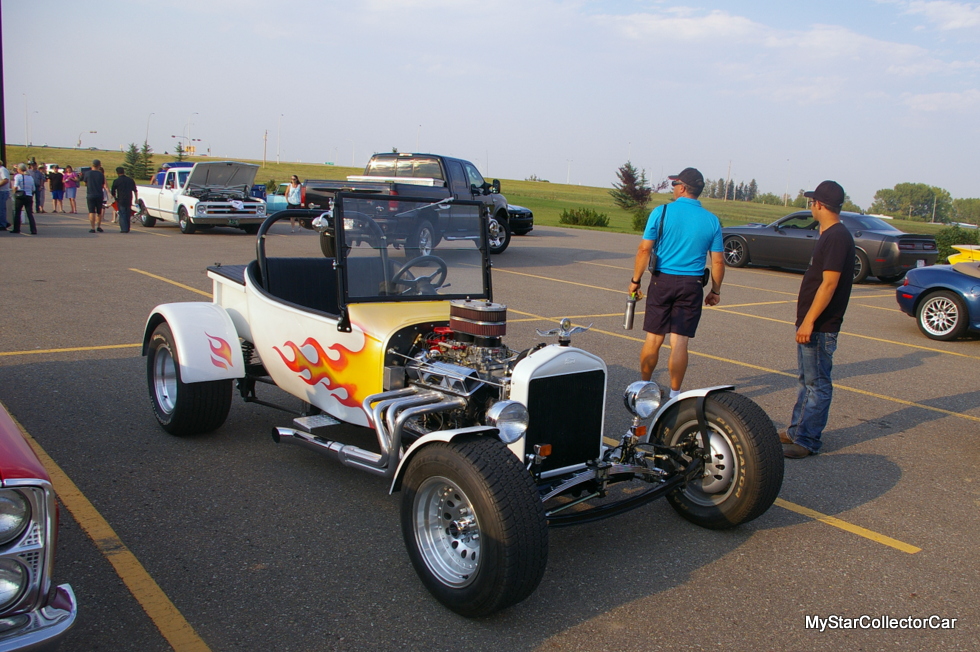 The T-bucket (aka Bucket T) is one of the most popular hot rods ever built in the car hobby.
'The early roots of the T-bucket custom rod can be found long before WW II in the 20s and 30s when car guys found a way to make Model Ts go faster with a better power to weight ratio.'
The earliest hot-rodders stripped away as much weight as possible by removing any non-essential parts on their Model Ts.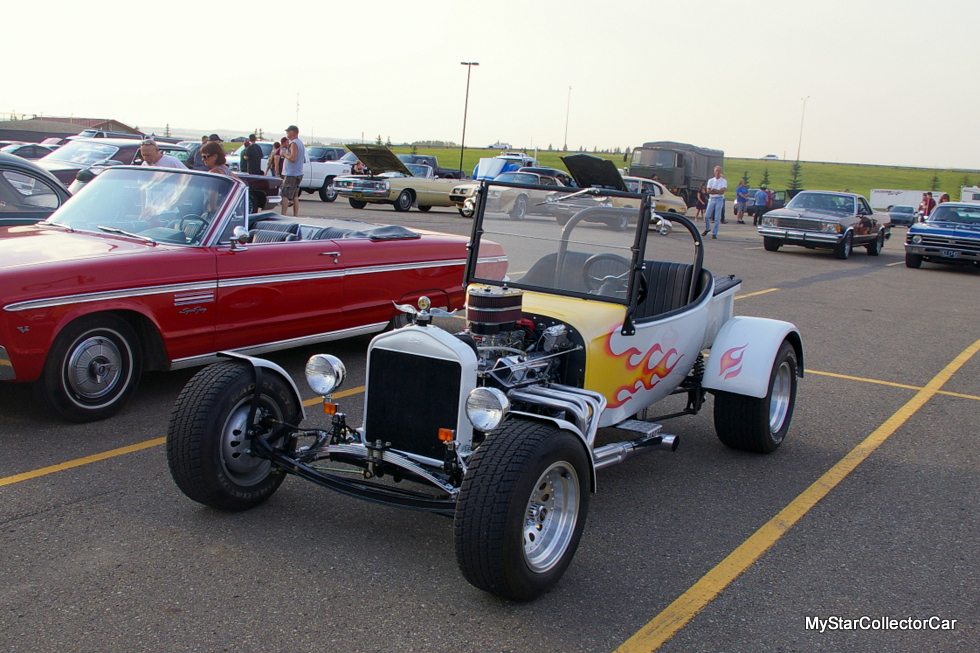 They also coaxed as much horsepower as possible out of the reliable little Ford four-banger found in the Ts.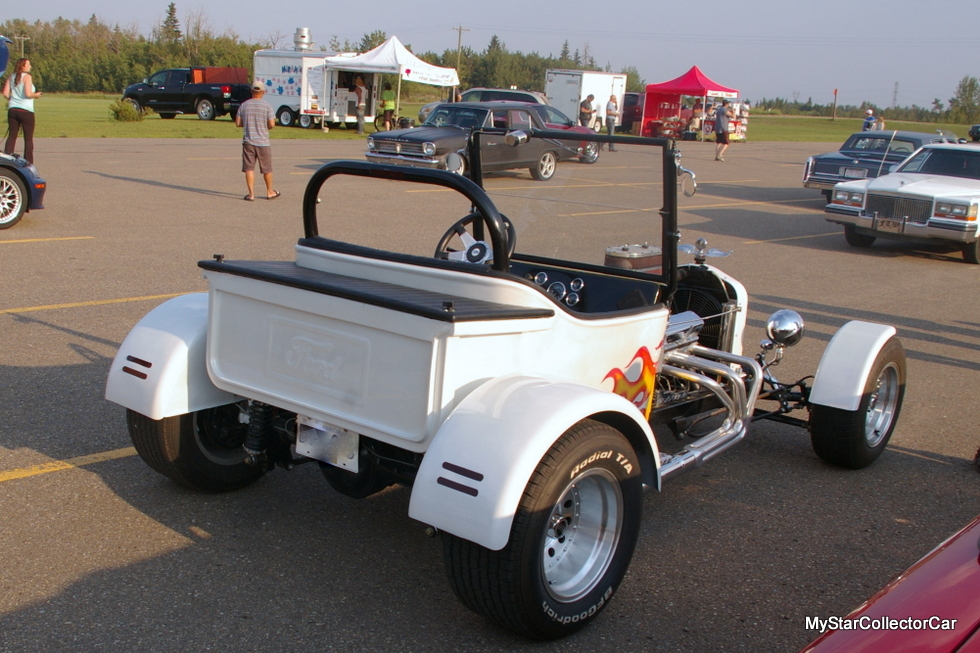 The early Model T performance concepts were not lost on the post-war car guys and the first custom T-Bucket was reputed to be one built by legendary hot rod builder Norm Grabowski in the early 50s. His T-bucket had a big horsepower advantage because he used a Cadillac overhead valve V-8 engine to power his ride.
Grabowski ignited the fuse on the T–bucket craze and the custom rides are still built with his basic concept as a blueprint. Ed Deering never mentioned whether he was influenced by the late Norm Grabowski, but Ed's Model T suggests Grabowski's game plan about a cool way to build a custom T was not lost on Ed.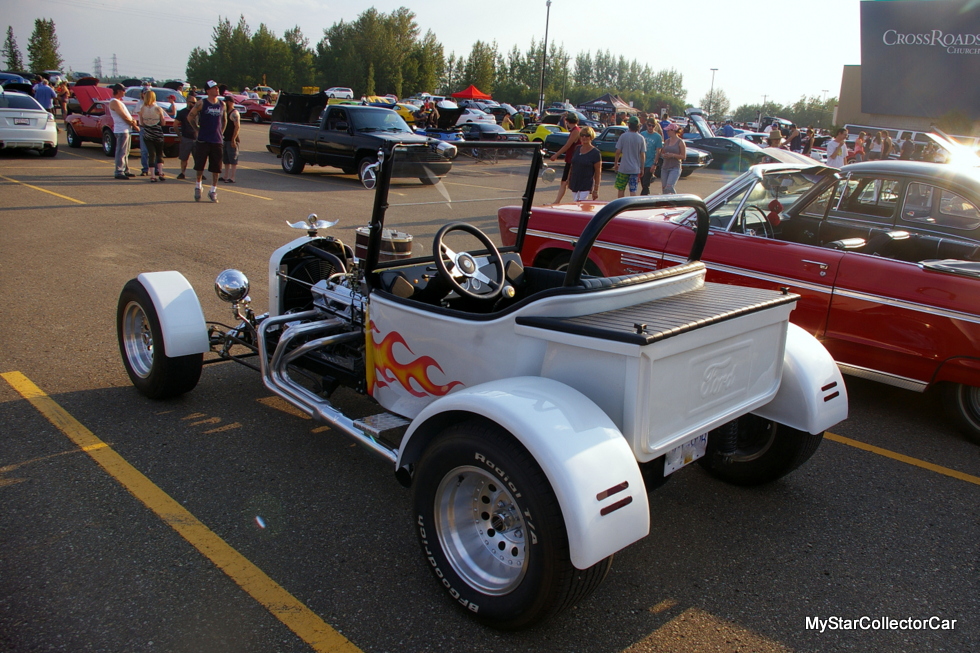 Ed's Model T is a fiberglass body based on the 1923 Model T platform after some custom alterations to make it look the part for a T-bucket project. Ed's car was "on the back-burner" according to him and Ed finally decided it was time to put the car on the front-burner, so to speak. He was able to finish his T-bucket in a year once the project became his new full time job after he retired from his former full time job.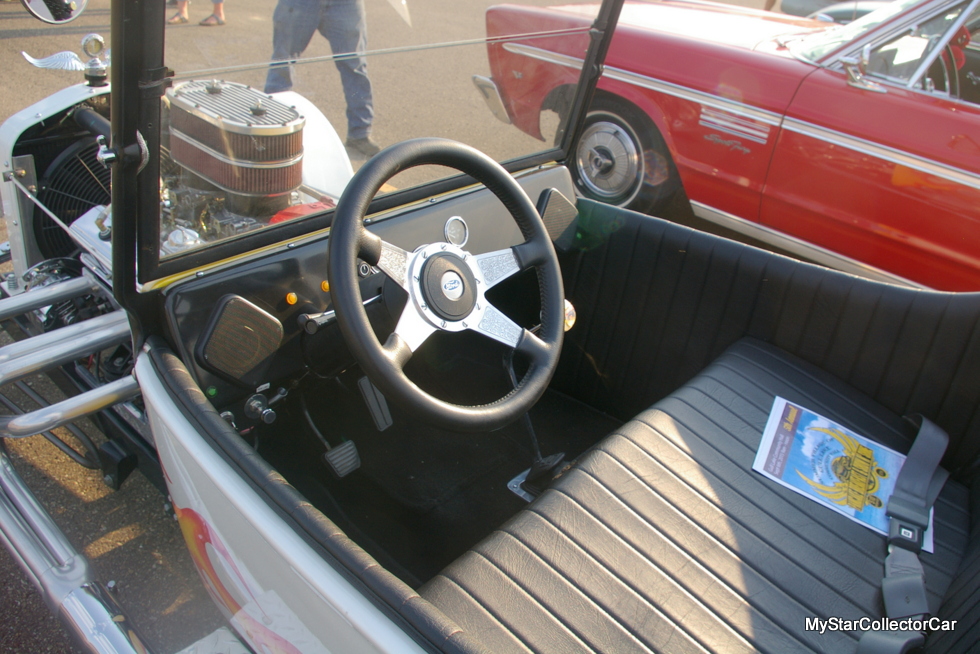 Ed bought a Chevy 350 from Quick Times Magazine guru Don MacGowan that was used in a boat and custom-built by a local hot rod engine shop. The stylish engine also "has two air filters because it has two carbs" according to Ed's practical observation.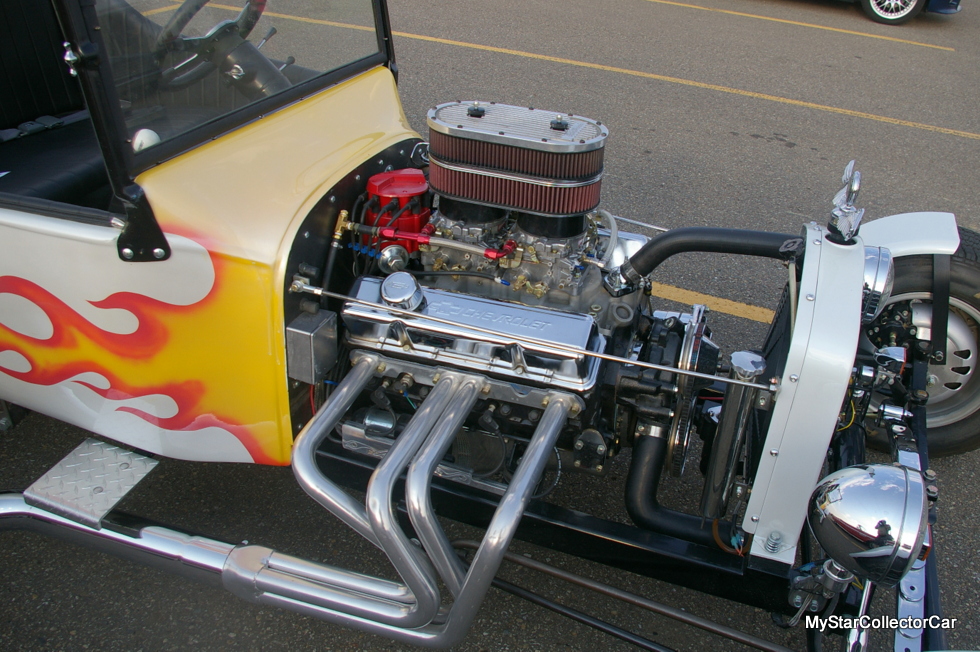 The front brakes are discs because this T-bucket can get up and go in an instant so Ed also wants it to slow down in a hurry when necessary on the road. There is no question Ed is a true hot-rodder because he was able to fabricate the backing plates for his brakes out of ten dollar Teflon frying pans.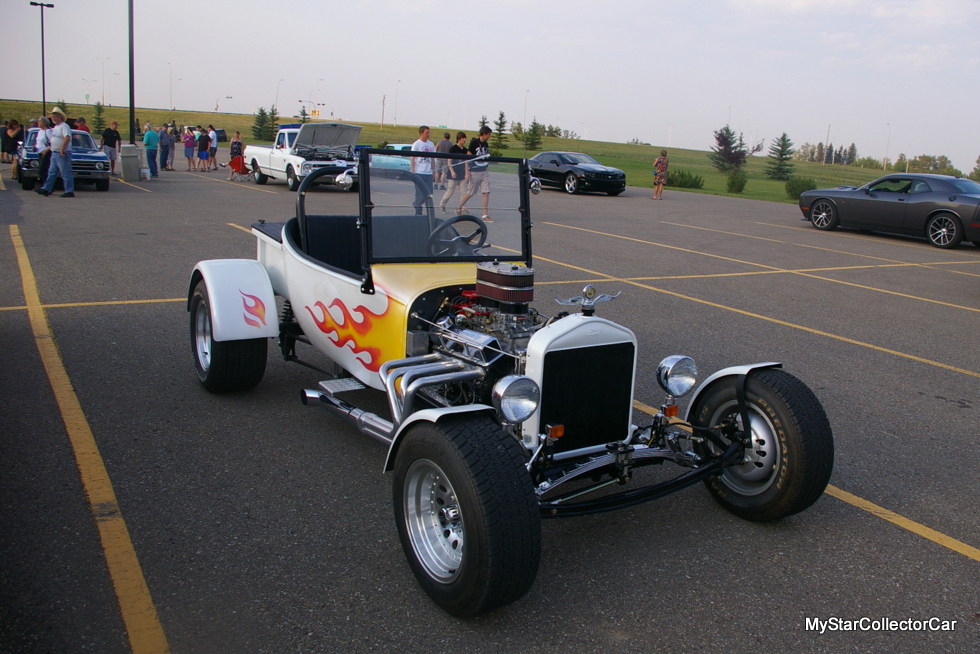 The T-bucket's metal fenders are also custom built for the car and the radiator housing is an original Ford steel unit. Ed is a talented guy and was able to custom-build a frame that could handle the extra Chevy horsepower for his T-bucket. Ed continued his old school car guy hands-on approach to his T-bucket when he painted the car.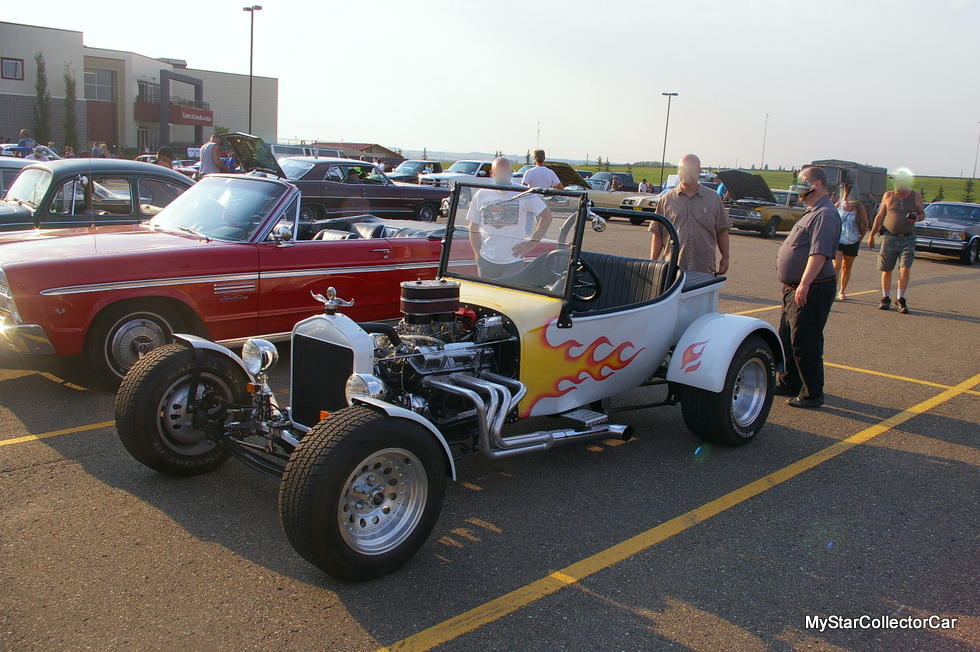 The entire project was done at a reasonable cost because Ed brought so many skills to the table and saved a lot of money on his labor budget.
'Now he is able to reap the rewards of his efforts and enjoy time behind the wheel of a popular style of hot rod made famous many decades ago by early pioneers in the hot rod hobby.'
Jim Sutherland
CLICK HERE to Like us on Facebook
CLICK HERE to Follow us on Twitter
CLICK HERE to Follow us on Pinterest
Please re-post this if you like this article.