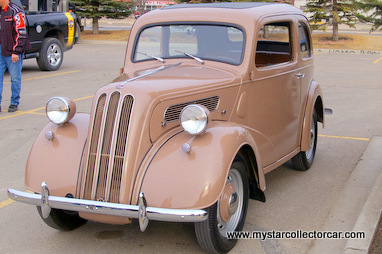 This little British subject landed in the colonies back in 1948 where it served as transportation for security at a power plant.
Apparently the security work didn't involve high-speed chases.
'The little Anglia retired in 1968 when a foreman at the plant bought it and plunked it in his garage for 2 decades.'
The biggest excitement he had with the car was fending off hot rodders who wanted the Anglia to cover the 1/4 mile in under 10 seconds.
It saw daylight briefly in 1976 when it received a decent high school auto body paint job from his grandson-the same one on the car today. Time marches on and the 2nd owner died in 1997.
After that the grandson put the car in an auction (on behalf of his grandmother) where the current owner, Richard Underwood bought it. The widow/grandmother really wanted the parking space back after 30 years of seeing an inert British invader in the garage.
Richard bought it and literally dropped the 20-horse motor on his wife because he had a bad back so she caught the engine as he lowered it. After that he pulled her and the motor out from below the car and it was rebuilt.
Those are the car ties that bind a marriage.
Richard agreed to a lifetime "do not hot rod" clause consequently there's no big block Chevy in the Anglia's future so it tops out at a mighty 45 instead of 145 mph in the 1/4 mile.
It was a great save for this plucky little British immigrant…
Jerry Sutherland @mystarcollectorcar.com