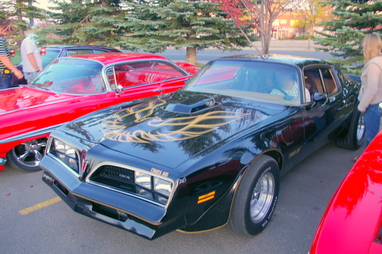 The 78 Pontiac Trans Am was a signature car for the Smokey and the Bandit movies.
Burt Reynolds tormented Jackie Gleason in a black TA-that was the plot.
'Al Hurley, the owner of this 70's icon was a kid back then-he remembers staring through the window of a showroom and coveting a brand new Bandit TA back in '78.'
His uncle threw gas on the fire when he bought one and took little Al for a white-knuckle 'put the Pontiac right on edge' joyride. Al was sold for life. He knew that a '78 TA was his destiny and back in the 90's that destiny came to be reality-Al had his treasured childhood memory in his garage. That was the first part of the equation. 
The second part was that Al is a full bore Tim the Tool Man 'MORE-POWER' guy. He's also a great mechanic. Al works on cars full time and in his spare time he can build monster motors. The only thing that held Al back was the reality of family obligations so he couldn't cut a check for everything at once.
Instead he had to go with the married guy "pay for it as you can swing it" plan so after several years and after 7 pages of incredibly expensive invoices, Al has a brute force 'knock you out with the 1st punch' version of the Burt Reynold's Bandit-mobile.
This is a monster.
Al wanted Pontiac with Pontiac so…565 cubic inches of Pontiac motor, 887 horses.Al has never lost at the track with this TA. It's just on this side of street legal-you can see him barely holding it back as it idles through a parking lot.
Al is a smart guy-he still has the original power train but the truth is if the Bandit had a car like Al's, that first Smokey and the Bandit movie would have been about 37 seconds long.
That's about how long Jackie Gleason would've kept the Bandit in sight.
Jerry Sutherland @mystarcollectorcar.com
For more car guys' car stories click here…https://www.mystarcollectorcar.com/2-features/stories.html