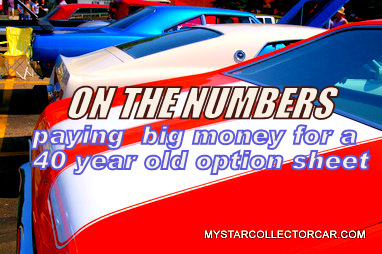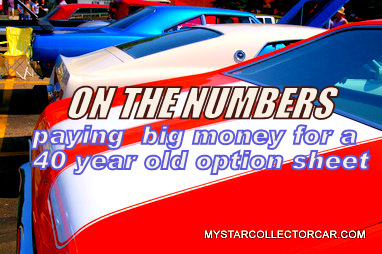 One of the least appealing features of unsavory collector car caste systems are an unnatural obsession with rare production models of popular years and makes.
Most guys who are lucky enough to own any example of a blast from the past need not focus on its rarity.
A vehicle that has a few invisible (or subtle) options that make it more appealing to a buyer has the wrong owner.
The same sheet metal covers a less-optioned car that mercifully comes without the huge price tag. Rare models are owned for the same reasons as blue-chip stock shares: it's just a business investment (with a four-speed) for most of the owners of both commodities.
The high end buyer is simply paying a ridiculous price for some guy's car-shopping list from forty-odd years ago. The original buyer may have decided that his ride should be a bare bones, radio-delete car with a hellacious big block under the hood.
The original buyer was not a visionary with an accurate crystal ball on the future price of a car that was found in giant herds at every dealership in North America-he was a cheap-ass.
A cheap-ass who is likely crying in his beer or spinning in his grave at the current value of his long-lost car.
The elitism of the rare models is completely lost on the average car guy. They just want to experience quality time behind the wheel of a car that was born in the yesteryears of their lives.
For them the experience is priceless and the vehicle is more than just an appreciating asset in their investment portfolio.
It is an emotional link with their past.
Jim Sutherland

Check out our many car stories at https://www.mystarcollectorcar.com/  official home of the average joe and his car…
COMMENTS
DENNIS:"I've got it easy. My Model T only had 3 (factory) options. Bumpers, a spare tire, and an electric starter".
BOB:"if I bought my 442 as an investment I'd be in big trouble. Like a lot of car guys I can't help myself when it comes to putting even more money in the old girl. It doesn't really matter because I don't plan on selling it anytime soon. I do cringe when I see a car advertised *** over 80k invested 35k or best offer".