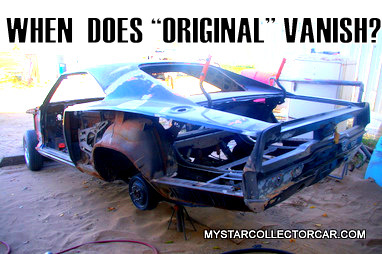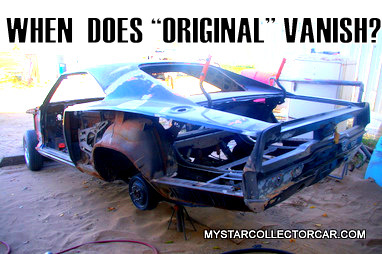 There is a current restoration project on television that will 'save' a one of one 1969 Hemi Charger rusted-out hulk in need of last rites.
So much work, so many parts and new metal went into this car that it was essentially an entirely new car built around a VIN number.
The obvious question that arises quicker than the 0-60 time of the new crate Hemi in the car is whether this Charger is the same car purportedly featured in the 1969 brochure.
Regardless, it is an unusual model for a Hemi, but so much of the original car has been rusted, cut away, or removed by force that it is almost entirely a new vehicle- including an updated power train.
In the eyes of most vehicle registry offices, this is the original vehicle. But when did government bureaucracies ever represent anything other than rigid policies and an avalanche of red tape? Expertise on vintage vehicles is not anybody's department in government branches, and there are plenty of branches in government.
So we can rule out a simple vehicle registration as a yardstick for authenticity in this matter. It really boils down to a simple definition of original and we lean toward the Stephen King definition of original. The one from 'Pet Semetery'.
The book and movie recounted the trouble that occurred when a heartbroken family wanted their young son back so badly that a zombie kid stand-in would work for them.
The result was a murderous little urchin that even managed to slaughter Herman Munster (Fred Gwynne) in the movie version. The kid was not the lovable little tyke that was so attached to his family during Junior's happier pre-dead days.
The message was obvious to Herman Munster and the movie viewers: some things are not better left undead. Kids and cats top the list in 'Pet Semetery'.
But what about the unbelievable restoration process behind the 1969 Charger on TV? The cost of the restoration is undoubtedly a much bigger horror story than anything by King. And we salute the salvation of another classic piece of Detroit iron.
But we reserve the right to not classify this vehicle as an accurate representation of the rare Charger model that began life as something else.
Much like the little tow-headed kid in 'Pet Semetery'.
Jim Sutherland @mystarcollectorcar.com
Many more opinions, photos and features at https://www.mystarcollectorcar.com/
COMMENTS
TOM:"Sorry, I probably missed something here, but….when you cut that much metal out of a car with replacement metal (and, I know, metal is metal), etc.; even though you're trying to build around the same original '69 model, with the same VIN#,…do you really thing it's considered as an 'original'? I understand the thoughts and logic around this, but…hmmm? Albeit, these cars are/were beautiful! Is it still considered an original restoration….?"
BERNIE:"Great article guys. When it comes to '68 & '69 Chargers, those were living entities. That restoration is crossing ethical boundaries on preserving life".
DENNIS:"Yup! There's a fine line between "restored" and "reconstructed". Kind of like taking the air cleaner from a 62 Chevy 409 and building a car under it, like in this case".