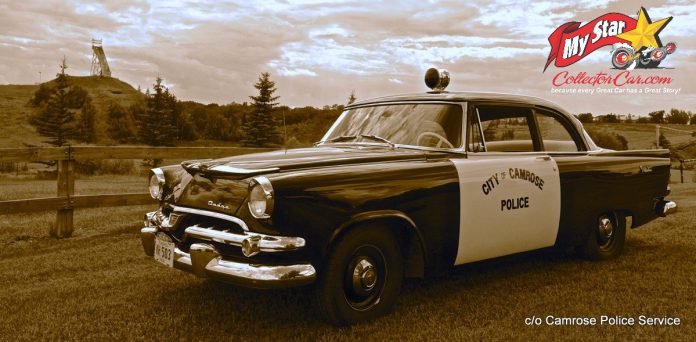 Police cars tell a much different story than Mom's SUV.
They also represent a community's history, so that's why this tribute 1956 Dodge Crusader police car was such an important piece of the City of Camrose (Alberta, Canada) Police Service history. They found a replica of the original car and–thanks to the help of the local community, it's a rolling tribute to a bygone era.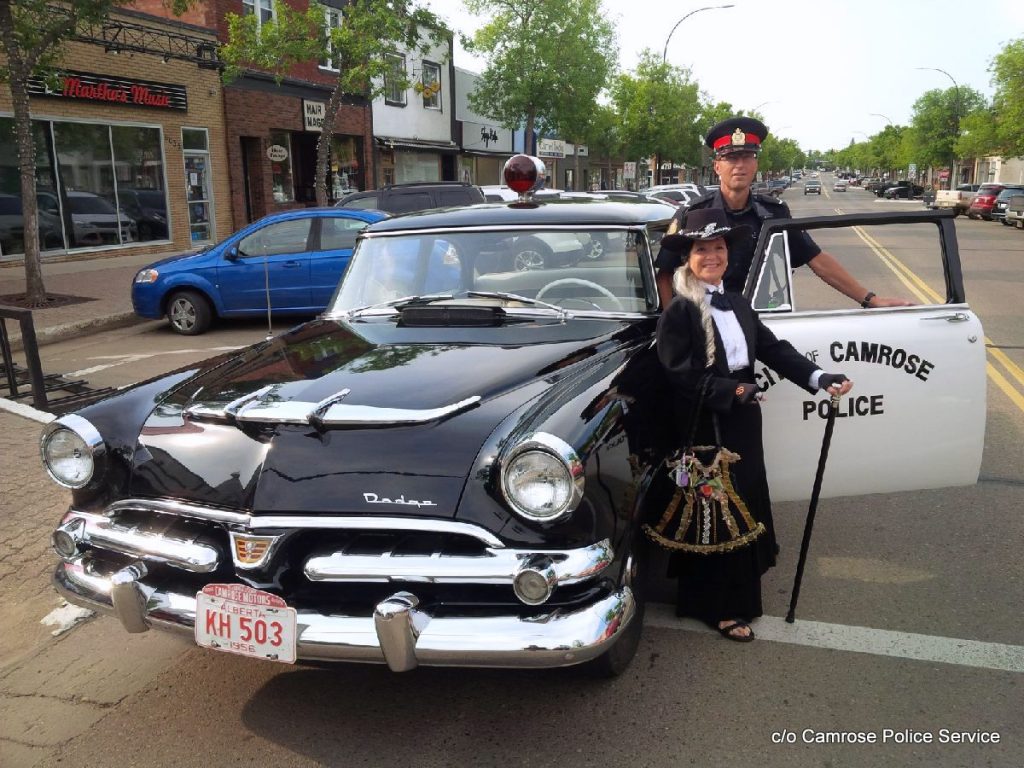 The best way to tell the story behind this car is to talk to the guy who drove the original 1956 Dodge Crusader back in July 1956. Tom Coultis took the first night shift for the newly formed Camrose Police and he was behind the wheel of a brand-new 1956 Dodge Crusader. He was a 15-year veteran of the Canadian military and retired as a Sergeant-Major with the Calgary Tanks, so police work was a nice fit.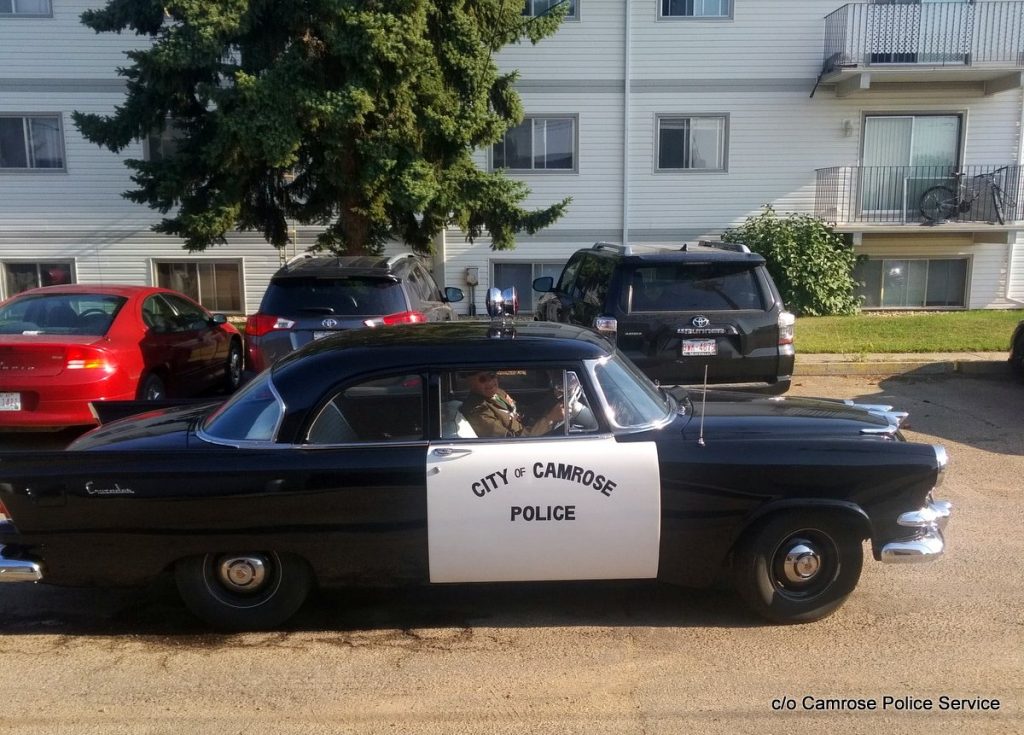 Many MyStar readers know the Crusader was a Plodge–a Canadian version of the '56 Dodge, so it came with Dodge front sheet metal and a Plymouth back end. Tom said the car was "brand new–they bought it for around 2000 dollars". This was a base model–like most police cars, so it was radio-delete with a flathead six under the hood and a three-on-the-tree manual shift on the steering column.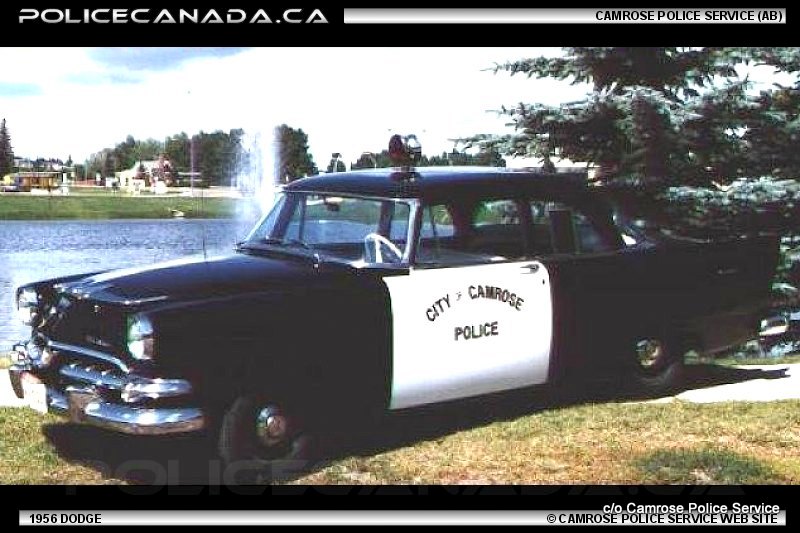 Tom said his first night was really uneventful because most of the night shift involved checking doors and windows on businesses. The car didn't have a police radio, so Tom explained how if there was a call it went to his home number, so his wife took the call. She had to go to the police station and activate a red light on a pole that could be seen all over town. Tom said it worked pretty well, but once they got the radios in the cars, his marriage got a lot happier.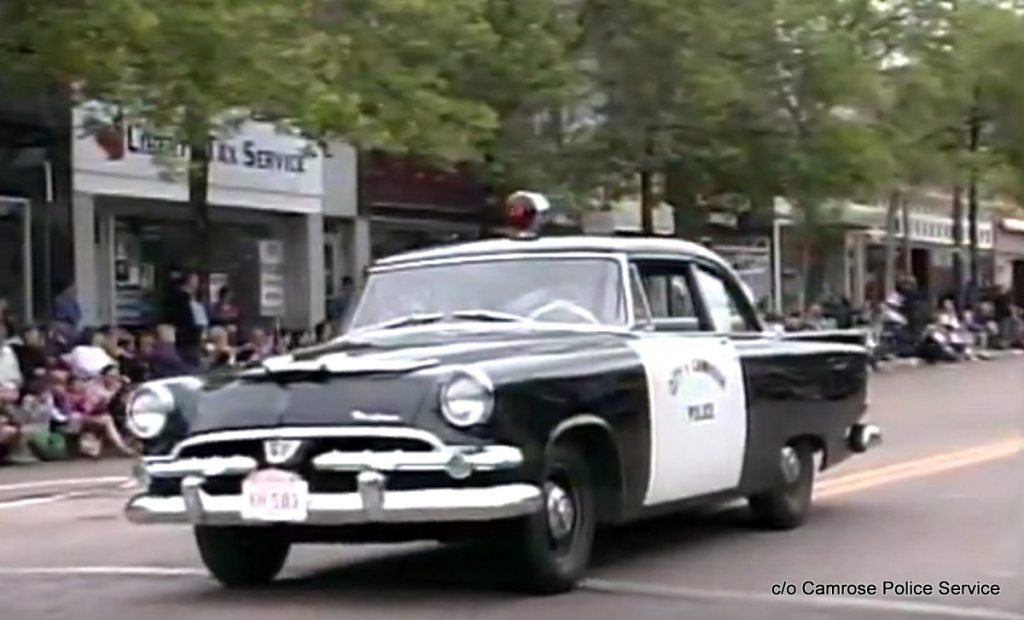 Camrose was very similar to Andy Griffith's Mayberry back in the 50s. He said it was "full of churches, but it did have a few bars" so that's where he picked up a lot of business on any given night. He'd wheel the '56 Dodge up to the bar and load up the drunks, but they didn't get the front seat–or the back seat.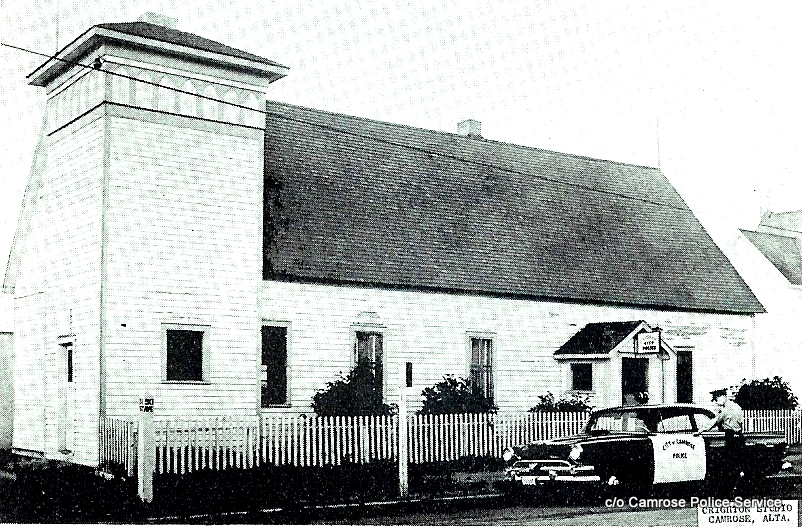 He explained how drunks could "make a mess sometimes in the car", so he made them ride in the trunk because that was a lot easier to clean. The other thing with his clients was very Mayberry-like, because a lot of Tom's customers were like Andy Griffith's Otis Campbell (the town drunk who had his own cell), so they'd rather go to jail than face their wives. Tom was sympathetic, so he usually gave them the jail cell option.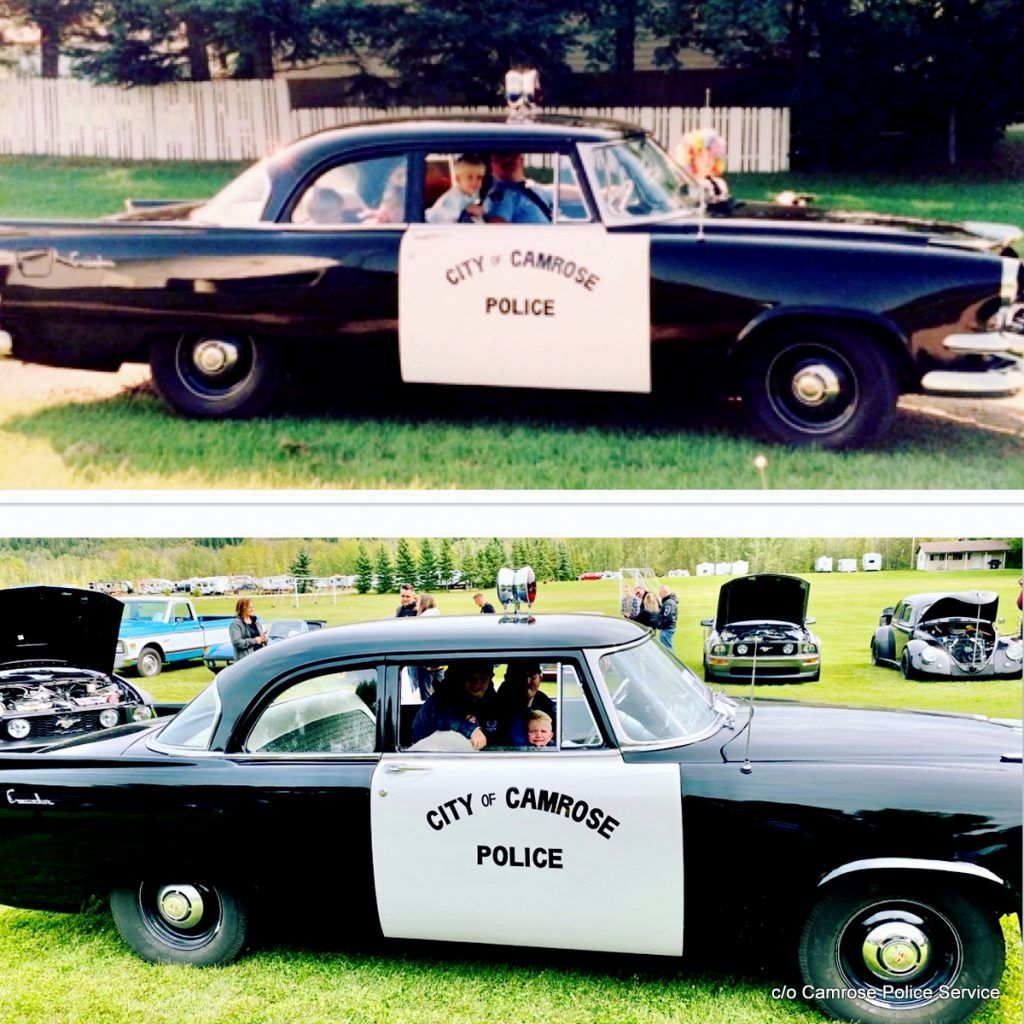 Most of Tom's police work was small town routine, but he did have to disarm a guy who brought a 303-army issue rifle to the police station one night. Tom got the gun out of his hands but not before the guy blew a giant hole in the floor.

The '56 Dodge wasn't involved in many high-speed chases because as Tom explained, "It just wasn't fast enough". He said the town was full of hot-rodders–they could "leave the Dodge in the dust", so he'd "wait in an alley until they came back to town".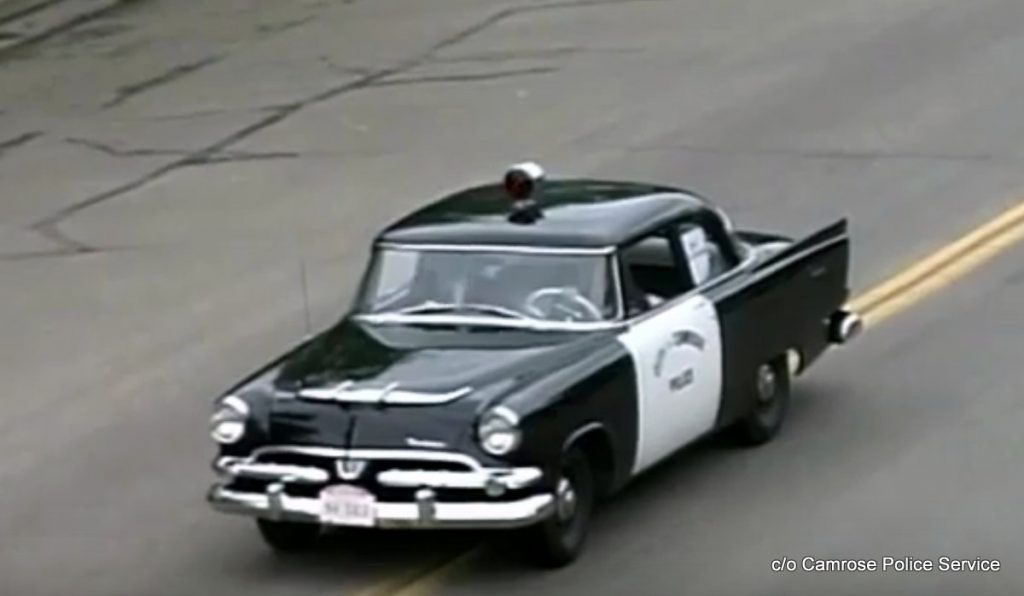 Tom said this tribute car, "is a lot like the original with a switch on the dash for the red light and a foot-mounted siren pedal". He drives it in parades and he's proud of the fact, "It leads every one of them".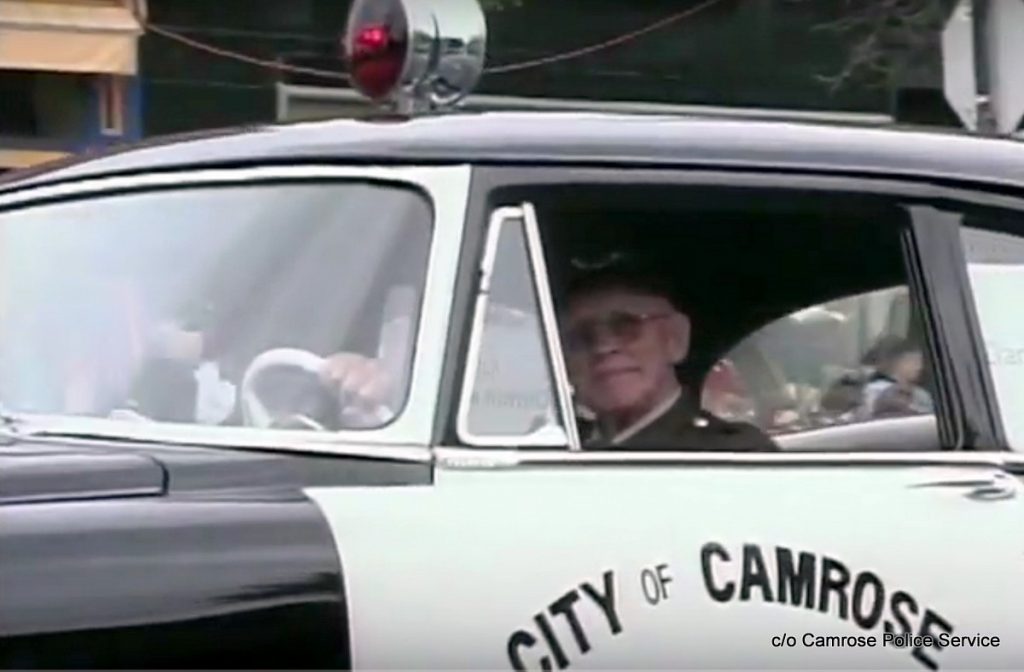 By: Jerry Sutherland
Jerry Sutherland is a veteran automotive writer with a primary focus on the collector car hobby. His work has been published in many outlets and publications, including the National Post, Calgary Herald, Edmonton Journal, Ottawa Citizen, Montreal Gazette, Saskatoon StarPhoenix, Regina Leader-Post, Vancouver Sun and The Truth About Cars. He is also a regular contributor to Auto Roundup Publications.
Please re-post this if you like this article.