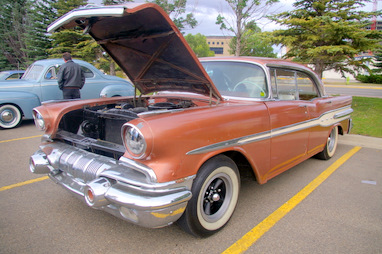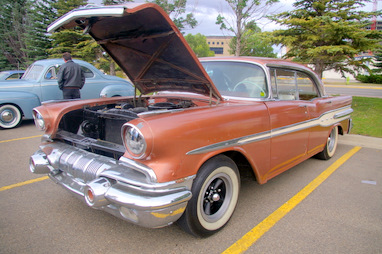 1957 Pontiac Laurentians are a rare beast these days.
The Canadian-made Poncho owes its name Laurentian to a mountain region in the province of Quebec, a province where French is the primary language.
This four-door hard top is not a common street machine in any language but Dwayne, its owner, was always a big fan of the bilingual Pontiac.
The problem was scarcity and viable opportunity to own a Laurentian for Dwayne.
Like most car guys, he had to live within a realistic budget. His head start was his wife, a woman who enjoys the car as much as Dwayne.
So the heavy lifting of convincing a reluctant bride that an old car makes sense was already done for Dwayne.
Dwayne was patient enough to wait until the best deal for a 1957 Poncho came his way in car world.
His patience paid off-eventually Dwayne was able to do a little old-fashioned horse trading and swapped a Jeep and quad to get his dream machine.
He has added very few new features to his Poncho-except for one important add-on: His father's steering wheel spinner which once held a place of honor on his dad's first semi-truck. Now it has a place of honor on his Pontiac steering wheel.
And fortunately, Dwayne's car has power steering, so the spinner is easier to spin for Dwayne.
The Pontiac also has power brakes, so this Canuck Pontiac was a well optioned car for a country known for cautious citizens.
But a four-door hardtop from the 50s is fairly rare in any country.
The Canadian name plate just makes it that much rarer in 2010.
Jim Sutherland