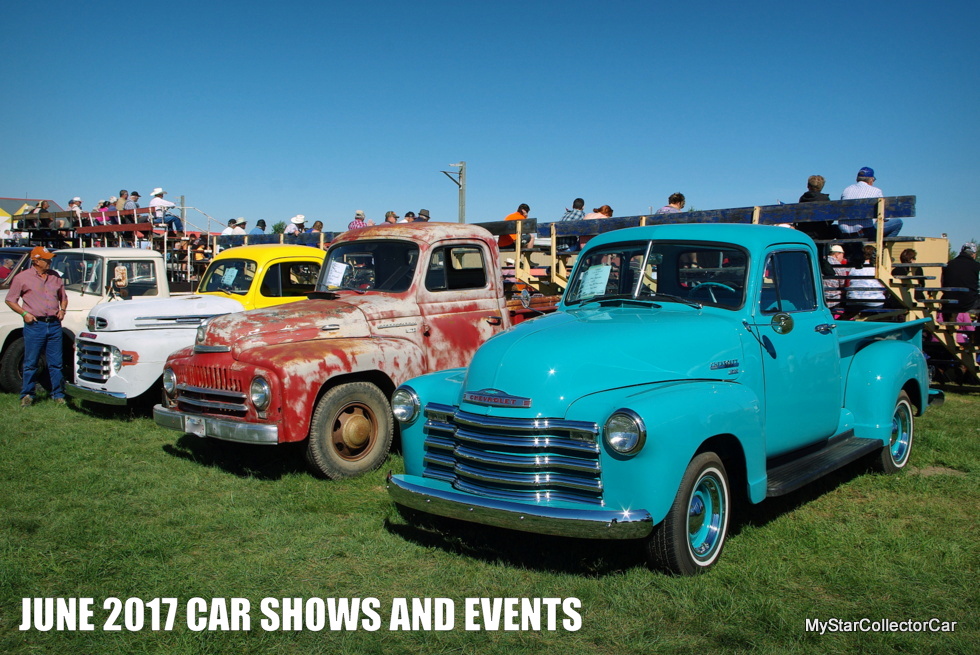 Help us out and give us your information about your show so it's accurate.

The sooner

we have it, the

more exposure

you get. These pages get massive traffic and they're free.   Send your information to

info@mystarcollectorcar.com

JUNE 1: RED DEER, AB Cruise Night
JUNE 2-4: OSOYOOS, BC Cactus Jalopies Desert Wine Cruise Tour/Show 250-498-7296
JUNE 2-4: THREE HILLS, AB Cruise Weekend
JUNE 2-4: BUSBY, AB 1st Annual Move Over Alberta Show and Shine moveoveralberta@gmail.com
JUNE 2-4; EQUITY, AB 5th Annual Vantopia Van Show & Shine
Cory 403-797-3784
JUNE 3: CALGARY, AB 3rd Annual Fire Rods Show and Shine Apparatus-(Benefiting Firefighter's Burn Treatment Society)  Maintenance Facility 1755-18th Ave NE Contact Scott  hotrubber@live.ca for more information
JUNE 3: WYNYARD, SK 17th Annual Rust Riders Cruisers Show and Shine
JUNE 3: BURNABY, BC Hats Off Day Show and Shine 604-802-0490
JUNE 3: CALGARY, AB First Annual Steel Dreamz Show 'n' Shine All proceeds will be donated to the David Richardson Memorial Disc Golf Park
JUNE 3: SHERWOOD PARK, AB 6th Annual "Got Chrome" Show & Shine will be held on Saturday, June 3 at Bethel Lutheran Church. 298 Bethel Drive.
JUNE 3: QUEBEC CITY QC  Club Automobile Rendez-Vous des Anglaises 2000, Montmorency blvd  $10 per car / free for visitors
Michel Gaudreault at 418-571-9426 or e-mail us

JUNE 3: GRANDE PRAIRIE, AB Chrome Horses for Warhorses Poker Run
JUNE 3: REVELSTOKE, BC  Mountain Paradise Show & Shine 250- 837-0109
JUNE 3: ELK POINT, AB 30th annual Elk Point Auto Club Show and Shine
JUNE 3: CANAL FLATS, BC Jun 3 Canal Days Cruise In  250-919-2104
JUNE 3: PIGEON LAKE, AB  Lions Club Car Show Dave 780-205-2222
JUNE 3: NORTH BATTLEFORD, SK Vintage Auto Club Show and Shine Harry 306-480-2857
JUNE 3: EDMONTON, AB 6th Annual UN/NATO Show and Shine 4470 McCrae Ave NW, Edmonton, AB T5X, Canada
JUNE 3-4: LONDON, ON Fleetwood County Cruise-In Lee @ (403) 862-4467
JUNE 3-4: BAY ROBERTS, NF Car Show 2017

JUNE 4: FORT LANGLEY, BC 29th Annual Model A Sunday 604- 856-9796
JUNE 4: CHIPMAN, AB Chipman Car Crafters 17th Annual Show & Shine, Alf Zips chipmancarcrafters@hotmail.com PH: 780 363-2324
JUNE 4: STEINBACH, MB Heritage Classic Car Show 204-326-9661
JUNE 4: DUNCAN, BC 24th annual Show and Shine 250-748-7889
JUNE 6-14: CHILLIWACK, BC VCCC 2017 Annual Tour
JUNE 7: SYLVAN LAKE, AB Weekly Drop-in Show held at No Frills parking lot
JUNE 8: RED DEER, AB Cruise Night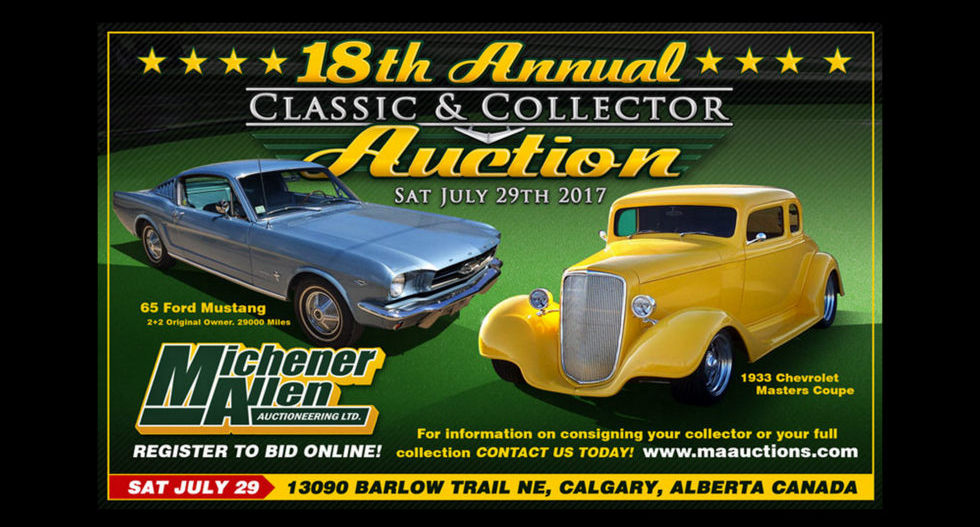 http://www.maauctions.com/
JUNE 10: EDMONTON, AB  Michener Allen Auto and RV Auction
JUNE 10: EDMONTON, AB 2017 All British Meet Victoria Park (Pavilion) 12010 River Valley Rd. NW
JUNE 10: PRINCE RUPERT, BC Seafest Show & Shine 250-627-1023
JUNE 10: BASHAW, AB Main street Bashaw June 10  Registration 9am Parade 11am  People's choice noon until 3 Contact: Glenn Weins for more info 780-372-2245
JUNE 10: SYDNEY, NS  Cape Breton Classic Cruisers Spring Automotive Swap/Craft Market & Car Show 1900-1930s cars 9-5 481 George St Sydney, pre register by May 10th  Sonny Alexander Phone: 902-794 8680
JUNE 10: PORT PERRY, ON  Northern Ramblers Car Club Rambler Rama
JUNE 10: SHERWOOD PARK, AB Brok'n Pistonz and those Guys Garage are putting on a show with all proceeds going toward the Stollery Childrens Hospital Foundation , We will have 50/50 and a silent auction , Wicked door prizes , Crazy Bull Cheese Steak Factory with 15% of the proceeds going toward our charity , Happy Chappy Ice Cream Shop , Live Bands , Pre Registration starts May 1st, 2017 ,Gate Registration Starts at 9am and Awards are at 2pm Location 241 Portage Close #120
JUNE 10: NIAGARA FALLS, ON 5th Annual Kustom Karz Show and Shine
JUNE 10-11: WETASKIWIN, AB History Road "The Ultimate Car Show"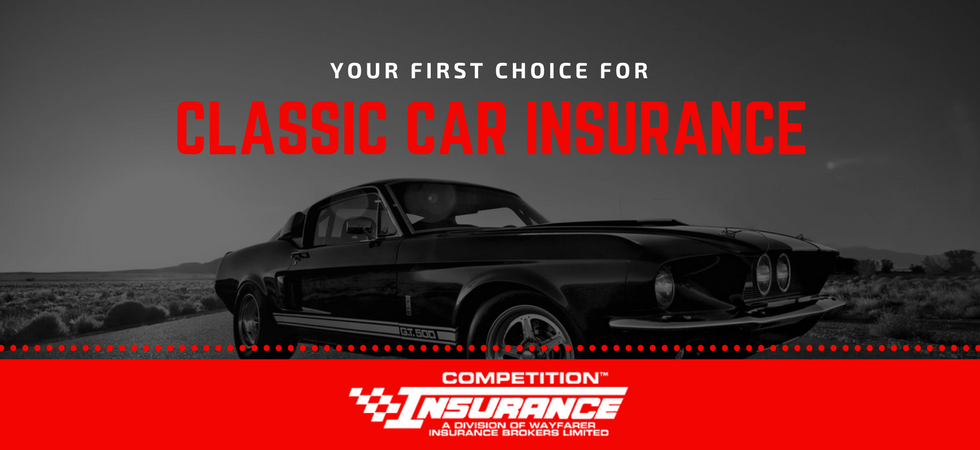 JUNE 11: VANCOUVER, BC  100th Anniversary Show & Shine 604- 291-2453
JUNE 11: STEWIACKE, NS 10th annual Flaunt & Flash Car Show Mastodon Ridge
JUNE 11: ABBOTSFORD, BC Camaro/Corvette Car Show 604-857-5200
 JUNE 11: LANGLEY, BC 29th All Pontiac/GMC Show and Shine 604- 468-3695
JUNE 11: RICHMOND, BC  27th Lions Sockeye Run Car Show 604- 209-7707
JUNE 14: SYLVAN LAKE, AB Weekly Drop-in Show held at No Frills parking lot
JUNE 18: YORKVILLE, ON 7th Annual Exotic Car show

JUNE 18: EDMONTON, AB Rock'n August Presents the Annual Soap Box Derby The Annual Soap Box Derby is presented each year on Father's Day.  Reborn in 2011 as a part of the 150th Anniversary of the City of St Albert, the event was picked up by Rock 'N August in 2012.  RNA wanted to ensure that it continued as part of the annual list of events in St Albert and moves into its 7th consecutive year.  The event provides excitement for everyone on hand, racers and spectators alike.  With more than 75 racers each year between the ages of 6 and 12, you never know what you are going to see.  This is definitely a spectator friendly event.
JUNE 18: GEORGETOWN, ON Classics Against Cancer Car Show
JUNE 18: VEGREVILLE, AB Iron Runners Show and Shine
JUNE 18: PARKSVILLE-QUALICUM BEACH, BC Seaside Cruizers Show and Shine
 JUNE 18: SCHOMBERG, ON "Let's Rock and Roll MS Away" Car show
JUNE 21: SYLVAN LAKE, AB Weekly Drop-in Show held at No Frills parking lot
JUNE 21: RED DEER, AB Ford Central Car Club Red Deer Downtown Cruise Night P9 Parking lot @ 51 Avenue & 47 Street.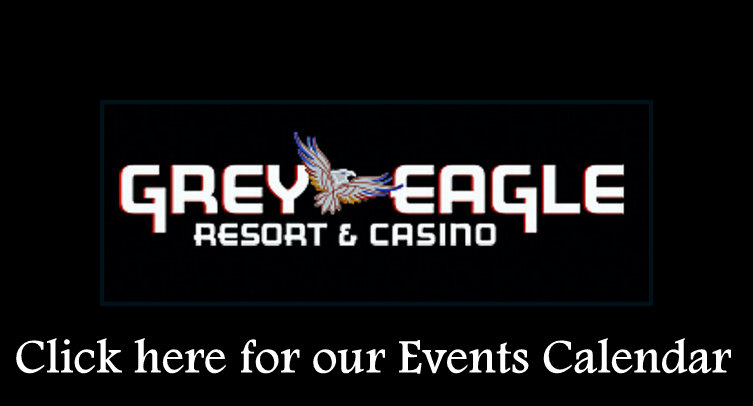 JUNE 22: RED DEER, AB Cruise Night
JUNE 24-25: BURNS LAKE, BC 12th Annual Show and Shine/Poker Run
 JUNE 23-25: PENTICTON, BC Peach City Beach Cruise
 JUNE 24: EDMONTON, AB ESRA 33rd Annual Show and Shine
JUNE 24: CALGARY, AB Al Azhar Shriners Show & Shine Al Azhar Shrine Centre 5225 101 St NW Trevor Landage landage@telus.net PH: 403-982-5984
JUNE 24: WABAMUN, AB Dragonfly Festival Show and Shine
JUNE 24: BURNS LAKE, BC Lake Show and Shine 250-692-6935
JUNE 24: RED DEER, AB John Dolliver Memorial Truck and Car Show Crossroads Church
 JUNE 24: EDMONTON, AB   2nd annual Show and Shine in support of Stollery Children's Hospital Foundation. Show to be held at 13520 156 Street NW Edmonton.Open to all types of vehicles.Prizes, times and events TBA.
JUNE 24-25: QUEBEC CITY, QC 21st Gala des Belles Autos d'hier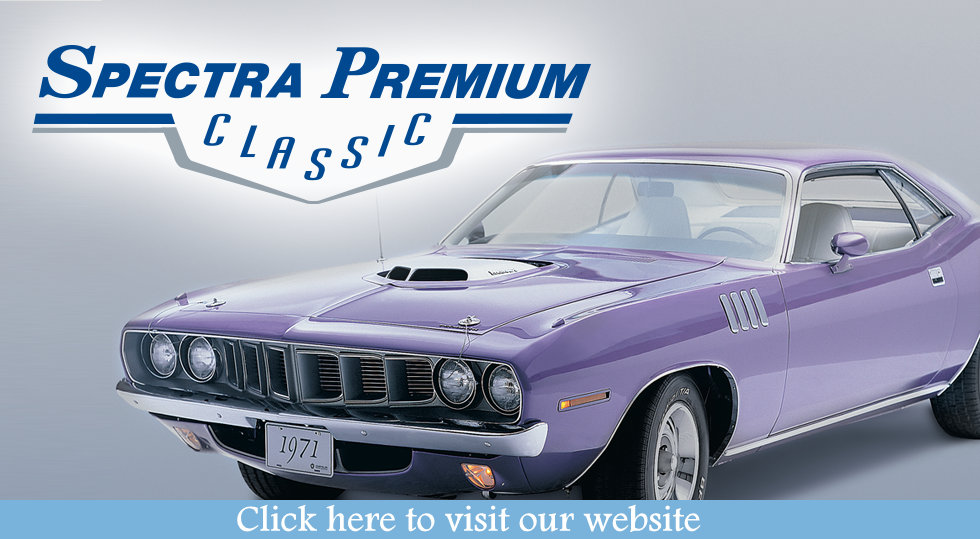 JUNE 25: INDIAN HEAD, SK Flatland Cruisers 11th Annual Show and Shine 306-537-6980
JUNE 25: TOFIELD, AB  Ukrainian Cultural Village Show and Shine
JUNE 25: CARLTON PLACE, ON Wheels On The Mississippi Car Show 9 am – 3 pm
JUNE 25: ST ALBERT, AB Alberta Iron Indians Presents Classic and Performance Auto Show
JUNE 28: SYLVAN LAKE, AB Weekly Drop-in Show held at No Frills parking lot
JUNE 29: RED DEER, AB Cruise Night
CLICK HERE to Like us on Facebook
CLICK HERE to Follow us on Twitter
CLICK HERE to Follow us on Pinterest
**Please feel free to print this page