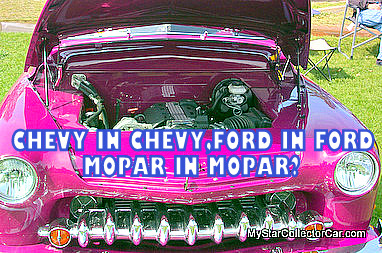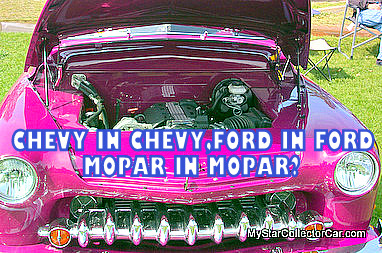 One of the most versatile engines available to the resto-mod market is the very popular 350 Chevy small block.
It is affordable and it plays well with other manufacturer's vintage bodies and frames.
The 350 Chevy engine has been at the heart of millions of car and truck projects over the decades.
You can run them mild or you can run them wild, it all depends upon your budget and ability to handle big horsepower from the wild side.
But a 350 Bowtie under the hood is not without controversy when it comes to heart transplants.
Many Ford and Mopar guys would rather have a 350 engine dropped on them (many times)  than put one under the hood of their rides.
The question of what belongs under the hood can actually creep into the value of a resto-mod. The value of a Ford with a Ford engine, or a Mopar with a Chrysler power-train can boost the value of the vehicle in today's circles.
The simple reason? Many car guys do not like to mix and match their brands, so a '32 Ford with a 383 stroker has no appeal to them because it has become a Chevy Franken-ford to them.
The idea of a Ford-Chevy marriage is as likely as a Hatfield-McCoy marriage for the purists. A 350 Chevy under the hood of a Ford is simply an automotive form of hell-spawned evil.
Most of the debate centers around pre-'55 vehicles, an era in which horsepower was not exactly king in Detroit– give or take a Caddy V-8, Ford flattie or early Hemi or two. The early hot-rodders massaged as much as they could out of these period power plants.
A new era in which an affordable GM small block was only a dealership away came too late for the early guys, but today's hot-rodders have easy and affordable access to the 350.
Our question to our readers is this: is it right to do heart transplants with a Chevy 350 into a Ford or Chrysler product.
Let us know what you think about this controversy.
Jim Sutherland

Here's how to email us: info@mystarcollectorcar.com;

COMMENTS
350 GUY: "Chevy power all the way!!"
lAN: "FORD IN FORD.. THERE IS NO OTHER WAY"
Dan M.: "Why waste time on a Chevy when you can buy a Hemi?"
Bowtie barney: "350 is the best motor ever made…"
Kallie: "Chevy is the best one of all Fords suck big time".
Paul T. "Ever heard of a 351 Cleveland?"
Nuts about 'Stangs: "Death before dishonor My '68 Pony eats small block Chevvies for breakfast-and then gets indigestion from too much junk food!"
Carl S: "Give me a small block Chevy over a Ford because I want to make it all the way home…"
KIRBY:"Mopar all the way. way too many small block chevy's. Makes for an inexpensive build and are rock solid but BORING. Small block mopar have always been the cream of the bone stock off the line performance engines no special order or vast engine renovations just simple good reliable performance.
Chevy Bob: The only way to make a ford or dodge run better is to put a 350 in it. run the best forget the rest!
Dwayne T: Mopar or NOcar under the hood…end of story.
Wacko Jacko: Chevy power makes it worth drivin!!!!
Ken B: SCREW THE 350.
FORD 4-EVER: FORD car FORD engine- end of story!
BENNY J: Chevy under the hood is all good.
GERRY:"If you can afford it or want authenticity by all means – Chevy-Chevy, Ford-Ford, Mopar-Mopar, Chevy Engines looks great and works great in any application and is reasonably priced, only the purist would care.
MILES-" back in the 90s I couldn't put my 36 FORD in a Ford meet because of its 350 chevy,They're ok about it now"
RICHARD:"Bow tie or no tieI kept the 235 in my 52 chevy because no one knows what it is !To be differnt is what building your own car is all about not to be a clone no 350 in my house
ROBERT:"I love to see a Ford motor in a Ford car or truck. Same with Mopar. I can understand the economics of putting a Chevrolet motor in hot rods but it just doesn't look right.
On the other hand I like seeing Oldsmobile or Cadilac and especially old nail head Buick motors in any type of hot rod.