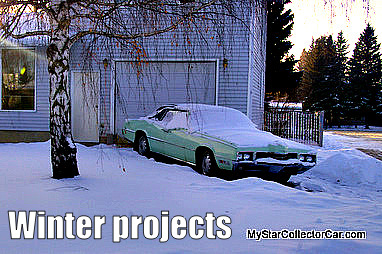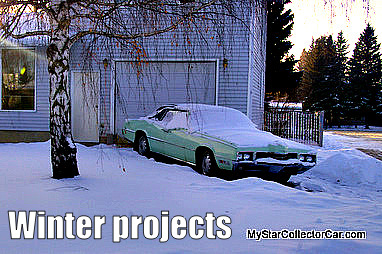 Sure we mourn the loss of summer, but we also celebrate the impending arrival of winter with some very glad tidings: car guys now have several months of quality garage time ahead of them.
The winter season is a time when projects and dreams begin in millions of garages.
Bears hibernate and car guys come alive in winter because they can spend quality time in their garages with the other love interest in their lives.
Too much time in the garage does run a risk that one of the love interests might file for divorce, but most spouses are happy that their car guys are at least in close proximity.
A winter car project will cure any winter blues for car guys because they get to play with their toys in their favorite winter playground- their garages.
There is a certain magic found in garage world. Car guys soak up the aroma of oil, grease and fuel like it was crisp mountain air on a spring morning. They get to hang out with their buddies and tell big lies about sports, women and cars-especially cars.
Car guys get to become experts in the field of cars in a winter garage setting. All things are possible when the snow is on the ground and the car project is in its infancy.
The early phase of plucky optimism about a project (that has not yet been depleted by rust and incompetence) positively fills the garage. The beer fridge is stocked and the TV provides some solid background noise.
It is Tim-the-Tool-man paradise and every guy in the room is basking in the warm glow of car guy camaraderie and a furnace that works. It doesn't get any better than this-or does it?
Christmas is a time when car guys can feel the same level excitement they felt when they were kids. Both kid and car guy are very happy with toys under the tree. The difference is that car guys never get tired of their toys.
Garages have evolved into very special places for car guys because there are so many ways to make a garage a home within a home; very possibly even an even better home than the other main home- with the right accessories.
Most car guys have no idea how to decorate a home, but they sure know how to decorate a garage with the right cabinets and floor plans. A garage just seems to bring out the best of their creative skills.
So we celebrate the new beginning that winter brings to the car guy world. It may be cold and dark outside of that garage, but it is a bright and warm place inside the garage.
Inside it's filled with happy people and it does not get any better than that in life.
Jim Sutherland
More happy car guy stories at–https://www.mystarcollectorcar.com/
Copyright 2011