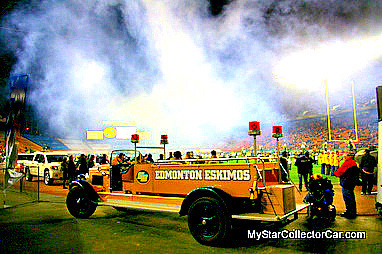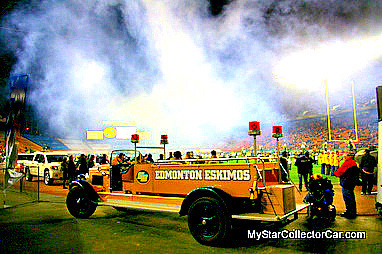 My job is simple.
I interview owners of classic old vehicles, take several pictures and compile a story about the relationship between the owners and their old cars or trucks.
At no point do I ever feel any animosity towards a vehicle.
In fact you could call this job a labor of love because these old timers are so symbolic of a kinder, gentler past. They are warm and fuzzy memories embodied in a machine and that's a very pleasant world to enter.
Except for this green and gold Edmonton Eskimo fire truck.
"Loathing" is the word that defines how much I hate this truck but I'm a Saskatchewan Roughrider fan so I was drawn to it like a moth to a flame or a lemming to a cliff.
The reason is simple. This old White fire truck has crushed more Rider hopes and dreams in a few decades than Hollywood ever did to aspiring actors in 100 years. The painful truth is that this green and gold monster is a major part of the touchdown celebrations at Commonwealth Stadium-home of the Canadian Football League Edmonton Eskimos.
Clearly, I'm not a fan. I hate these guys for the same reason that Boston Red Sox fans hate the New York Yankees-they win too much.
The Edmonton Eskimos were the first Western Canadian football team to get to the Grey Cup in 1920 when the fire truck was still a few years away from being born. They've been there a lot since then.
The 100th Anniversary of the Grey Cup is in 2012 and in that time the Eskimos have been there 22 times and won 13. They won 5 in a row from 1977-82 and they had the truck to celebrate every home field TD at Commonwealth Stadium. That's a lot of circuits around the track. I'm an Alberta Rider fan and I live within an hour and 20 minutes of the stadium so I've personally witnessed far too many of those laps against my beloved Roughriders. Scarred for life would be a kind interpretation of my experience at Eskimo home games and watching that old White fire truck circle the field was a huge factor.
Sometimes in life you have to face your personal demons so I phoned the Edmonton Eskimos to do an interview about the truck. They called my bluff-they gave me a game day field pass for the last game of the regular season against the Saskatchewan Roughriders. I was going to be at Ground Zero when they lit up this loathsome vehicle.
It's a little intimidating when you step on a football field at game time. I've seen far too many guys get roughed and cuffed by security during a game for doing the same thing but I had the legendary field pass. That's like a note from your parents.
The other thing is the perspective-this is a big stadium, it seats 60,000 and it goes straight up plus you look right into giant bright lights. It's like the world's biggest interrogation room.
They park the truck on the far side of the field but I had my eye on it as soon as I got into the stadium. It's not hard to find that green and gold abomination, even in a huge area but my first thought was to try and stay professional about this old White.
I held out for about five minutes.
At first I was surprised by the size-this is a relatively small truck. Far smaller than the hideous leviathan that I remember flying around the track with hundreds of people clinging to it after the Riders went down by yet another TD. I liked the paint. It wasn't mint, but this truck would win best of class at many shows plus the "gold" in the green and gold looked great under the stadium lights.
Surprisingly enough, a Pinto engine powered this old White and it had an automatic transmission. It was piloted by an Edmonton firefighter and 5 or 6 other firefighters were hanging around waiting to spring into action.
They were great guys like most firefighters are, but I couldn't help feeling disappointed because I remember this truck being crammed full of babes. The Eskimos were notorious for that. I like to see it as part of the celebration-we not only crushed you on the field but we also get all the women.
Hopefully my position a few feet away from a bunch of cheerleaders would soften the blow but the firefighters told me that before the truck got back from a trip they dropped the women off. I sure didn't remember that part because back in the 80s it looked like a giant round trip rolling party from the stands.
That's when the professionalism disappeared. I asked these guys if they had jumper cables because it was going to be a long, cold night for the old truck and the Riders responded by scoring first. It was looking pretty good and I asked the EFD guys if I could borrow the old White for the next TD-35 seconds later the Eskimos lit up the Riders for a 71 yard TD.
These guys really scramble when that happens. That old Pinto engine grudgingly fires up, they all pile on and they do a tour of the track with a few guys hurling mini-footballs into the crowd. A few minutes later I get to see it again when the Eskimos score their 2nd TD and this time I line up better camera angles. It's not just pro football players who can play through pain.
That was it for the old White fire truck because the Eskimos never scored another TD but they did kick a last second field goal to beat the Riders and secure a home playoff game. Somehow that seemed appropriate because I did get to face down an automotive demon and actually-it's a pretty cool old truck.
But I still hate it.
Jerry Sutherland
For less traumatic car stories click here-https://www.mystarcollectorcar.com/