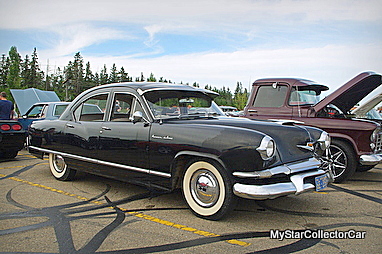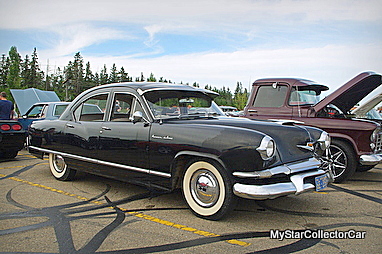 There are many ways to acquire a classic car.
You can buy one via an ad or an auction plus there's the old fashioned "build your own from a project" method.
The best scenario is acquiring a family legacy car.
Herb Laviolette took the family legacy route with this 1953 Kaiser Deluxe.
This is a true survivor car with a major family connection as Herb explained, "My grandfather was the one and only owner of this car. He bought it brand new back in '53".
The purchase made a lot of sense because his grandfather had a huge connection to Kaiser, "He was a dealer in Eugene, Oregon. I come from a Kaiser family so it kind of all fits".
This Kaiser didn't see a lot of time on the road as Herb recalled, "He bought this car for himself but he never drove it".
The years went by and the Kaiser stayed in Herb's grandfather's hands the whole time and Herb knew the story front to back, "He passed away in 2001 and the car stayed in his garage until 2008 and that's when I bought it".
The Kaiser was very much a product of its storage history and Herb noted a few byproducts of that time in storage, "It was under a car cover but the wind wore the paint off in a few places but it was completely rust-free. The wood in the dash is still in great shape".
The car is definitely in incredible shape for a 61-year-old car and many spectators thought it was an older restoration instead of a factory survivor.
Herb is definitely the caretaker of this piece of Kaiser history, but he's also a car guy so the car sees the real world.
This is clearly not a trailer queen or museum piece because Herb's first task was to fire it up as he recalled, "It started right away and I drove it away".
The car has an agenda fit for a car past its daily driver status as Herb explained, "I like to take it to shows in the area but that's about it".
Herb is a student of this old Kaiser and he loves to describe the time behind the wheel, "This car is like a Cadillac on the road. You can go over a railway crossing and you barely feel it. It's really smooth".
He also analyzed some of the mechanical features of the Kaiser, "The brakes are pretty good but the steering feels a little stiff but that's probably because we're so used to power steering". That's one of the more realistic attitudes an owner can have about a car that's six decades old.
There are always little road adventures with old technology and this Kaiser is no exception, "It did vapor lock on me a few years ago. I took it for a run and it definitely did vapor lock but I got home though".
The real key to this '53 Kaiser is its owner history because the family link is so strong and the car was protected from the ravages of life in the real world.The key to that statement is found in Herb's parting words.
"I haven't had to do a thing to it".
Jerry Sutherland