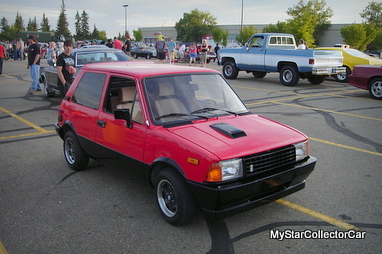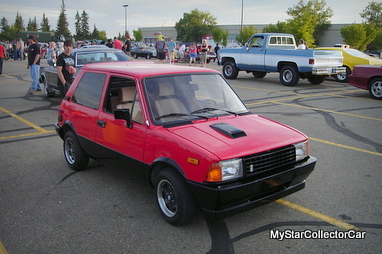 An odd visitor to a car show caught our attention because we had never seen a 1985 Innocenti before; in fact we had never even heard of one before that show.
It turned out to be a very interesting story because these little Italian cars were only sold for two years in Canada according to owner Gary Curr.
The Innocenti brand actually goes back to 1920 as a machinery works manufacturer that branched out into two and four-wheeled products like Lambretta motor scooters and Mini cars.The lineage of the Mini is found in the Innocenti because Gary told us his car is the exact size of the Mini.
We would not debate the point because Gary is the expert and the Innocenti is not a big car, but it is a very cool set of wheels that gets plenty of attention from curious onlookers.
Gary is only the second owner of the Innocenti and he has all of its service records from Day One. Gary was an unabashed fan of Detroit muscle in his younger years, particularly Mopar muscle, because he owned a Challenger RT at one point in his youth.
His Innocenti will not match his Challey on the street but it gets 55 mpg, so it will be a very frugal way to get to car shows for Gary. Plus the car will get plenty of attention at shows because Innocentis are not something you see every day to say the least.
The car has a 3-cylinder engine engineered to milk every ounce of horsepower out of its tiny block. The engine is turbo-charged and uses an old school carb instead of fuel injection but it will run all day at highway speeds and can hit 100 mph if the driver wants misadventure in his life.
Gary described the performance as "peppy" and says he "has a little trouble holding it back on the road" when he drives the little Italian job from the mid-80s. He also told us the car was "all original" and one would gather Gary has no plans to alter his Innocenti.
The Innocenti has a 5-speed manual transmission and this feature is likely a great way to maximize the performance of the little turbo engine. It also has power windows and this may be its only nod toward luxury features.
The Innocenti is an interesting car because it runs the risk of falling into the terminally cute category due to its size and basic appearance, but there are subtle signs that give this car a tougher image.
The hood scoop and wider tires help alleviate the cuteness factor on the Innocenti and make it more of an 80s pioneer in the tuner car hobby. In fact it looks like lightning in a small bottle when you see an Innocenti live and up close at a show.
We are always glad to learn about vehicles at shows and this little Innocenti was a good lesson in small car style and performance from the 80s.
Jim Sutherland