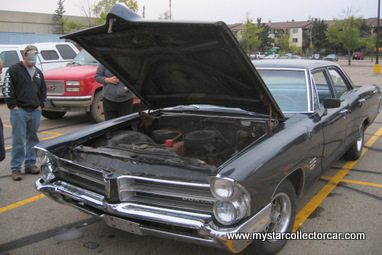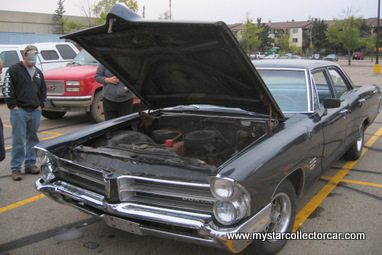 We have discussed the lack of respect shown towards four door sedans in car world. 
'We totally disagree with this attitude because the "more-doors" still carry the same stylish look of their prettier siblings.'
Siblings that have two doors, hardtops or… no tops in warm weather.
But now we have a personal hero with a 1965 Pontiac Laurentian (Canadian model).
This Pontiac was a no-frills four-door sedan that didn't even have the radio option. It did have an automatic transmission bolted up to a 230 six to motor around its mid-60s family.
Somewhere along the line the family outgrew the Poncho and moved on to the next family truckster. The car was stored fairly well until somebody decided that it should be flattened into enough metal for about six stoves.
They sent it for its last ride to a local wrecker whose specialty was turning full sized cars into five-inch tall cars-not parts salvage.
Somebody convinced the wrecker to sell the entire car to him and thus saved the Pontiac from the executioner. The relationship was short-lived and eventually the car was back on death row with the same wrecker.
Another guy intervened in the eleventh hour and a permanent stay of execution was issued for the car. He bought the car, but this time the car had sustained some body and driveshaft damage from a forklift that had already stacked the Pontiac for disposal.
A buddy of the new owner managed to bring the six back to life and now the Pontiac has a new lease on life. A driveshaft replacement will straighten out the not-so-good vibration in the Poncho.
The car shows a youthful 50,000 miles on the odometer and the lack of wear in the interior indicates that these numbers are accurate. It carries all of its original stickers under the hood and trunk to show its original look.
The current owner is still weighing the pros and cons of this old Pontiac in his world. One thing is absolutely certain: This car will never visit the slaughter house for a third time- its owner promises that it will get a better new home.
Even if he doesn't keep it.
Jim Sutherland @mystarcollectorcar.com
COMMENTS
DENNIS:"Stick a 389 in it and you'd have a nice, original "Daily Driver". I can't see a 6 pulling a tank like that".