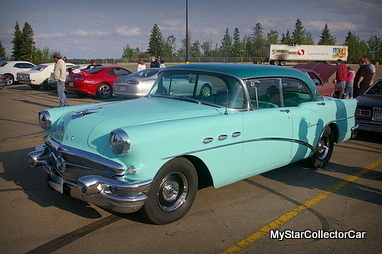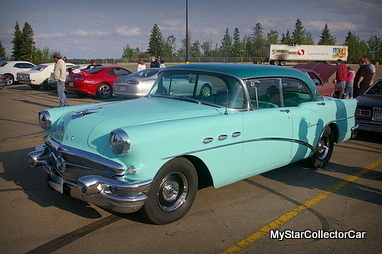 Divorce can be devastating for a couple but besides the marriage, the typical casualties are kids and property.
Kids are the biggest victims by far but occasionally '56 Buick Specials can be affected by divorce procedures.
This is one of those times.
Lance and Stacey Bell are not the divorce court bound couple-they are the lucky new owners of the Buick. Lance explained, " A guy was going through a divorce and he had this car for quite awhile and nobody came to look at it so I bought it on sight".
The Bells loved this old Buick so it went to a new, much happier home. This Special is bone stock so Lance has learned some of its factory tricks, "You start it by pushing the gas pedal, it's an oil bath air cleaner and it's a generator".
The antiquated technology doesn't deter Lance, "It's a lot of fun to drive but the radio didn't work so I'm going to go to an iPod. The radiator needed a little work so I had to buy a thermostat housing because the original one was eaten out. Plus the rear shocks might be a bit of a problem. You definitely need to pay attention when you drive it".
The biggest expense so far was unexpected as Lance admitted, "I picked up a washer bag on Ebay for 400 bucks and it had yellow washer fluid so everyone thought I had antifreeze in it".
Lance has a long-term game plan for the car but he wants to start with a fairly simple modification, "We'd like to get disc brakes on the front right away for the stopping power because this is a pretty big car".
Upgraded brakes are just the tip of the iceberg for the future as Lance outlined,"I'd like to drop it down a bit for a batter ride and then move on from there".
The plan gets even more detailed in the future, "I'd like to do a complete resto-mod on it. I'd like to upgrade the chassis in a big way.I'd like to make it all new underneath so it can run like a new car".
The changes won't stop there as Lance explained, "I want to go to fuel injection and discs all around so it runs and stops great too".
Lance is a true believer in the term resto-mod because he respects the factory color, "It wasn't available in the States so that won't change because it's kind of rare".
The rare color will be a signature factory feature of the Bell's 1956 Buick Special so it will always stand out at any car show or on the road where it will spend a lot of time but this old ride will be far from stock.
The key to any car project is a realistic game plan with a realistic budget built within a realistic time frame.
Lance and Stacey have clearly set up a solid game plan for their divorce court victim. They drive it while it's stock and have a ton of fun on the road. They've mapped out realistic goals for the Buick and clearly the expenditures are a mutual agreement.
There's no question this car won't be a casualty of another bad marriage with that kind of cooperation.
Jerry Sutherland