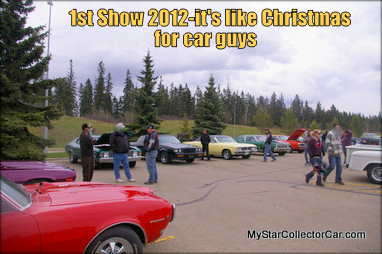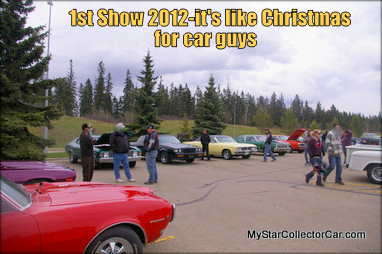 We had the first official car show of the season.
We had seen the classic iron for a few weeks already here on the streets, so the anticipation of a full blown gathering of the car guy clan started to rival the anticipation felt…
during our kid days in the weeks that led to Christmas.
The idea of weather warm enough to drive a vintage ride on the gravel-free streets has serious appeal to the car guys.
They want to show off the efforts produced by one to several winters worth of hard work to get their wheels ready to hit the streets.
It is rarely an easy process because the variables in the equation include time, money, degree of difficulty in the re-build or resto-mod project and degree of difficulty in the sell job needed to convince an unhappy spouse that a project is a worthwhile reason for time, money and garage space.
All of it is worth the effort and marriage counseling when the finished four-wheeled beauty is out on the street. Our first show is like everybody's first show because everybody wants to see that new kid on the block.
The newly restored rides draw a lot of the attention because they have gone from the planning stages to the street and the car guys are anxious to see another car guy's fulfilled dream on the road.
There was a big turnout for the first show even though it was still a pretty cool night in the meteorological sense at the first show.
Consequently, it may have felt a little closer to Christmas temperature wise for the first show, but the hottest iron in town warmed up the chilly air a great deal that night because the long anticipated first show of the season was finally a reality.
This was a great start to a new season.
Jim Sutherland
Follow us on Facebook at-http://www.facebook.com/MyStarCollectorCar
Follow us on Twitter at- https://twitter.com/#!/MyStarCollecto1