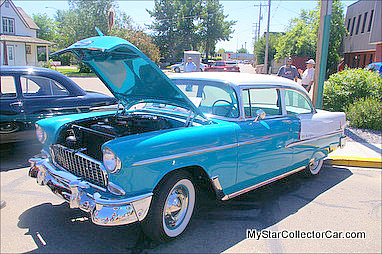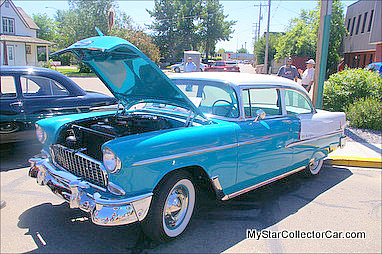 Bill Bailey is an astute car guy. He's been involved in the old car hobby for decades so he's seen the best and the worst in this world.
That experience gives Bill a shot of confidence when he's in the market for a new addition to his garage.
Bill really likes the classic and clean look of the 1955 Chevy so he began a search for the right car and this '55 post turned up in an advertisement.
It looked great on the surface.
Bill wanted to keep the stock appearance and this clean-looking Bel Air was perfect so as he said, " I thought it didn't look bad so I inadvertently made an offer". He admits that he had a few concerns about the car but the Chevy was more of an impulse buy than a well thought out game plan.
Any car guy can be blinded by a glamorous outside appearance but when you put a car under the microscope, the results can be hideous. The closest approximation is the website with the "Hollywood Stars without Makeup" theme.
This '55 Chevy was definitely a "star without makeup". The first sign of any bad restoration is the appearance of the pop rivet. Bill found that kind of slipshod repair work on the floor pans and knew that the ride was going to get bumpy.
New rocker panels were welded right over the old rocker panels and for car guys this kind of so-called work is a three-alarm fire. That's where experience comes into play because a lesser car guy would have folded his hand at this point and eaten a big loss on the car.
Bill's not that guy. He dug in deeper and did a complete analysis on the '55 Chevy based on his own years of experience. He reported, "I knew the one quarter was bad, the floors were okay and most of the work I could do myself".
That's the upside but even with a wealth of experience, Bill took two years of hands-on labor to get this car to show condition. He admitted, "I did a lot of it but there were a few things that I had a friend do. It was pretty complicated but all the gaps are done right because that's the only way to do a car properly".
Bill was happy to add, "the car was really sound mechanically, the guy got that right". His only issue now is changing a rear tire because "that involves 2 jacks and a lot of patience".
This was a tough job and the brutal work even slipped by a veteran car guy but ultimately the right thing happened with the car. It was saved from any number of terrible fates from "parts donor" or "torn apart and rotting in a garage" to "simply deteriorating in the hands of one bad owner after another".
Instead, this classic '55 Bel Air received a new lease on life thanks to an undaunted, talented and patient new owner.
Jerry Sutherland
Follow us on Facebook at-http://www.facebook.com/MyStarCollectorCar
Follow us on Twitter at- https://twitter.com/#!/MyStarCollecto1