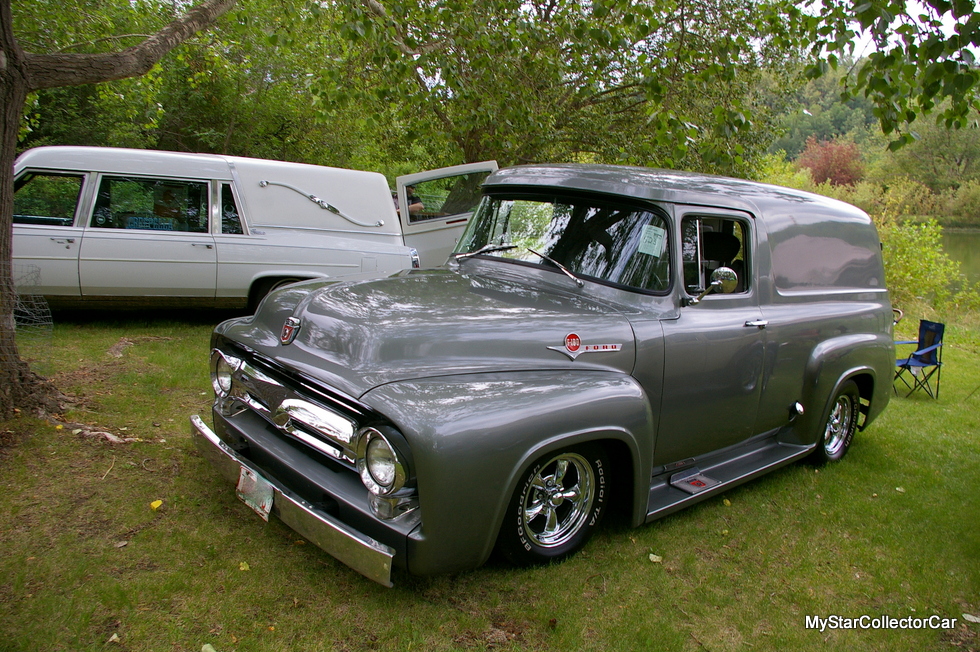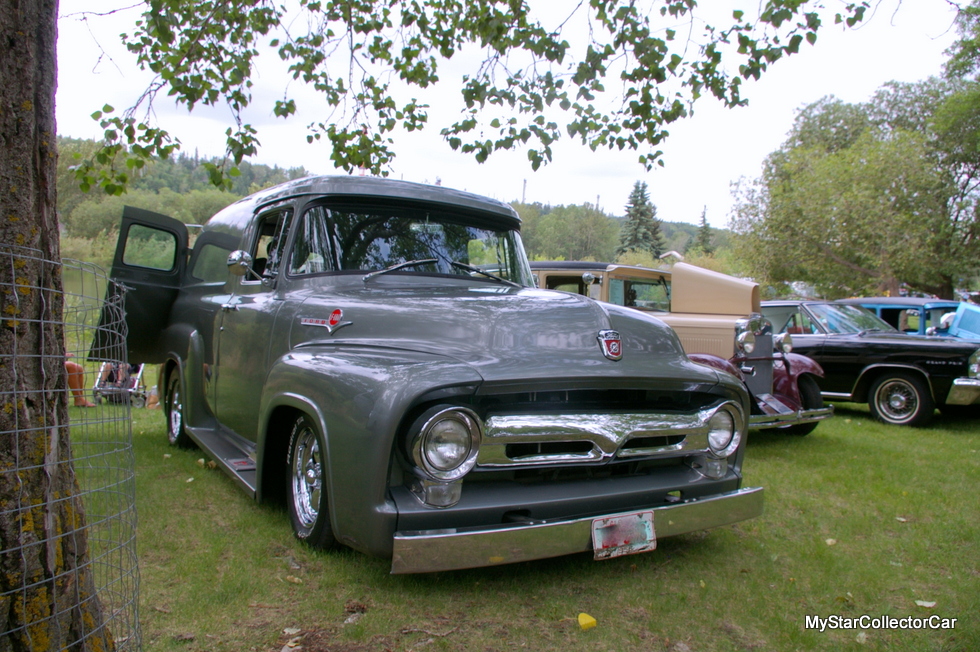 The 1956 Ford F-100 pickup truck is one of the most popular vehicles in the car guy hobby.
These famous trucks were built for hard work 62 years ago but now they have gained legendary status because of their striking body style, so their days of hard work are behind them.
A 1956 F-100 panel truck was also built for hard work when it left the Ford truck factory.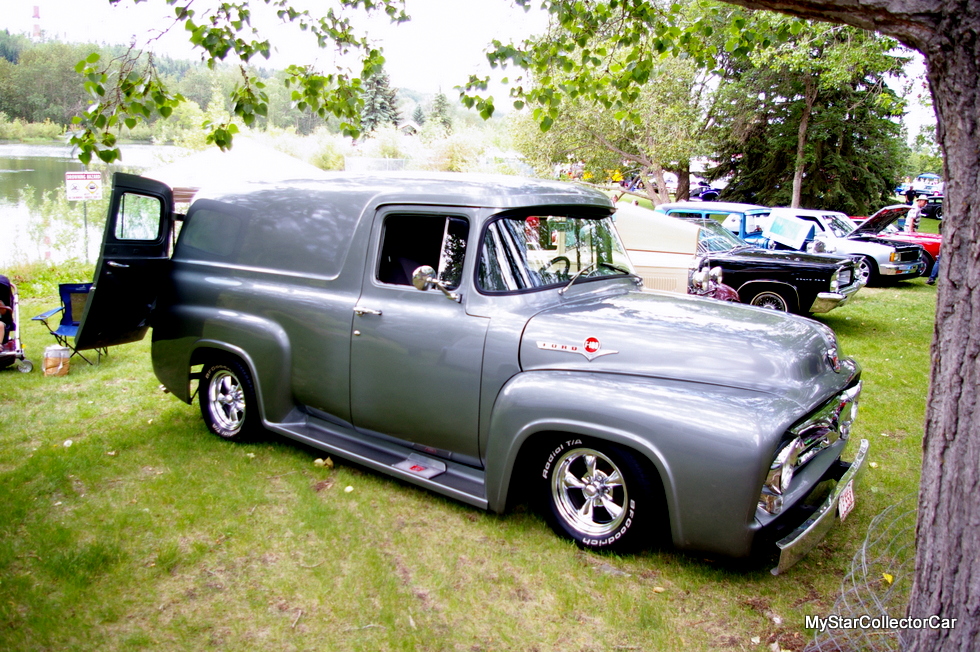 The big difference was its production numbers because the panel trucks were not built in large numbers.
In fact, Ford built 137,581 1956 F-100 pickups and only 14,023 panel trucks in 1956. The chances for a panel truck's survival over the ensuing 62 years were slim because they were not built for future collectability.

Their scarce numbers have made the 1956 F-100 panel trucks into rock stars in 2018.
A custom 1956 Ford F-100 panel truck was at a summer show and it became an immediate four-wheeled rock star because of its cool style and scarcity. Ken Nicholl was the proud owner of the truck and was able to fill in the blanks on its history.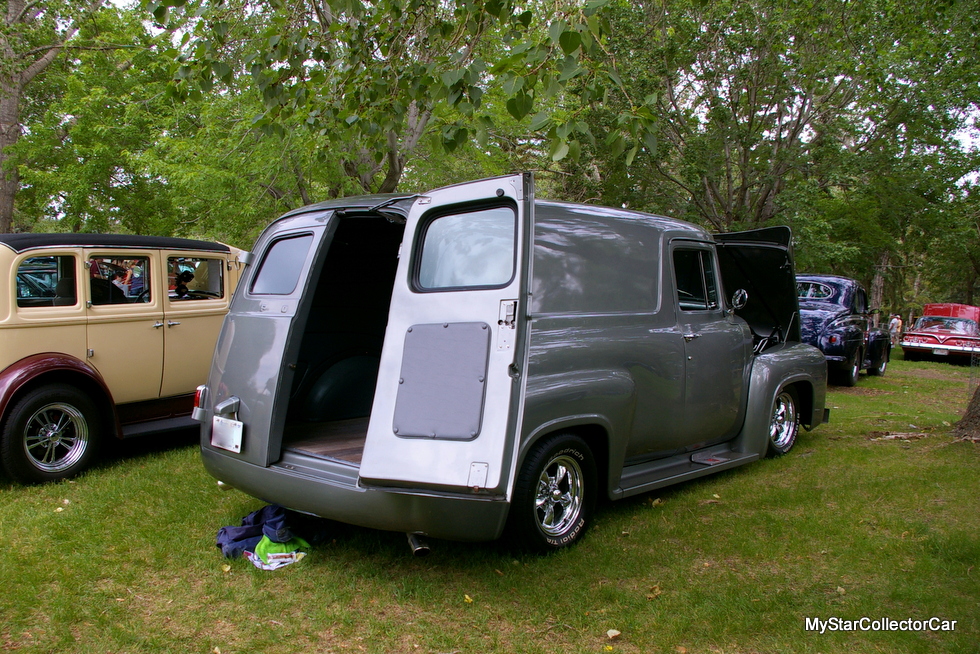 The previous owner started the massive changes on the panel truck and Ken was able to push it past the finish line when he became the panel truck's owner about 5 years ago. Ken described the truck as  "three quarters done" when he became its owner, so he was able to add his own touches to the build.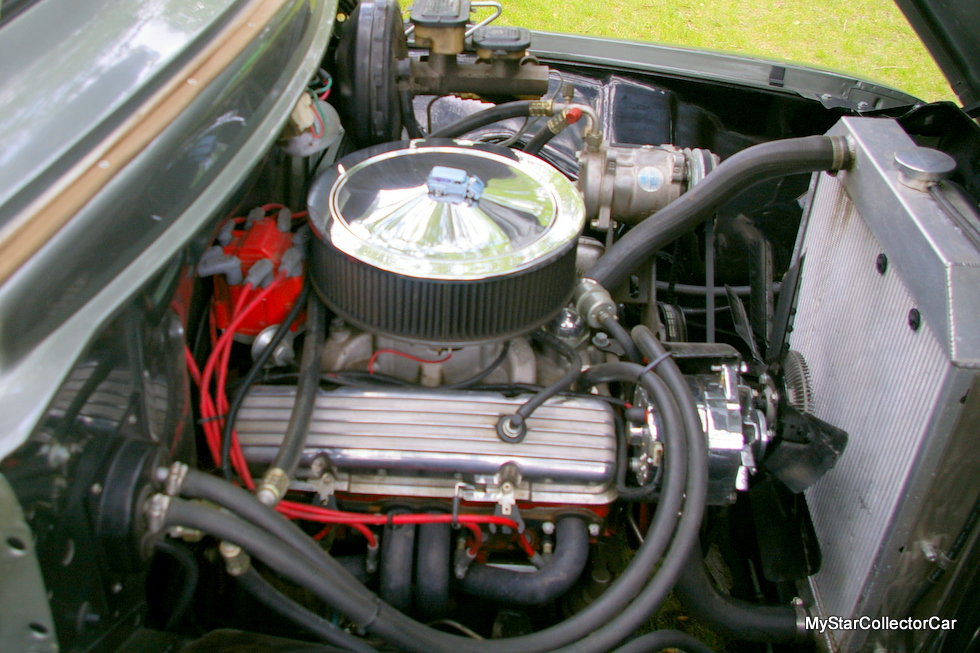 For example, the interior of the truck needed a complete installation so Ken started with a complete insulation kit so he could improve the panel truck's ability to handle exterior sound and climate issues.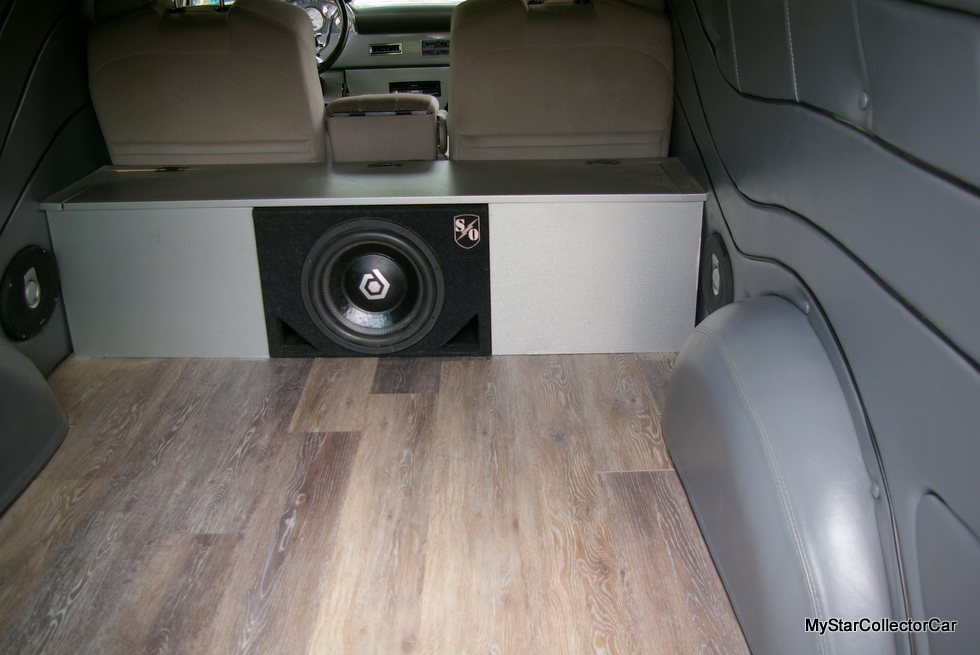 The truck also had a Cordoba front end that was a popular resto mod choice for car guys during a bygone era. Ken replaced the Mopar add-on with a Mustang II-style aftermarket front end to give his F-100 panel truck a better handling package.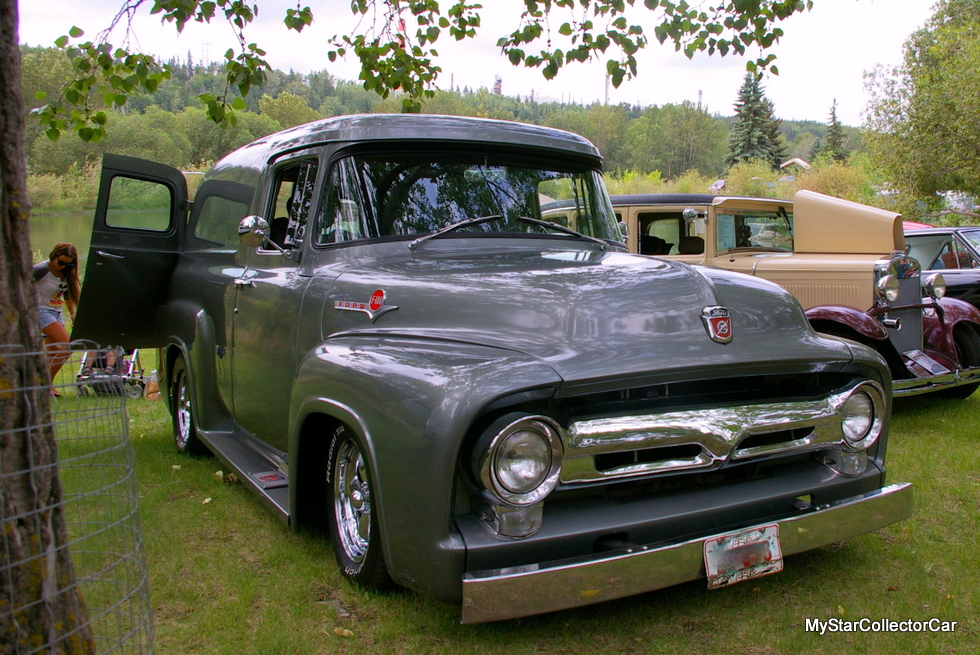 The truck has a 350 Chevy small block that is hooked up to an automatic transmission, while the steering column was donated by a 1980s-era Chevy pickup. Ken noted the Ford influence on his truck included the door locks, so his F-100 has both Chevy (to start it) and Ford keys (to open it).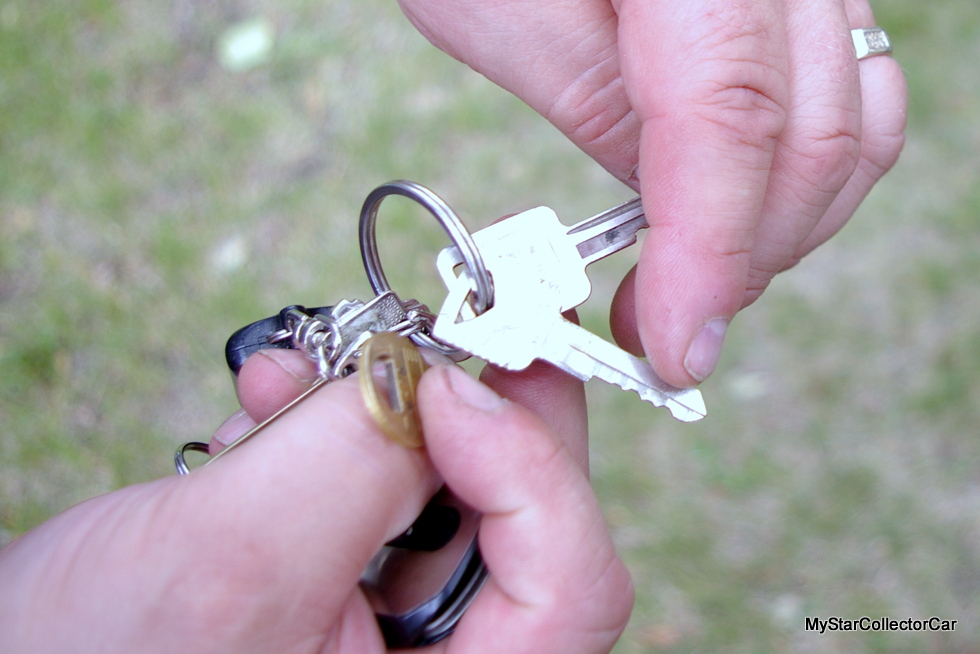 The creature comforts in Ken's F-100 panel truck include an aftermarket air conditioning system that provides plenty of cool air inside his truck's cabin area. The F-100 also has electric wipers in case things get a little wet for the truck.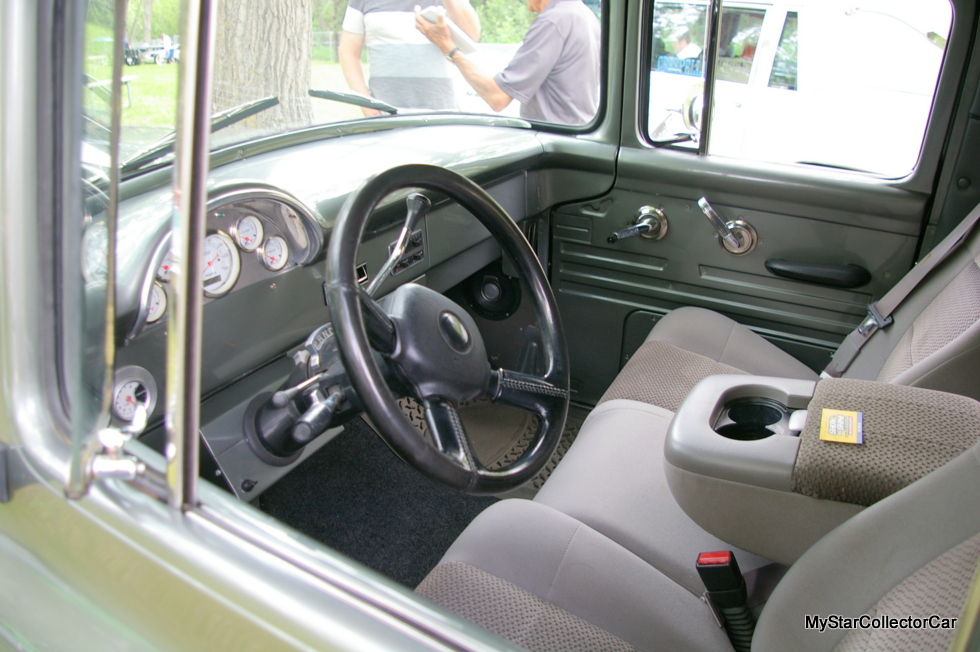 Ken may encounter some rain because he drives the F-100 very frequently during the summer months and even uses it as an occasional driver for his business. The truck has encountered "lots of little chips from lots of driving", in Ken's words.
Ken also added that he "can't drive it 10 minutes without waves and thumbs-up" from its many admirers. The rare Ford panel truck gets plenty of attention on the road.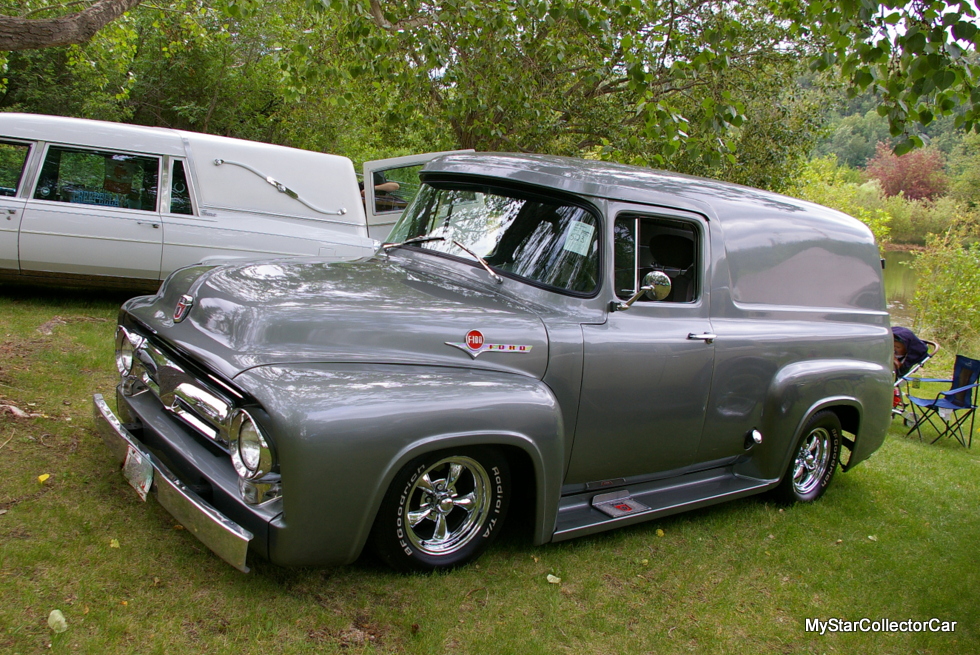 Ken has spent plenty of time on the road with his very cool custom 1956 Ford F-100 panel truck because he loves the pleasant experience that comes with the territory when you own a classic truck from the past.
People love his rare custom ride-and so does Ken. 
BY: Jim Sutherland
Jim Sutherland is a veteran automotive writer whose work has been published by many major print and online publications. The list includes Calgary Herald, The Truth About Cars, Red Deer Advocate, RPM Magazine, Edmonton Journal, Montreal Gazette, Windsor Star, Vancouver Province, and Post Media Wheels Section.