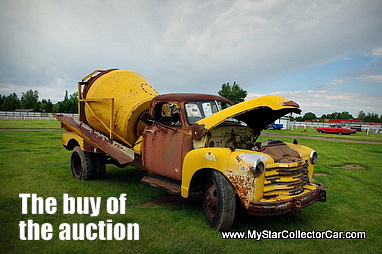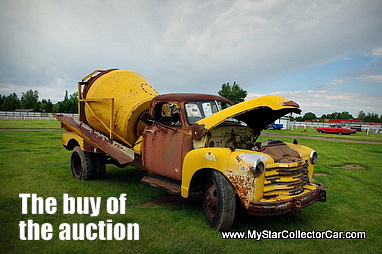 Most car guys go to auctions because we're all looking for that "buy of the auction".
In most cases, this dream buy checks in at a Walt Disney level of improbability.
A dream world where a one owner COPO Camaro sells for 2500 bucks because you were the right guy at the right auction.
That simply doesn't happen unless you're the only bidder within 500 miles of the auction so the fictional COPO Camaro would have to be located north of the Arctic Circle on Baffin Island.
Reality is by definition, more realistic so the game changes when you're at an actual auction.
That's where you have to apply liberal amounts of imagination and vision to find that dream buy.
There was a recent charity auction with a mix of over 100 of the most diverse vehicles ever seen at one sale and this vintage Chevy cement truck was part of the mix.
It sold for 200 bucks. Most car guys (and every car guy's wife) would say that the buyer paid $199.00 too much because this old monster has absolutely no upside. These are not men of vision because this 200-dollar cement truck was the buy of the show.
This old Chevy was rough looking and it showed every war wound from a long and demanding life as a working truck. Unlike its drivers, this old brute has no pension plan unless you count a date with a metal shredder as a great way to retire.
There was a mere suggestion of a windshield and only the bottom part of the driver's seat but the key to this truck was that it ran. According to the fact sheet on this truck, a high school shop class got it running and that's half the battle in the wicked world of vintage iron.
There was no word on the working side of this old cement mixer but it sure looked like everything was there and that's 75% of the battle in old car world. In the case of a rare and vintage old truck like this it's more like 95% of the battle. You can open up books on vintage Chevy truck parts but the parts list for an old mixer is a lot thinner.
The inevitable question from guys with no vision is obvious-why would you want to pump any kind of money into an ugly old workhorse like this Chevy truck?
Simple answer? When was the last time you saw one? These old commercial trucks have taken on a life of their own and with a spike in interest comes a spike in value. Remember, this is a Chevy truck so any rudimentary online search will find that cosmetic stuff you need and the power train is a little easier to part source than a vintage Ferrari.
The end game is pretty simple. You will win best of class at every car show you attend, the advertising possibilities are limitless and you will have one of the coolest rides on the planet. You can even help your neighbors with that basement foundation or garage floor.
Seriously, this old Chevy truck is a project that drew more laughs than respect at the auction but it was, indeed, the buy of the auction.
Jerry Sutherland