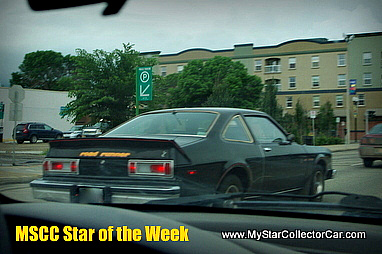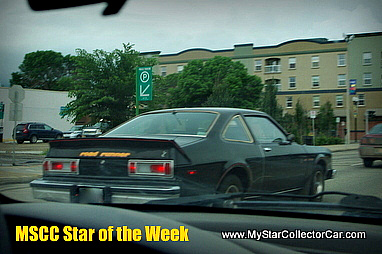 JUNE 30 STAR OF THE WEEK:1980 PLYMOUTH ROAD RUNNER-THE 80S COOL FACTOR
North American society likes to put 25-30 years on the clock before an era officially becomes nostalgic.
The 1980s have officially become nostalgic because people who are well past the gates of middle age are remembering the 1980s as a simpler, fun-filled era.
They long for those irresponsible carefree days of youth, crappy 80s tunes and T-tops.
The 1980 Road Runner is a great example of evolutionary 80s cool. Mopar purists ran these cars down because they came with 318s not 383s but they missed the point.
Chrysler was in crisis mode and these Runners were the perfect example of how to improvise under pressure.
In 2013, this Star of the Day 1980 Road Runner was a scene stealer in traffic last week because it oozed 80s cool and you knew you weren't going to see another one on the next block.
JUNE 29 STAR OF THE DAY: TWO MUSTANGS AND A JUNE NIGHT-PARADISE COMES IN MANY FORMS
Car guys hope for one thing every time they turn the key on their old iron…paradise. Paradise means good weather for car guys-it's a lot like the porridge in the Three Bears fairy tale because it can't be too hot or too cold.
Too hot and that old Pontiac will slump over like a Cocker Spaniel locked in a car on a 90 degree summer day under the pressure of the dreaded vapor lock.
Too cold and the car protests every mile by stumbling and pumping out raw fuel in the equivalent of an automotive work to rule campaign.
These two Mustangs were out on the perfect night a few days ago because the weather was mild, the wind was light, the sun was out and the evening was fit for an MSCC Star of the Day picture.
JUNE 28 STAR OF THE DAY: 1962 IMPALA CONVERTIBLE-SUMMER'S HERE AND ROUTE 66 BECKONS
Nelson Riddle had a big hit back in June 1962 with his instrumental song Route 66.
This was a classic driving song for a legendary road that faded into history decades ago when six lane turnpikes replaced the winding two lane road that linked a country.
Nobody can really know if Nelson was thinking about a '62 Impala convertible when he did the song.
Nothing would have been more appropriate than a quintessentially American car on a quintessentially American road.
Summer's here, the open road beckons and this '62 Chevy Star of the Day convertible said Route 66 summer road trip better than anything on the road last Sunday.
JUNE 28 STAR OF THE DAY: 1971 PLYMOUTH GTX-BIG, BAD AND PURPLE
The B-body Plymouths went through a transformation in the early 1970s when the fuselage body debuted in '71.
The response was surprisingly lukewarm when sales fell off on these new look Mopars but King Richard Petty didn't miss a beat with these aerodynamic Plymouths.
History was kind to the fuselage Plymouths because these 2nd Gen Road Runners and GTXs bask in the glory with Mopar guys in 2013.
This big, bad purple '71 GTX Star of the Day was at a show back in September 2010 where it captured the spotlight that night.
JUNE 26 STAR OF THE DAY: CARS THAT MAKE YOU SMILE IN TRAFFIC
Today's traffic is an overwhelming sea of bland and shapeless forms. This is what happens when you use the same automotive design template over and over.
That's why this classic old rod was such a welcome sight this past weekend.
Every dime that the owner invested and the long hours that he put into this ride were clearly worth it because this car made everyone smile that day.
That's an MSCC Star of the Day feat.
JUNE 25 STAR OF THE DAY: A LOOK BACK TO AN ERA WHEN STYLE MEANT SOMETHING
There was an era when you could actually ID the year, make and model of any car on the road.
This era was called the 1950s and 60s.
Detroit really gave you a bang for your buck back in those days because a difference of 5 or 6 model years meant your brand new car made your neighbor's car look like something Fred Flintstone would drive.
This picture from a few weeks ago really drives this point home. That's a '57 Ford Thunderbird parked next to a '58 Chevy Impala flanked by a '63 Ford Galaxie.
There was no room for error back in those days because that T-bird is so distinctively Ford, the Impala is so distinctively Chevy and the Galaxie is so distinctively 1960s.
That's a Star of the Day moment.
JUNE 24 STAR OF THE DAY: 1967 PONTIAC SAFARI WAGON-A BIG PART OF SUMMER VACATIONS IN THE SUMMER OF LOVE
Muscle cars got all the press in the 1960s because they were cool, fast and aimed directly at the younger generation.
Kids were anti-establishment in 1967 and they were definitely listening to Timothy Leary's advice to "tune in, turn on and drop out".
San Francisco was the destination of choice for these rebellious youths and the word "hippie" became a buzzword for everyone from big city police chiefs to Johnny Carson.
In most cases these kids were teenagers but what about their 12 year old siblings?
The truth is the younger brothers and sisters weren't on the streets of San Francisco.
They were in the back of station wagons like this MSCC Star of the Day '67 Pontiac on vacation during the Summer of Love.
They were going to Grandma's house, Disneyland or summer camp in the family wagon…they weren't going to a Love-In in a VW bus.
For past Stars of the Day please follow this link.