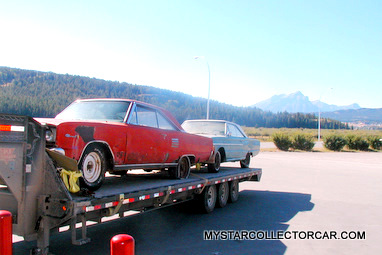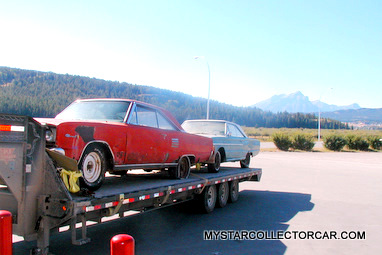 The hunt for a project car can take you down many dead ends but, like that mythical pot of gold at the end of the rainbow…you eventually find your project.
Todd Puzey's search took place over many months and most car guys will recognize the pattern of phone calls, bad advice, pouring over ad after ad and trips down far too many blind alleys. Alleys full of crooks and dreamers with high-priced junk or cars that "were just sold".
But like most motivated searchers, Todd's quest ended in success after following that final lead.
Patience paid off-he found his car and it fell within his budget. Todd explained his initial reaction to the cars, "The cars were sitting under a giant pine tree out on an acreage between Cranbrook and Kimberley BC. The place looked more like a place to hunt rabbits than to find some classic cars, but there they were, up on cinder blocks and covered with a thousand pine needles!"
That was the easy part-transporting two cars home is double your fun for twice the price but Todd had that covered-to a point "I was lucky to be working with a guy who did "hot- shotting" on the side, and had a big flat deck trailer. He offered to drive out with me and help get the cars back, if I paid for his fuel, which I gladly agreed to. Also, the junior guy at work had nothing planned on the day we decided to go, so he volunteered to come along for the adventure as well".
As most old car veterans know "adventure" is the key word. This was no exception as Todd elaborated," Once we got to the location, we had some work to do. The cars had 4 flat tires each (luckily I was smart enough to bring a tool kit and an air compressor)."
Lesson number one in old car world is simple. Be prepared to improvise-constantly. Todd's experience was no exception "Fortunately all the tires held air pretty good, so now we were faced with the next problem; getting non- running cars up on the trailer with 3 guys! After locating the trailer below a small hill, we pushed the first cat around behind, and then up onto the hill, and then grunted it up onto the trailer. Once up front we chained it down. The second car was going to be the test; we had to push it on without crunching the first car. We put a quilt and a pile of cardboard against the rear bumper of the first car, and then slowly pushed the second car on until they were nestled together; at this point we realized we were really pushing the envelope as the second car's rear tires were only on the trailer with about 1″ to spare! We chained it down as well, and then headed back towards home."
The last part of the 66 Coronet retrieval operation is yet another example of a very familiar character–the instant tire kicker. Todd explained, "As we were stopped for gas in the mountain pass between AB and BC, a guy came whipping in on a Harley and asked me where the hell I had gotten the Coronets! He had just bought one to restore, and was having a hard time finding parts; he offered to buy the parts car off me for the same price I had bought both cars for; I told him no as I knew I would need most parts off the parts car, and declined his offer".
Part of the improvisation process with old cars is pushing the envelope because …well just because. Todd had a few concerns "Anyway, our last worry was with the law, as we figured we were thresholding on the limits of the trailer, and thought the highway patrol might make us pull one of the cars off at the weigh station. We crossed our fingers, and got lucky; the weigh in station was closed, and we were able to pin it for home with both cars."
Most old car guys rationalize this part of the adventure- pushing the limits of any given situation.This is familiar territory.
Wives are reluctant allies in old car world-Todd's wife Clare was no exception but to her utmost credit she was ready for the task, "After some excitement unloading them at home (my wife was seconded and put onto steering the cars without brakes as we pushed them home) it turns out she did not like the ride when a car without brakes is pushed off a high trailer with steep ramps".
Next up (after re-explaining the practical side of 2 brake-less, non-running cars to his wife) Todd took on the disassembly step of the 66 Coronet.
Stay tuned for Part 3
Jerry Sutherland
For more "Stars in Rehab" stories follow this link- https://www.mystarcollectorcar.com/3-the-stars/stars-in-rehab.html