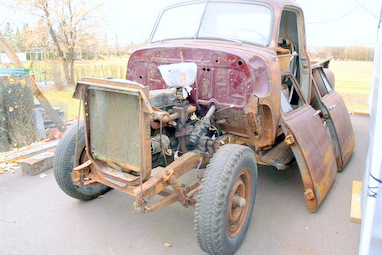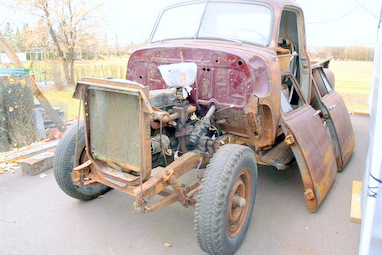 Rik Runciman bought this 1952 Chevrolet ¾ ton pickup back in 2007. There is a misconception that early 50s Chevy pickups are still very common-Coors light beer common.
But Rik's truck is the exception to the rule "it's a Chevrolet 3/4 truck 1424 Canadian born, built in Oshawa ON, production date April 29th 1952, has the same spec's as the US model 3604.Of the 838 units of the body style 1424 built at the Oshawa plant for the 1952 model year, body number 441 means my truck was 441st, the Dulux paint was Rideau Maroon".
That is one of the reasons that Rik wanted to take this project on-he saw this truck and realized the huge potential. That's not unusual because most car guys can look at a rusty, disassembled disaster and visualize a completed show winner.
Fewer car guys can actually follow through on a project and most never get past the "take it apart" stage-that's the state that Rik's truck was in when he took delivery.
Unlike the "take it apart and forget about it" strategy that this Chevy had seen to this point, Rik started with a solid game plan for this early 50s workhorse. That separated Rik from about 60-70% of would-be project guys.
Rik actually bought the truck in a roundabout fashion via a family connection "as far as l know is it's a farm truck from the Edmonton area, I understand a guy bought the truck from the farmer to restore, but after a few years it sat in his garage collecting dust and taking up room, my son in law was out 'garage sale-ing' in Morinville near Edmonton AB,
…he bought the truck for $450. and towed it back to his acreage in Cardiff near Morinville, there it sat for a few months until my wife & l came up to visit for the weekend, l asked about the truck my son in law Sandy said he wasn't sure what he was going to do with it, so two months later l phoned Sandy and l bought the truck off him and brought it back to our acreage".
In other words-the truck and Rik came together through fate,not design

That's why this is a remarkable story because impulse buys like torn apart trucks usually end up in the local bargain newspaper or… part of yet another garage sale. Rik's son in law is more typical of this kind of buy-more questions than answers-often from a disapproving wife.
So Rik had two advantages in this project-a game plan and the approval of his wife.
Other advantages surface in Part 2