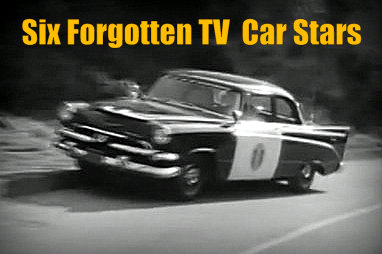 TV and law enforcement dramas have gone together since the first day a producer realized people love cop shows.
Ratings were important from the beginning and TV guys knew people were paying big money to see cops and robbers on the big screen so the little screen beckoned.
This meant cop dramas have been a TV money machine for decades but the natural question for car guys is…what kind of cars did they drive over the last 60-65 years?
Highway Patrol was one of the earliest cop shows and Broderick Crawford became a household name as Chief Dan Mathews in 1955. He drove several different cars over his 4-year career but the majority of his rides were Exner era Dodges.
Dan was an interesting character because he plugged a lot of bad guys in wild shootouts and after he dropped the guy he was so detached he'd step over the body, ask where the phone was in the house and act like he'd just finished tying his shoes. Mr. Spock was more emotional.
Another big TV cop show was 77 Sunset Strip in 1958. This one was about two Hollywood private detectives who worked next door to a restaurant. Most people remember the guy next door (Ed "Kookie" Byrnes) for his classic hi-boy hot rod but the other guys drove some cool iron including a Square-bird Thunderbird.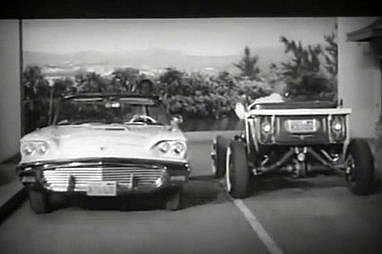 Most people also try to forget Kookie's song debut – 'Kookie, Kookie Lend Me your Comb' in an era when music was a crap shoot at best…similar to 2014.
Mannix debuted in 1967 with Mike Connors playing the lead guy. Mannix was a private detective/Korea war vet who worked for a company called Intertect. He bucked the company in the first year before branching out on his own in the next season. He drove a tricked-out custom Olds Toronado but Mannix also drove a conventional cop-style,stripped down '67 Ford Galaxie 4-door sedan company car in his first season.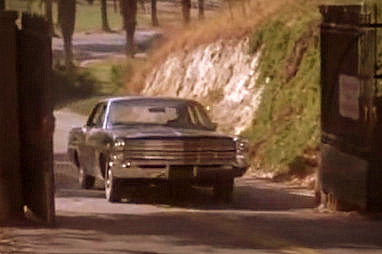 Mannix got a lot cooler ride in the next season when he popped for a '68 Dart GTS convertible and he eventually settled on some pretty spanky Cuda convertibles in the 70s.
The Mod Squad debuted in 1968—just in time to cash in on the 60s hippie counterculture. The Mod Squad was comprised of three kids (Peggy Lipton, Clarence Williams III and Michael Cole) who represented the demographics of the day but the coolest thing they did was drive a Merc Woody wagon.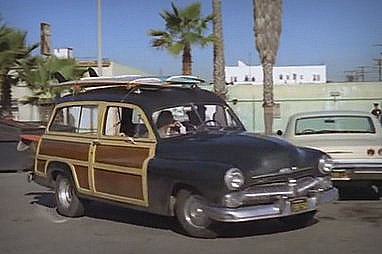 This surfing machine was part of their cover in '68 but car guys will always focus on the car over the TV show.
Streets of San Francisco debuted in 1972 with TV cops Lt. Michael Stone (Karl Malden) and Inspector Steve Keller (Michael Douglas). Malden played a mentor to the young punk Douglas and they solved a lot of crimes on the streets of San Francisco.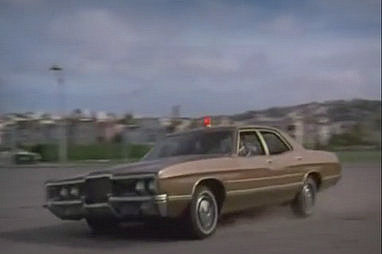 Fellow SFPD Inspector Dirty Harry Callahan would have been proud of their Ford 4-door sedan in the debut season.
Kolchak debuted in 1974 with Darren McGavin playing a new reporter who followed strange crimes for a living. Kolchak got to the grisly crime scenes in a beat-up vintage Mustang convertible.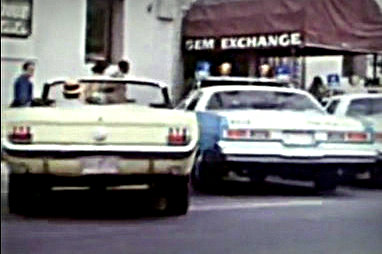 These crimes were of the werewolf/vampire variety and McGavin's character was a chicken, but likeable guy behind the wheel of a 60s icon.
These six TV cop rides will never make the Smithsonian but they were an integral, if obscure part of vintage TV shows because you couldn't arrive at a mid-20th century crime scene on horseback.
Jerry Sutherland
CLICK HERE to Like us on Facebook
CLICK HERE to Follow us on Twitter
CLICK HERE to Follow us on Pinterest
Re-post this article if you like it…thanks.