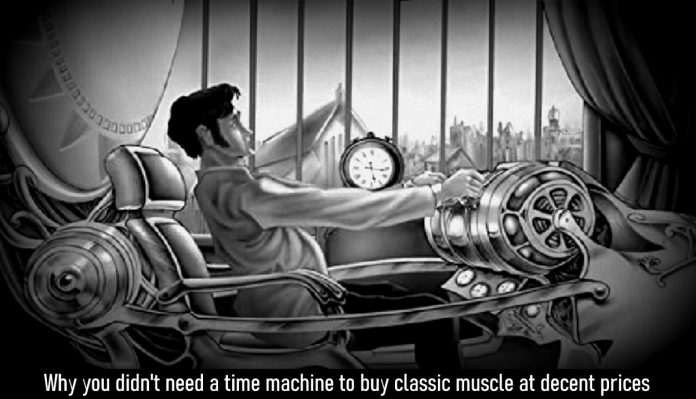 A lot of car guys look back at the late 60s and early 70s muscle car era with a mixture of reverence and regret.
The reverence is for the classic muscle era, and the regret is for not investing in a brand-new muscle car when you could find one in most showrooms.
That was then and this is now–but what about 1996?
I picked the year 1996 for two reasons. I recently inherited a pile of old Mopar magazines from '96 and one of them had an extensive classified ads section. The other reason was one most car guys will recognize–I was knee-deep in a major project back in 1996–plus I was also $10,000 deep in it.
If you write about cars, you're constantly going through a mental exercise to apply what you read to what you can write–it's good business. In this case, I read the ads in this 25-year-old Mopar magazine and the prices blew me away, so I calculated what 10K would buy back in '96. This process was much more painful than cutting checks for my project 25 years ago.
The first ad I saw was for a 1971 Challenger RT. This was a garage-kept 383 car, and the guy was asking $6000 for it so that price would have left 4000K in my bank account back in 1996 plus I would have owned a '71 Challey.

I looked this car up on the Hagerty Valuation Tool and they run from 30,000-40,000 USD in the current market. That's a decent return for any investment–except Microsoft shares.
The next ad was a for a '70 Hemi Cuda. This one sounded like it was an old track car, plus there's no evidence it was an original Hemi car, but I'm going to assume it was a Holy Grail Mopar. He wanted $18,000 for it so I would have had to pump up my banker for the extra 8K, but I had a pretty good relationship with him back then, so it would probably be a go on the financing.

The 2021 price range on this 18K car is between 100,000 and 400,000 USD. Recent sales suggest a trend toward the higher end of the scale, so I would have had a happy banker and an insane return on investment. PS–my project eventually soaked up a lot more than 18K.

The next ads were part of what I call a three-for-one deal. There was a '69 Road Runner post ($3800); a 1968 GTX ($3500), and a '68 Hemi Charger RT ($4200).
These were clearly entry-level project cars, so the fair thing to do is price them at the lower end of the 2021 price scale.
The Hagerty Road Runner valuation fixes the car at an average price of 37,200 with the lower end around 30,000.

Hagerty gave the '68 GTX an average price of 47,600 USD, but this one was clearly closer to the lower 30K range.

The project '68 Hemi Charger RT (assuming it was a correct Hemi car) has an average Hagerty value of 133,000 with a low-end number of 109,000 USD–that's probably where this car was on the scale.

The math is simple–I would have had to cough up another 1500 bucks for a return of $169,000 (less original 11,500 investment). That's what horse racing calls a trifecta (picking 1-2-3 in a race).
The last one is a 1966 Hemi Charger. The seller was offering it with–or without the elephant 426 Hemi under the hood. This one was easy–pay him the 11,900 asking price for the car and the original hemi.

Oddly enough–hemi or not–this one gave an ROI at the lower end, because the '66 Charger had a Hagerty valuation of 59,200 in #4 fair condition.
The project's 10K (and more) disappeared years ago–as did the car–but this proves one thing. You didn't have to take a time machine back to 1970 to find a smoking deal on a Challenger.
You just had to be smarter back in 1996.
By: Jerry Sutherland
Jerry Sutherland is a veteran automotive writer with a primary focus on the collector car hobby. His work has been published in many outlets and publications, including the National Post, Calgary Herald, Edmonton Journal, Ottawa Citizen, Montreal Gazette, Saskatoon StarPhoenix, Regina Leader-Post, Vancouver Sun and The Truth About Cars. He is also a regular contributor to Auto Roundup Publications.
Please re-post this if you like this article.