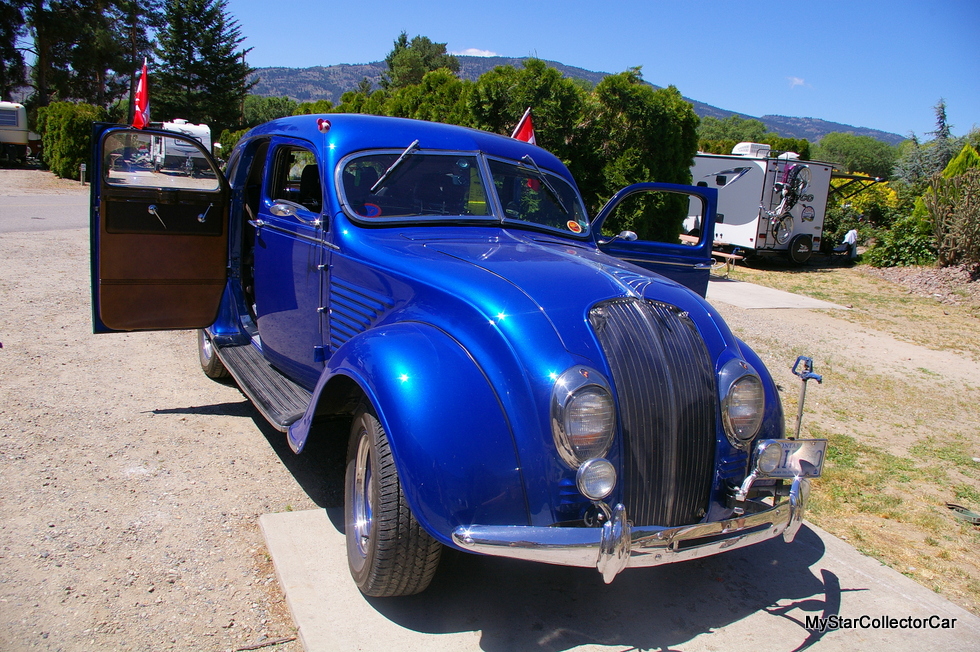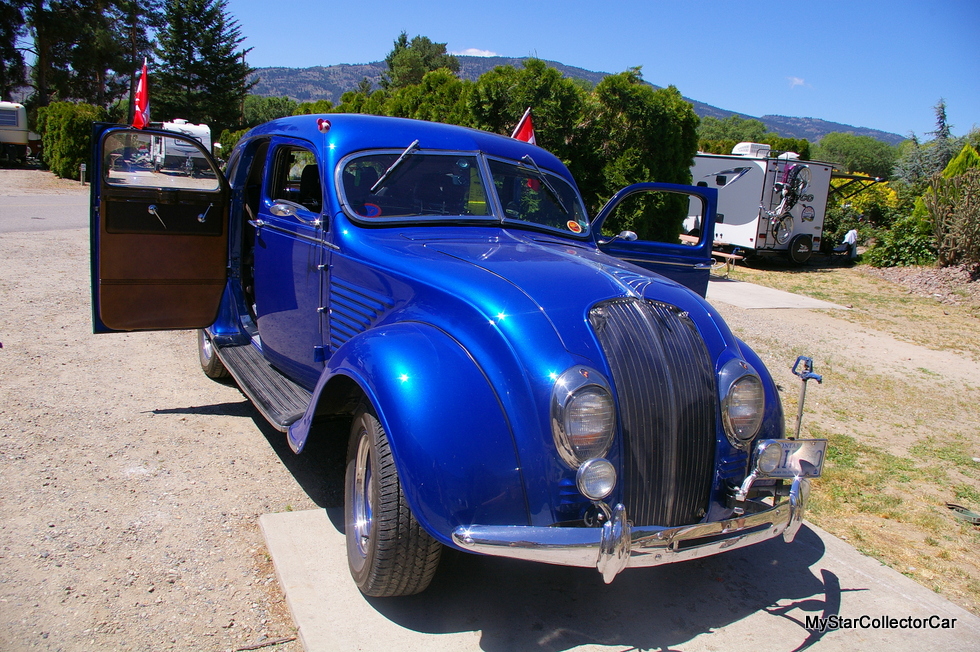 One of the more interesting members of the 2107 Coast to Coast cross-Canada vintage vehicle run was a 1934 DeSoto Airflow four-door sedan that had undergone a major transformation from a very aerodynamic pre-war car to a very cool 21st century resto mod.
Owners Norm and Jean Mulloy had different reasons for Airflow ownership: Jean's father owned the car since the mid-50s after he purchased it in Sacramento, California, thus the Airflow was a sentimental reminder of Jean's father because he was the former owner.
Norm liked the look of the car because of its family legacy but he was unimpressed with its performance.
The car may have been a fast tracker because of its smooth design in '34, but it was not exactly a gazelle in the 21st century.
Norm was unable to get the car to go past 45 mph and he concluded a big change was needed in the horsepower department. He also realized his father in law was over 80, so 45 mph was probably a good top speed for him. But 45 was not a good speed for Norm.

Norm decided to give it a Tim-the-Toolman makeover-complete with his legendary "more-power" mantra. Norm was an appliance/TV repairman by trade for many years and was highly qualified to perform some magic on the DeSoto, even though he was never trained to be a mechanic or fabricator.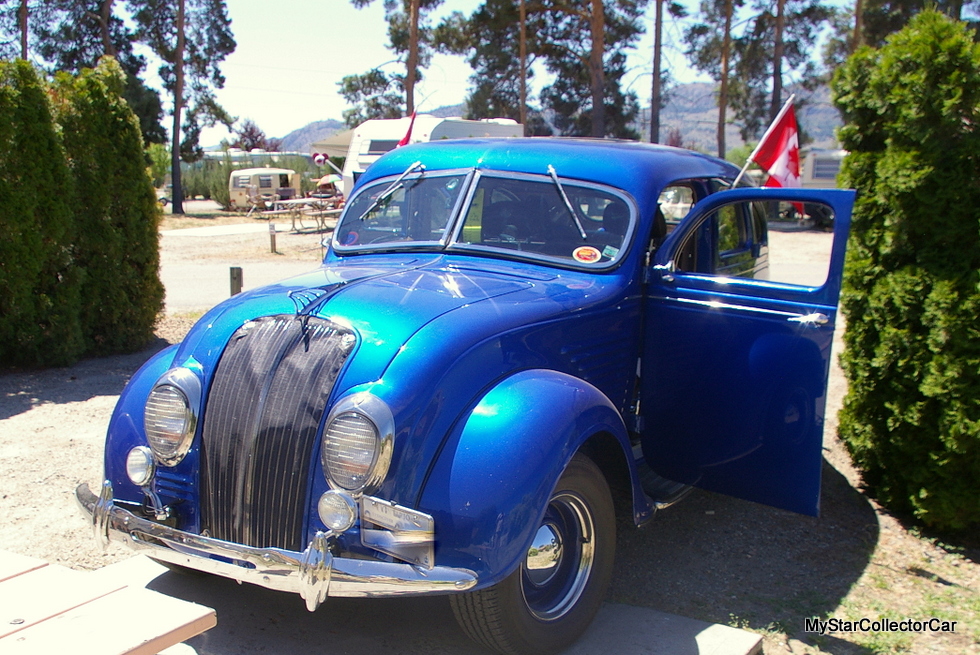 The Airflow upgrade began with a custom frame built by Norm. He wanted to ensure the Airflow would be able to handle the big boost in power when he installed a Mopar 360 in the Airflow.  Norm mated the Mope engine up to a Chrysler A-518 automatic transmission which was basically a 727 with electronic overdrive.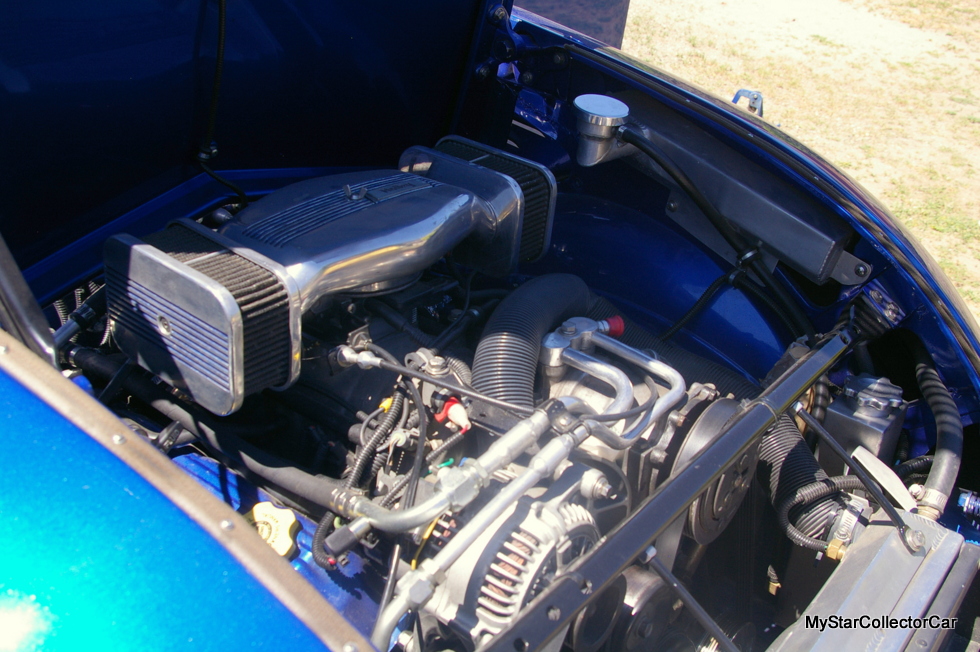 The reason for Norm's power train choice was pretty simple: Norm did not want to use a Chevy engine for his DeSoto Airflow resto mod project because "that would make it a belly button car-everybody has one", in Norm's words.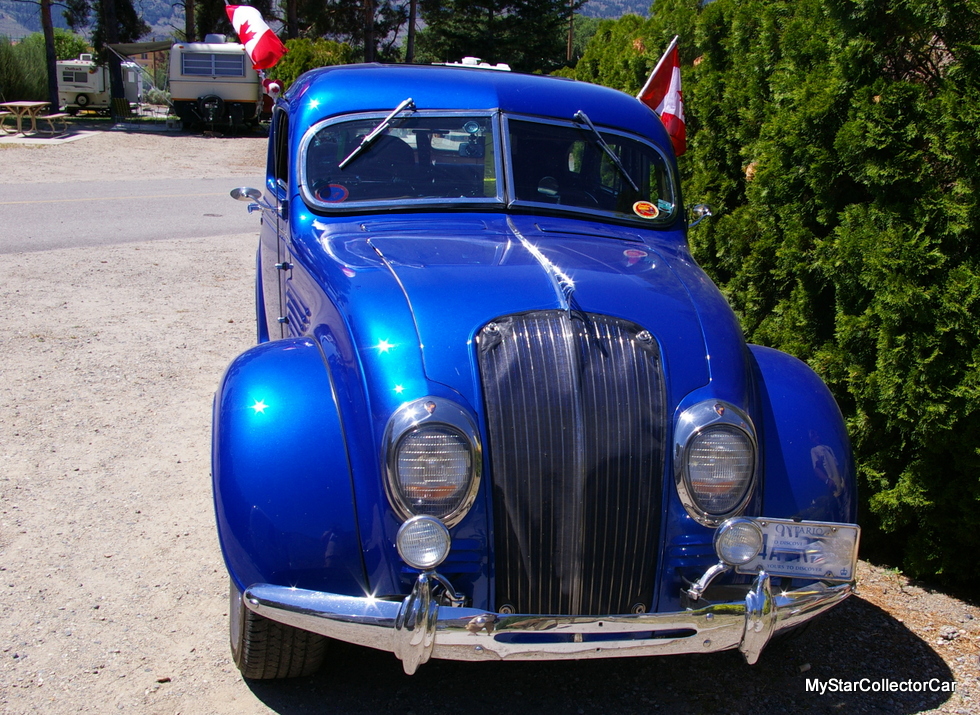 The cost to Norm was double the price of a Chevy investment, but the price factor was never important to Norm. He felt that "so many go Chevy" and Norm wanted to avoid that choice.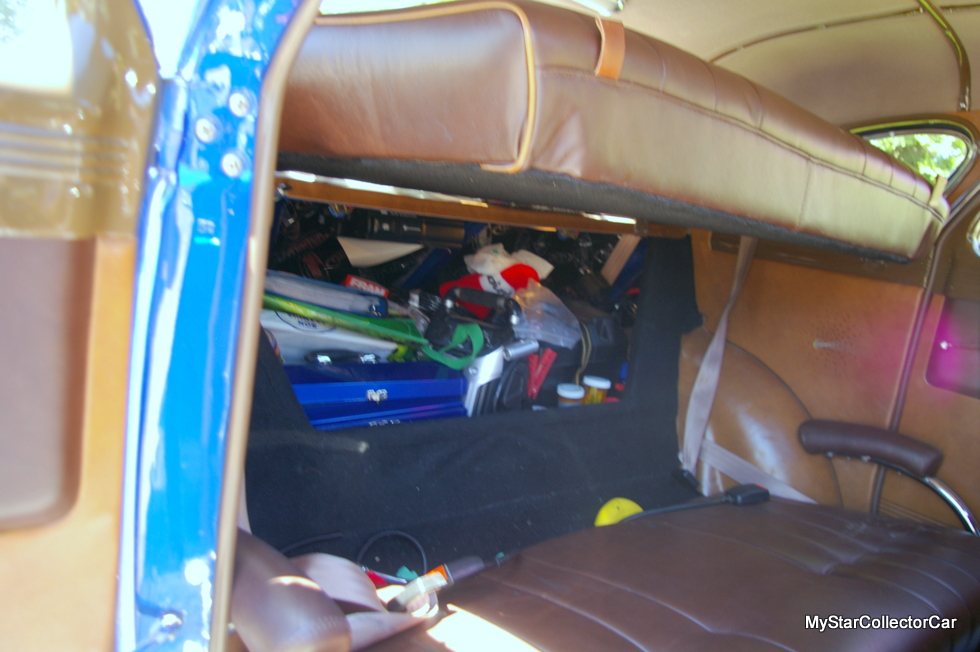 Norm was able to handle most of the project, with the exception of the paint and upholstery. He was able to keep the original seats when they were redone in leather and only had to have the upholsterer add Toyota headrests to complete the makeover.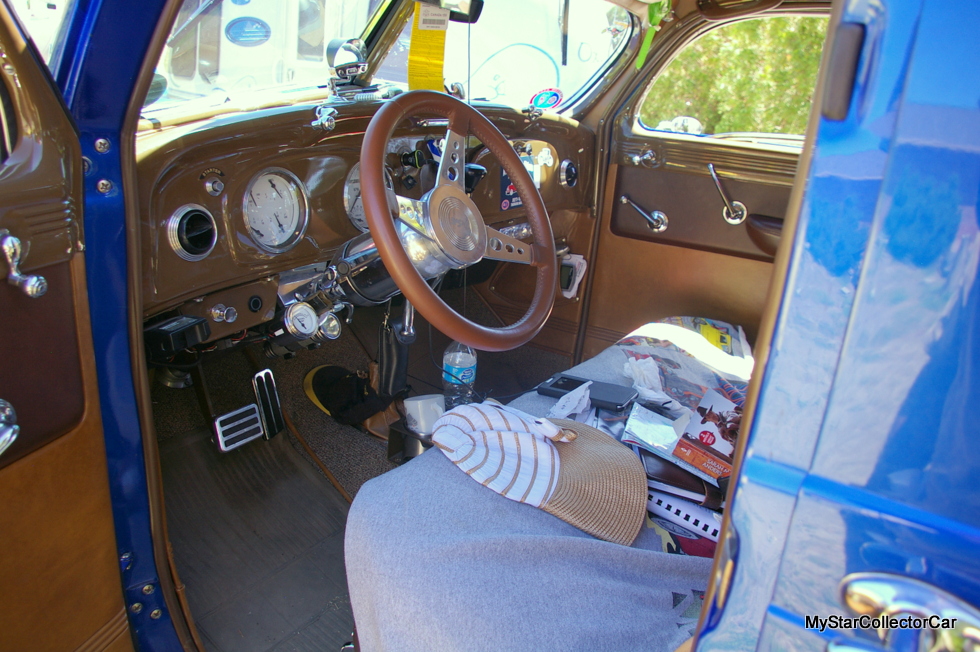 MSCC noted that Norm was a wiring expert because of his career choice, so the fuel injection system on the 360 and the electronic components on the transmission were pretty easy for him. He also added air conditioning that routed through the ash trays on the DeSoto.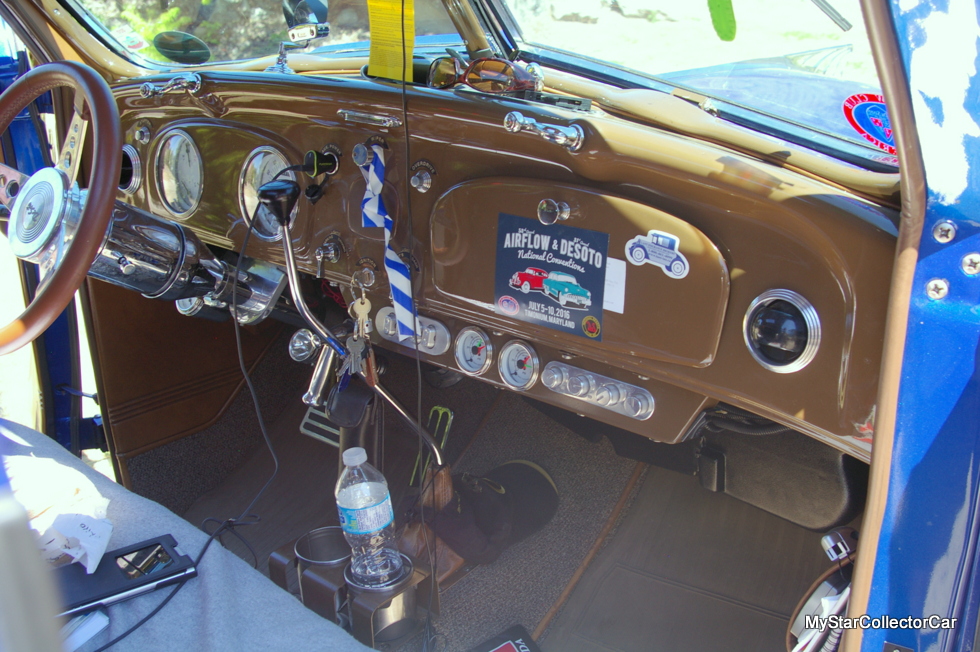 Norm's car now has electric wipers and halogen lights with built-in signal lights on them. Norm put his own stamp on the car with a custom LED side marker light system that combines cool and safety in one stylish package.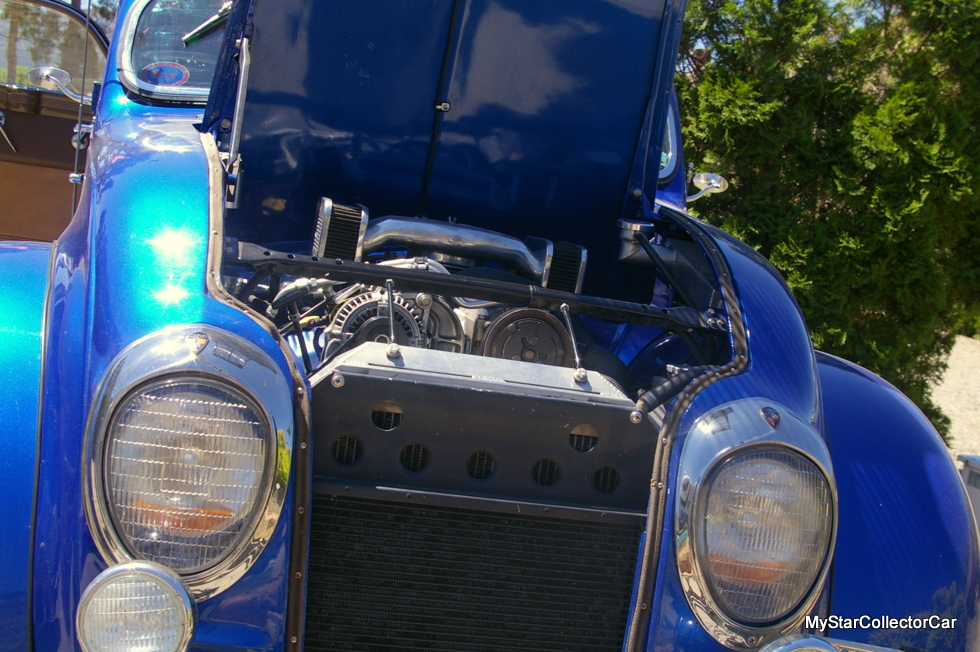 The trip from eastern Canada was uneventful until Norm and Jean hit the Rockies and the DeSoto started to overheat with the 2000 lb. Bonair Oxygen trailer in tow. They kept a steady 90-95 km/h (56-60 mph) and were concerned about their car's good health.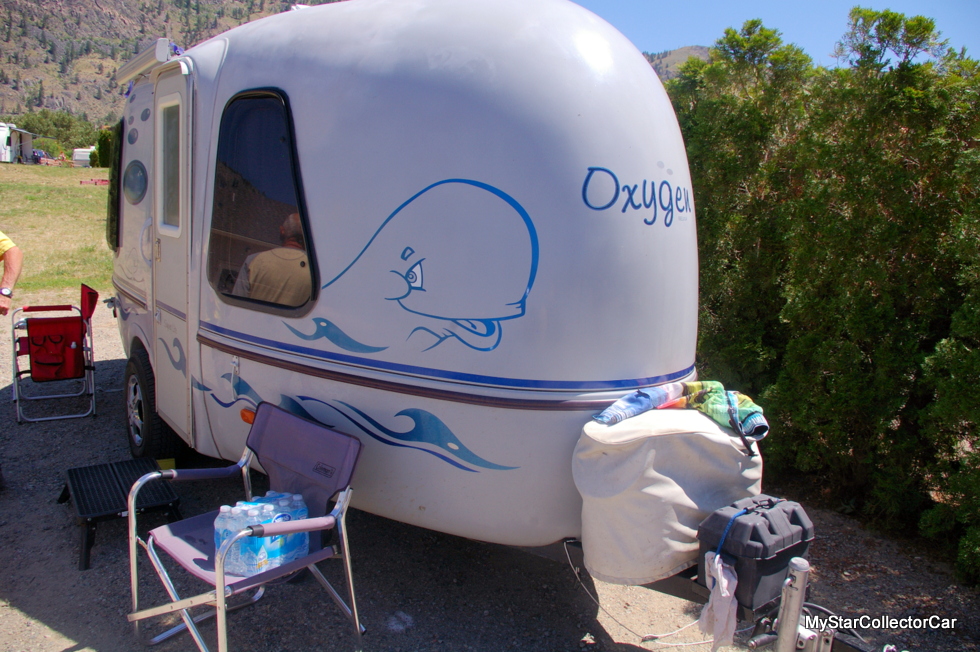 The two of them never questioned the car's ability to carry a load because the DeSoto was fitted with an air suspension on the rear end, along with a brand new Dana 60 rear end more commonly found on Mopar muscle cars.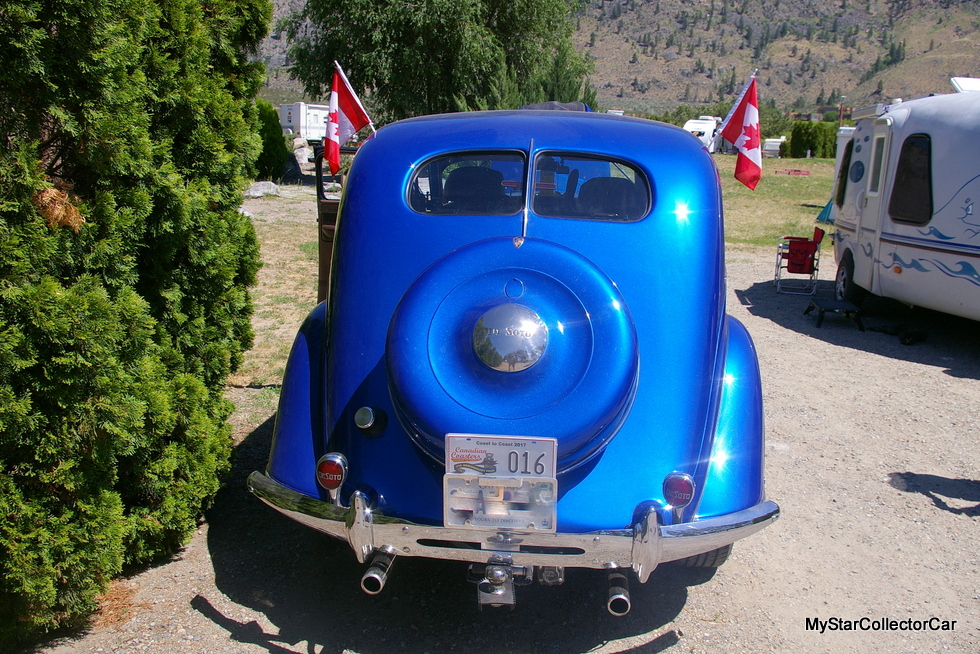 However, the trip west had been an eye-opener for Norm and Jean so they were extra-cautious when it came to hot days, huge hills, and towing a trailer behind their modified 1934 DeSoto Airflow on the other side of the country.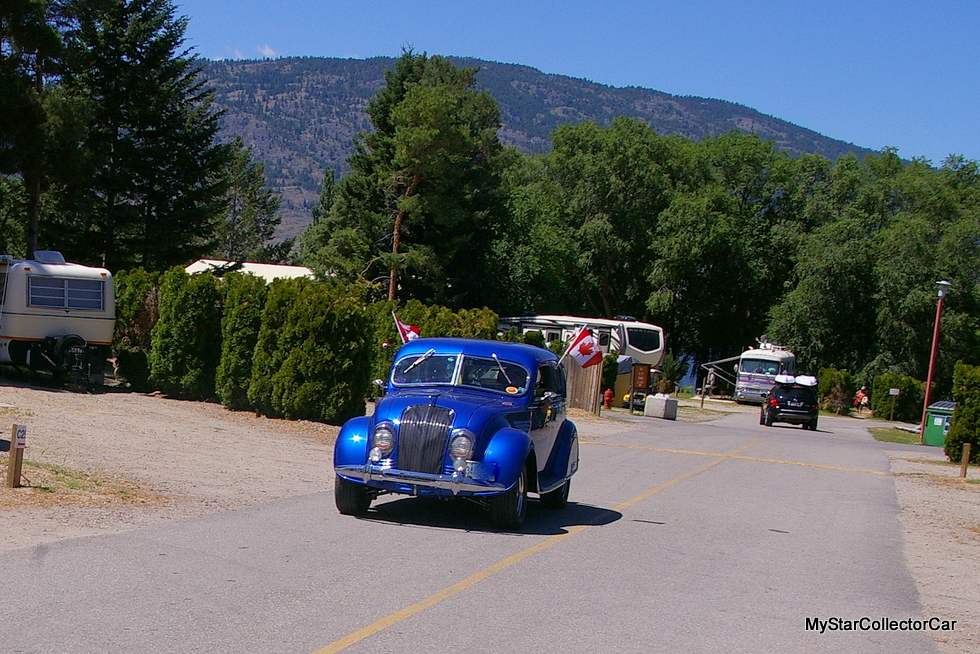 After all, they had a long road ahead of them on the 2017 Coast to Coast tour.  
BY: Jim Sutherland
Jim Sutherland is a veteran automotive writer whose work has been published by many major print and online publications. The list includes Calgary Herald, The Truth About Cars, Red Deer Advocate, RPM Magazine, Edmonton Journal, Montreal Gazette, Windsor Star, Vancouver Province, and Post Media Wheels Section.