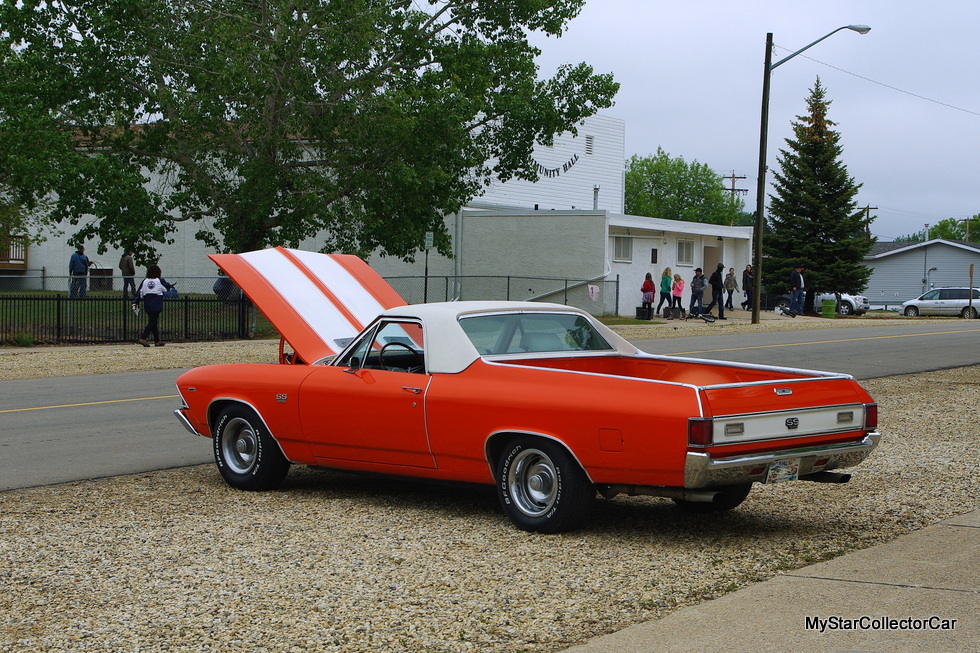 Jason Cole had two goals when he picked up a 1969 El Camino SS 396.
He wanted to win a little hardware with it and he wanted to keep it factory correct stock.    
'This was accomplished the first time he took this classic Chevy to a show because he came home with "Best of Show".'
Jason is a student of these trucks—this one in particular because he has a thick binder full of information about his '69 El Camino. He's the third owner so the documentation trail is much shorter than many 47-year-old vehicles.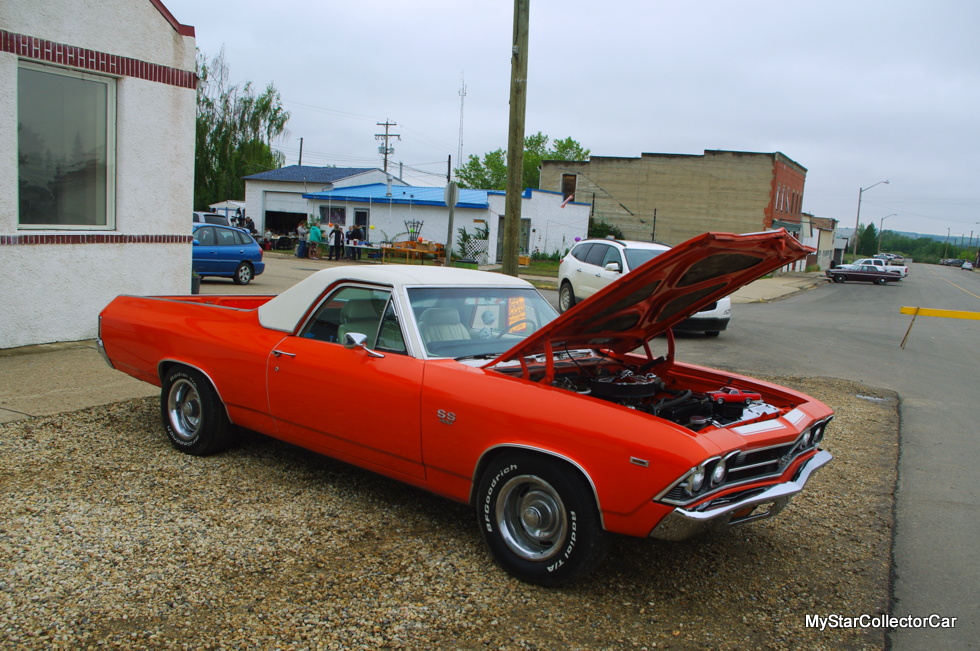 Jason explained how the truck was bought brand new in Battle Axe, Michigan by a guy who was into his 70s at the time so that explains why this Elky was preserved so well over the last five decades.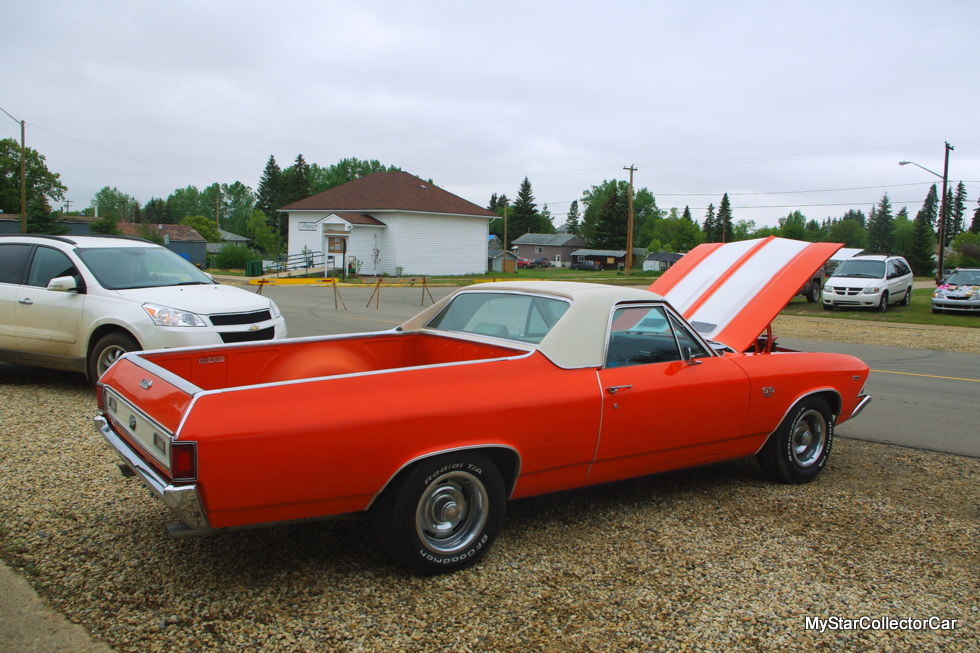 The list of options is extensive with one big exception—this El Camino came with radio delete. Other than that omission Jason's SS 396 has nearly every option you could tick off back in the late 60s. The most obvious is the 396 cubic inch engine under the hood.
This '69 El Camino also came from the factory with power steering, tilt steering, console, vinyl roof, Hugger Orange paint,  factory AC and factory Turbo 400 transmission—but no radio.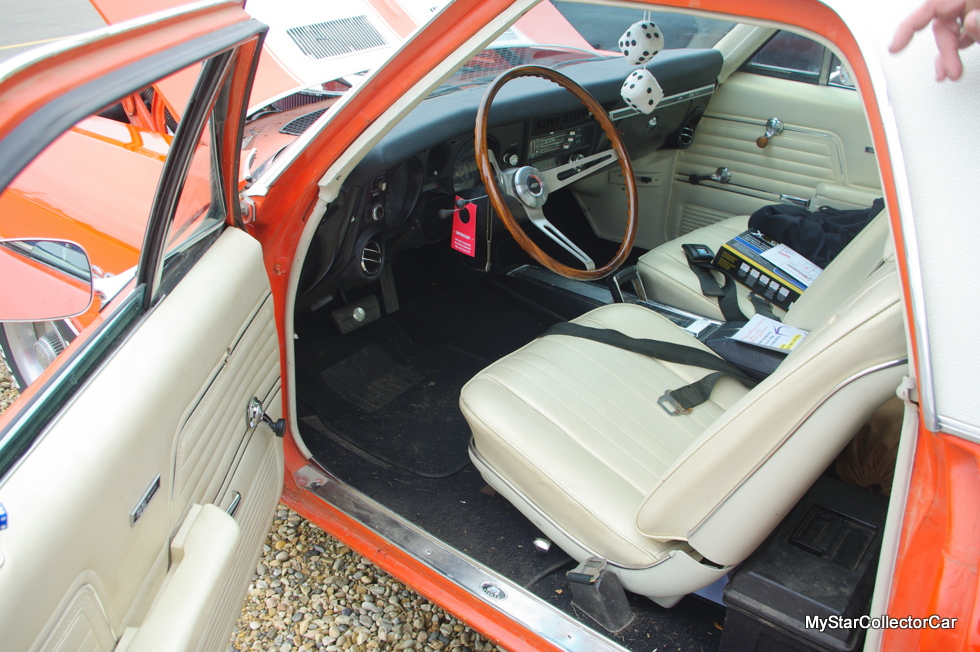 Jason explained how an SS 396 with these options is extremely rare. The original owner did a full restoration but he added a few departures from stock like the roof (went from parchment white to match the parchment white interior) and the wheels (14" to 15"). Jason said the original 14" bias tires would "skate when you hit it because it was a little touchy" so it was upgraded to the bigger radials and wheels.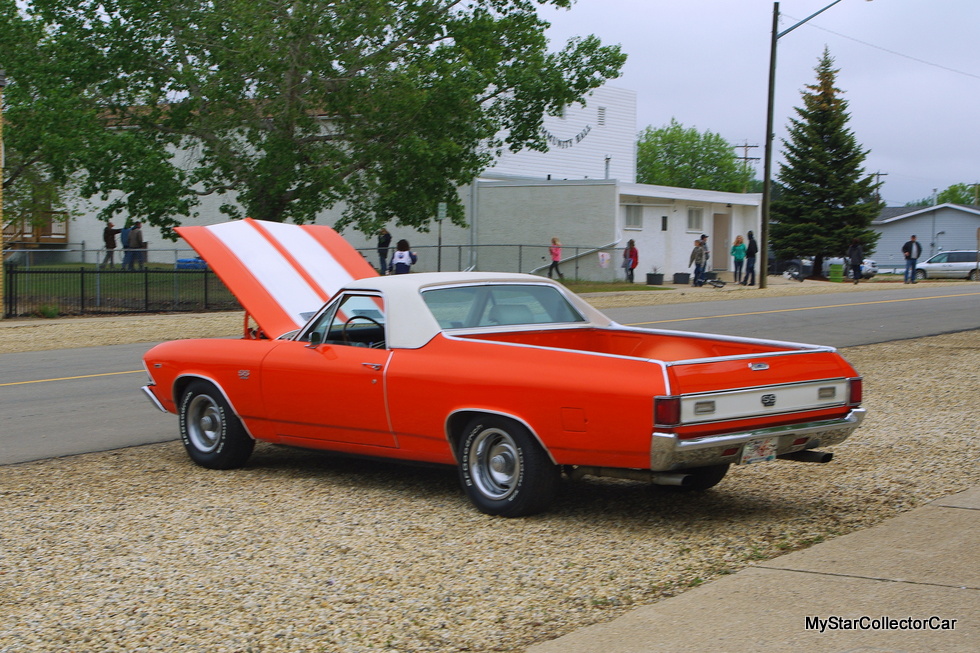 This SS 396 has definitely cleaned up its act because Jason described it as "strong on the road, really floats along and the power's there when you want it".  He's had it up there easily at highway speeds and it's been flawless in traffic.
Jason went over some of the things that the restoration shop left alone when the original owner had it redone. The stainless is in good but not mint condition and Jason wants to keep it that way because he believes in factory stock a lot more than custom or modified. The same principle applies to the lights and lenses plus he is proud to point out how the glass is all stock with the exception of the windshield.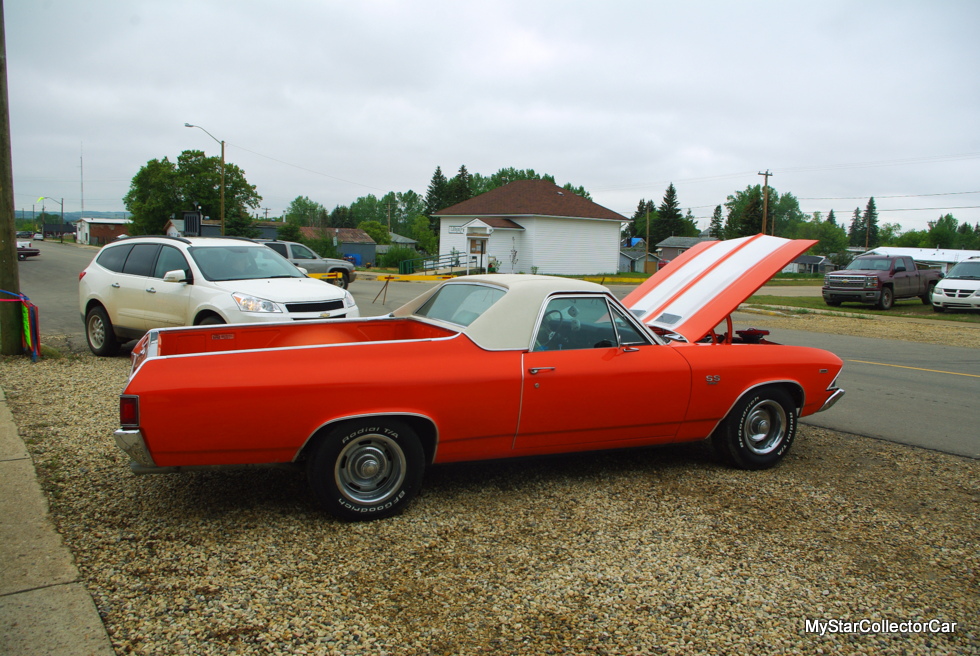 These El Caminos have their own unique features thanks to their design as a combination of truck and car. Interior space is at a premium in these trucks so Jason showed the cubby hole that actually extends under the truck bed so there's a lot of hidden space available.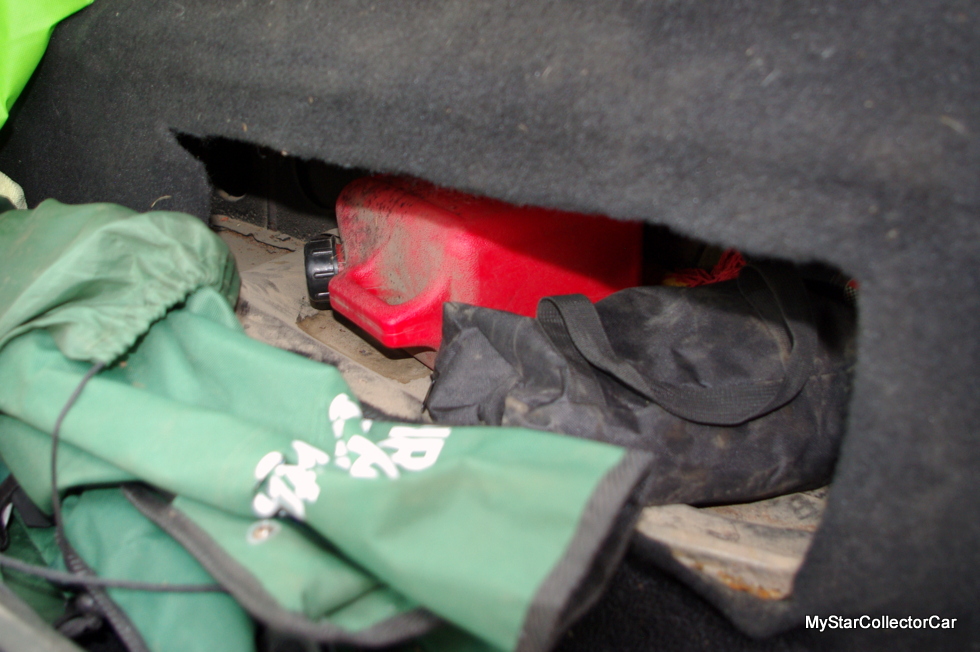 This unique blend of truck and car also creates parts confusion because the El Camino used parts from station wagons and sedans to create these light trucks. Parts searches can turn into an adventure because of these mismatches.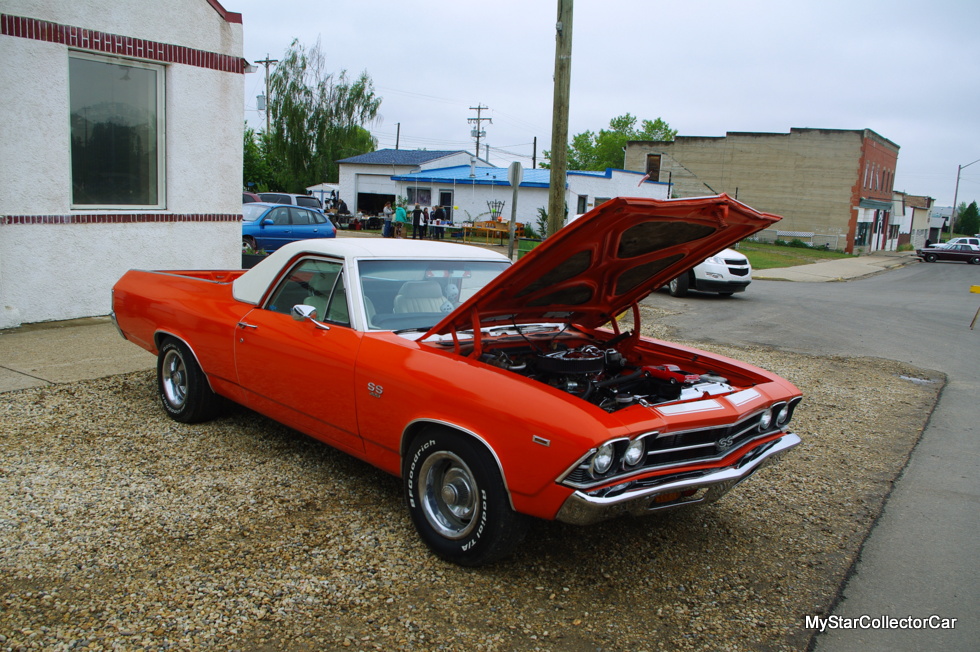 Jason has a few things he's like to touch up on his '69 SS396. The dash pad is cracked and he'd like to replace the driver's side vent window and touch up some of the trim. His goal is to keep what came with the truck in most cases because Jason is a factory correct guy with some allowance for retro-fits.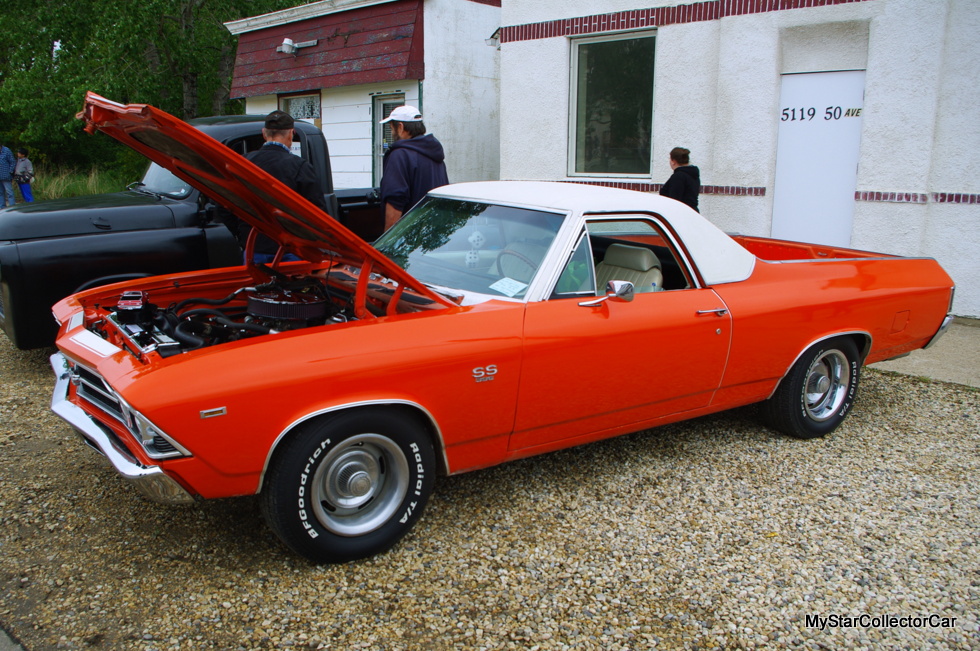 'The adventure has just begun for Jason and his SS396 but it started well when this classic brought home hardware at its first show.'
Jerry Sutherland
CLICK HERE to Like us on Facebook
CLICK HERE to Follow us on Twitter
CLICK HERE to Follow us on Pinterest
Please re-post this if you like this article.