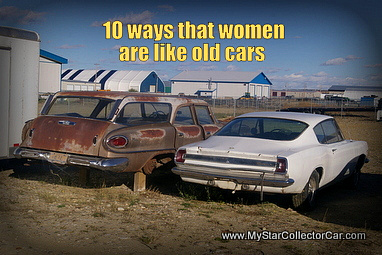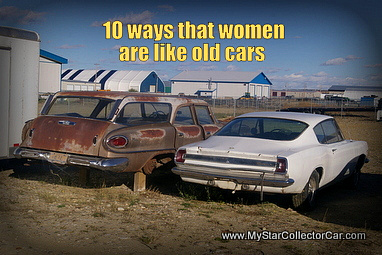 TEN WAYS WOMEN ARE HEADED DOWN THE SAME ROAD AS OLD CARS IN RELATIONSHIPS
Recently MSCC took a look at 10 ways that men are similar to old cars in relationships and it is only fair to apply the same comparison to women.
It just makes sense not to exclude women in anything here in the 21st Century.
Here are 10 ways women compare to cars:
1-An old car is usually a high maintenance situation and so is a woman.
2-An old car will require TLC to sustain a relationship with it and so will a woman.
3-An old car will emphatically let you know at some future point when you have neglected its needs and so will a woman.
4-An old car will not show all of its flaws until you have spent more time with it and nor will a woman.
5-An old car may refuse to go anywhere with you at an inopportune time and so will a woman.
6-An old car will take plenty of time and work to go somewhere with you and so will a woman.
7-An old car cannot run without a spark and neither can a woman.
8-An old car never can never generate enough heat to stay warm and nor can a woman.
9-An old car may simply refuse to cooperate until it cools down and so might a woman.
10-An old car may suddenly leave you on the side of the road and so might a woman.
Jim Sutherland