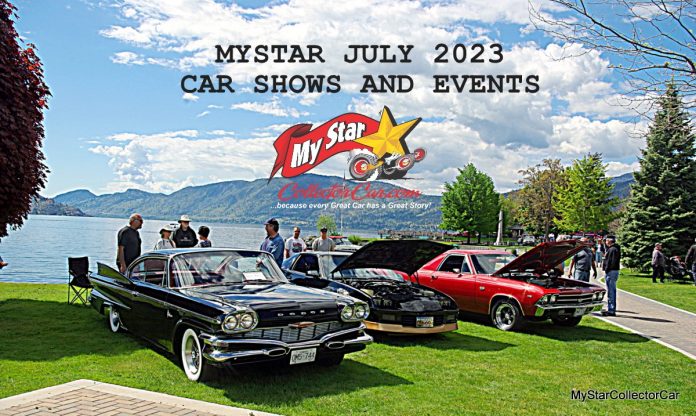 Coming Soon! Please contact me at jer@mystarcollectorcar.com if you have a show to list for the 2023 season. You'll be on the number one online events page in Canada since 2010.
JULY 1: SUNDRE, AB Canada Day Car Show
JULY 1: WETASKIWIN, AB Raceway Show and Shine
JULY 1: ATHABASCA, AB Classic Cruizers Car Show 2023
JULY 7: VERNON, BC Sun Valley Cruise-In
JULY 8: WETASKIWIN, AB Ultimate Car Show
JULY 9: EDMONTON, AB: Mainstreet Cruisers 30th Anniversary Charity Show & Shine being held at Mill Woods Town Centre
JULY 9: LISTOWELL, ON Comancheros Show and Shine
JULY 12-16: MEDICINE HAT, AB Western Canada PowerCruise 2023
JULY 15: COCHRANE, AB CRUISE COCHRANE – 2023 is our 6th Year cruis'n the Greater Calgary area!
Stage cars/trucks at 11am. – www.CruiseCochrane.com Location: #2, Westside Drive, Cochrane Ab.
Lots of Door Prizes end of event – If you can't cruise, come for the Quicky Show & Shine!
Patina is Cool – Paint NOT Required! We Love Project Cars/Trucks Too! Further Information & Registration available on the Cruz Newz @ www.CruiseCochrane.com E-Mail: CruiseCochrane@Gmail.com
JULY 15: HAWARDAN, SK Show Your Passion Car Show
JULY 15: NANTON, AB AMCA Show and Shine
JULY 15: MILLET, AB Show and Shine
JULY 15: FAIRY GLEN, SK 2nd Annual Car Show
JULY 15: FROG LAKE, AB Rides on the Reserve
JULY 15: EDMONTON, AB Alberta G-body Car Meet
JULY 15: SYLVAN LAKE, AB Stollery Charity Show 2k23
JULY 16: MERRICKVILLE, ON Classic Car Show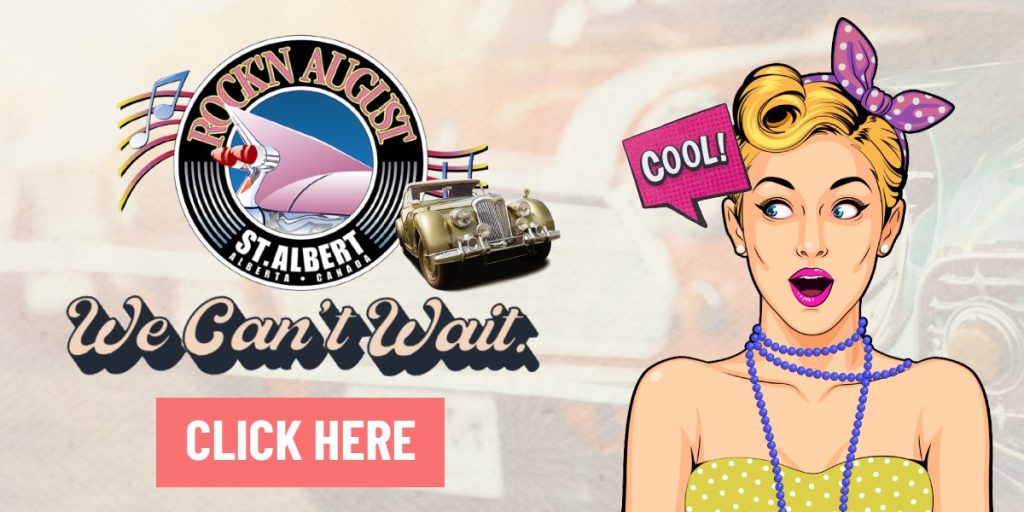 JULY 21-23: IRRICANA, AB Cars and Country Stars Show and Shine
JULY 22: EDMONTON, AB The Edmonton Mopar Association is proud to hold their annual Western Mopar Madness at Rad Torque Raceway on Saturday July 22, 2023. This is Western Canada's largest all Mopar Car Show and Race. This family friendly all ages event is a showcase of all things Mopar from the past and present. This one day summer event includes the Car Show from 8 AM to 4 PM, Racing from 11 AM to 7 PM, Vendors Market, food, fun and more. For more info go to: https://emawmm.com/.
JULY 22: FINDLATER, SK Show and Shine
JULY 22: RADWAY, AB Pioneer Days 3rd Annual Show and Shine
JULY 23: CAMROSE, AB 3rd Annual Bullying ENNS Show and Shine
JULY 22: EDMONTON, AB Michener-Allen 24th Annual Collector Car Auction
JULY 29: ROCKY MOUNTAIN HOUSE, AB Western Wheels Auto Club will be hosting our annual Hooked on Classics Car Show on Saturday, July 29th on lower Main Street in Rocky Mountain House, Alberta. Don't let the name fool you, all makes, models and years are welcome! Registration will start at 9am and run until noon. Awards around 2:00pm and show runs until around 3:00pm. More details to follow! Follow us on our Facebook Page or join our Facebook Group to keep up on details.
JULY 29: LANGLEY, BC Burnouts in the Sky Show and Shine
JULY 29: EDMONTON, AB Dropsicles Meltdown 2023
JULY 29: WATROUS, SK 32nd Annual Fun Run Auto Show and Shine
JULY 30: AMHERSTBURG, ON "Gone Car Crazy" Show
JULY 30: IRMA, AB 4th annual Gratton Coulee Show N' Shine.
JULY 30: MERRICKVILLE, ON Classic Car Show
JULY 30: BRUNO, SK 17th Annual Show and Shine