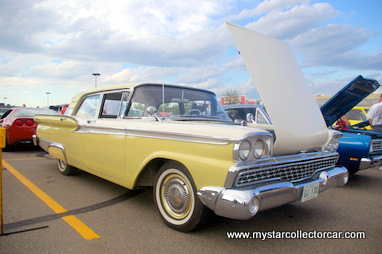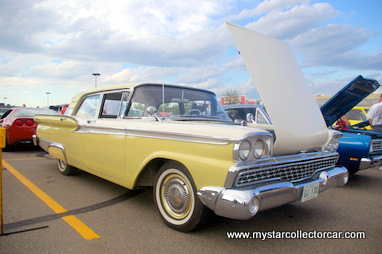 By the late 1950s highways had evolved from two lanes and 50 miles per hour to at least four lanes and 75-85 miles per hour.
Clearly the late 40s sedans were struggling at those speeds but by 1959 most American sedans could easily handle turnpike speeds.
This 1959 Ford is a classic example of that era.
Nelson Smith bought this car for "sentimental reasons" and no,he wasn't motivated by the Nat King Cole song. This is the standard "I used to own one in my youth" sentimental reason. Nelson owned a '59 Ford 2- door hardtop when he was 24 and like most car guys he regretted selling it as soon as the ink dried on the buyer's check.
Happily for Nelson he was able to reconnect with his 1959 Ford past when this mint 4-door sedan came up for sale. It didn't need too much initially, as Nelson says, " I did a little work with the brakes and upholstery".
After that he did a little more work with the 292 V-8 and then the car began to serve its real function-as a highway cruiser. One of Nelson's proudest moments with the car came when he got a call from his grandson. He asked Nelson if "he could use the 59 Ford for a wedding car". It was one of Nelson's proudest moments and he happily drove the car to the wedding-100 miles away.
The trip was inconsequential because, as Nelson reports, "the car is a dream on the highway and floats along at 70 miles per hour".
Why shouldn't it? This car was built for the freeway in 1959 or 2010.
That's what Nelson liked about his first 1959 Ford.
Jerry Sutherland @mystarcollectorcar.com