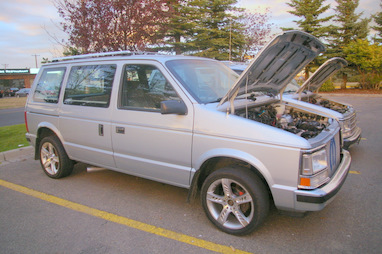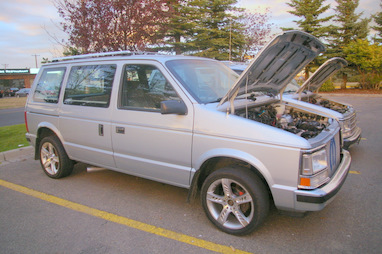 Lee Iacocca saved Chrysler Corporation in the early 80s when he introduced the ultimate family wagon called the minivan.
A new generation of young families bought these vehicles for very practical reasons that ranged from kid-hauling to grocery runs.
The little vans had function and practicality written all over them and Chrysler could barely keep them in stock.
'But nowhere in the brochure was any mention of a blood thirsty street monster option.'
That particular option didn't fit into the basic family philosophy that sold these magic wagons to a grateful generation of soccer moms.
Trevor Bayne had a different game plan when he decided to add an ominous edge to his 1989 Dodge Caravan. Trevor is a young guy with enormous mechanical talents and a keen understanding of today's high-tech options that will turn a mild-mannered minivan into an evil street machine.
Trevor wanted to hide his werewolf in its basic sheep's clothing so the minivan looks like every other minivan on its way to a million soccer practices. Except that Trevor's van will get a kid there in a fraction of the time. Along the way it will destroy tuner car owner egos with merciless regularity as this minivan annihilates their rides in a street fight.
The Caravan is still a monster project in the works but it is already able to hunt down and destroy the competition. Trevor has bumped up the performance with a Ford Powerstroke intercooler, 5.9 Cummins Turbo and a beefed up Custom Calibration chip welded into place and designed to add a killer touch to a high-tech screamer.
Future plans include alcohol injection and a few other tweaks designed to pull 300 hp out of a basic Caravan engine. When Trevor is finally done the mild minivan look will be the same, but the mild minivan attitude will be long gone and replaced by an evil street presence.
After that, the streets will never be safe again.
Jerry Sutherland @mystarcollectorcar.com