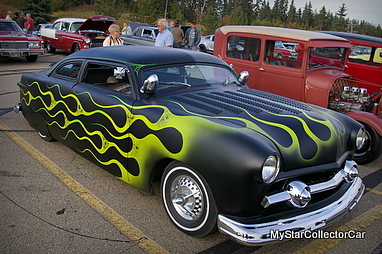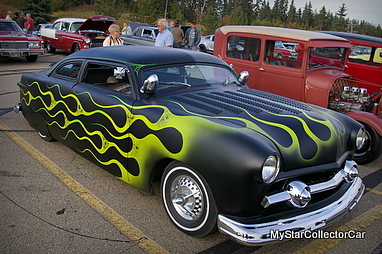 We met Joel Henry a few years ago shortly after he and his wife Dana moved east from their Lower Mainland home.
They have an ideal marriage because both love the old car culture, particularly the wild customs.
Joel owns a 1951 Ford lead sled that he and Dana put on the road in 2012 after a long storage period in a tattoo shop.
They chopped the top in January 2012 and had it road-ready for its trip through the Rocky Mountains to its new home.
We met Joel one rainy evening a few years ago at a car show and were impressed with his talent and dedication to the custom ride culture.
Joel was concerned about our camera equipment and notebooks so he stood outside in the rain while we interviewed him from inside his custom Ford shoebox.
It was clear to us Joel fully embraced the old school car guy philosophy where you look after each other when he decided to get soaked and spare our cameras from the rain.
Joel is a young guy with a 50s hot rodder's soul and he walks the walk.
Joel is a hands-on guy who does his own wrenching and lives by the motto "Built not Bought". His lead sled runs a 350 Chevy engine backed up by a turbo 350 transmission running power to a Cutlass rear end.
Hot-rodders from the past also used parts from donor cars and were able to perform mechanical magic on a realistic budget this same way. The car has 1959 Dodge Lancer hubcaps with mild custom touches on the front wheels and the bucket seats are pure 1963 Impala.
Joel and Dana also believe cars are meant to be driven- a lot. They have logged thousands of miles on the road over the past few years and Joel told us they had driven the Ford almost 2500 miles in the first 25 days of September 2014.
We asked Joel how the Ford runs on the highway and he said it will "surpass traffic" when the situation arises for him.
The car rides a little rough on the road because it still has stock leaf springs in the back, but Joel has plans for the lead sled that include a rear suspension upgrade.
This year he added a very striking flame look to the car and his painter gave him an extra surprise when he included an air-brushed portrait of his late father John on the back of the car.
John Henry passed away this past July and the portrait of his dad on the car is an excellent memorial for the man.
Joel's father spent many years in the auto body trade and it is only fitting the man should be remembered with a car tribute by his son.
One thing Joel wanted to make perfectly clear with us: his 1951 Ford is a lead sled-not a rat rod.
Joel understands and loves the hot rod culture from a time well before he was even born, so he built his custom ride with that idea in mind.
Joel got it exactly right because his chop top 1951 Ford lead sled is very 50s cool in 2014.
Jim Sutherland
CLICK HERE to Like us on Facebook
CLICK HERE to Follow us on Twitter
CLICK HERE to Follow us on Pinterest