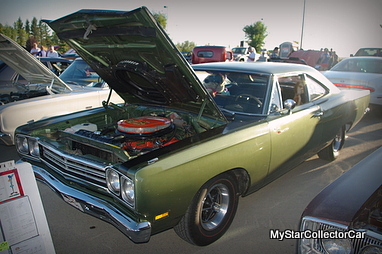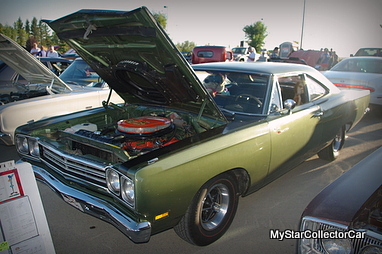 Mopar muscle cars are off the charts in value thanks to supply and demand economics.
Basically, this means more guys want Mopar muscle cars than there are Mopar muscle cars so you need a stroke of luck to get a good one for a decent price.
A stroke of luck like a fire sale because of income tax problems.
Jack Elphick is the proud owner of this '69 Road Runner and he's a student of the history behind this bad boy Plymouth.
He explained how the car came into his possession: "The guy who owned it before me bought it during Christmas week. The original owner owed some taxes and the IRS likes to get paid before the end of the year so he was pretty desperate because nobody buys old cars at that time of year".
Jack became the lucky new owner of the Runner because of more circumstances: "My buddy was getting married so I made him an offer he couldn't refuse and he never regretted it. The car cost $2900.00 new and I paid $3400 for it twenty six years ago. There are no papers with it but it was originally sold at an LA dealership".
This '69 Road Runner served a purpose but Jack changed the game when he realized what he was missing: "I used it as a winter driver down in Arizona and then I realized that's crazy so I had it shipped back here so I could drive it in the summer".
Jack's practical side overruled his car guy side on the trip home: "I thought it would be a hoot to drive it home but then I thought what happens if I get on the road something like a fuel pump went? I had it shipped back instead".
Despite Jack's concern about a long road trip in the Road Runner, he does spend a fair amount of time behind the wheel: "I like to drive it; it goes down the highway at 70 miles per hour with no problems, straight as an arrow. It's got 137,000 original miles on it now".
Jack's survival plan for this survivor Road Runner is pretty basic: "I put maybe 500 miles on it because I don't want to put too many more miles on it because it still has a lot of original parts. Keep them full of fresh grease and oil-it's all original except for the hoses. I don't push it, punish it, race it or abuse it and I also keep it garaged and covered during the winter. I keep it clean and never take it out when there's still gravel on the road. Once in a while I'll light it up".
Survivor cars are hot commodities and Jack found that out when he took it in for an estimate for new paint, "The guy wouldn't do it-he told me if I paint it 50% of the value is gone".
Jack gets plenty of advice about his car: "A lot of guys look at the engine and tell me to yank it and put in a big block but Dennis Gage saw this car in Arizona and told me it's a nice car so leave it like it is. I tell the big block guys straight up, I'll leave it like it is because there are enough gearheads already".
Jack summed up his survivor '69 Road Runner experience in one sentence.
"I just put gas in it; I don't drive it enough to worry about gas mileage".
Jerry Sutherland
CLICK HERE to Like us on Facebook
CLICK HERE to Follow us on Twitter
CLICK HERE to Follow us on Pinterest