The Dodge Dart was always known for its reputation as a sedate, reliable car and it deserved the title because it was sedate and reliable .
'Darts are the kind of car you'd expect to see parked in the staff area at your local library or in the driveway at your great-Aunt Millie's house.'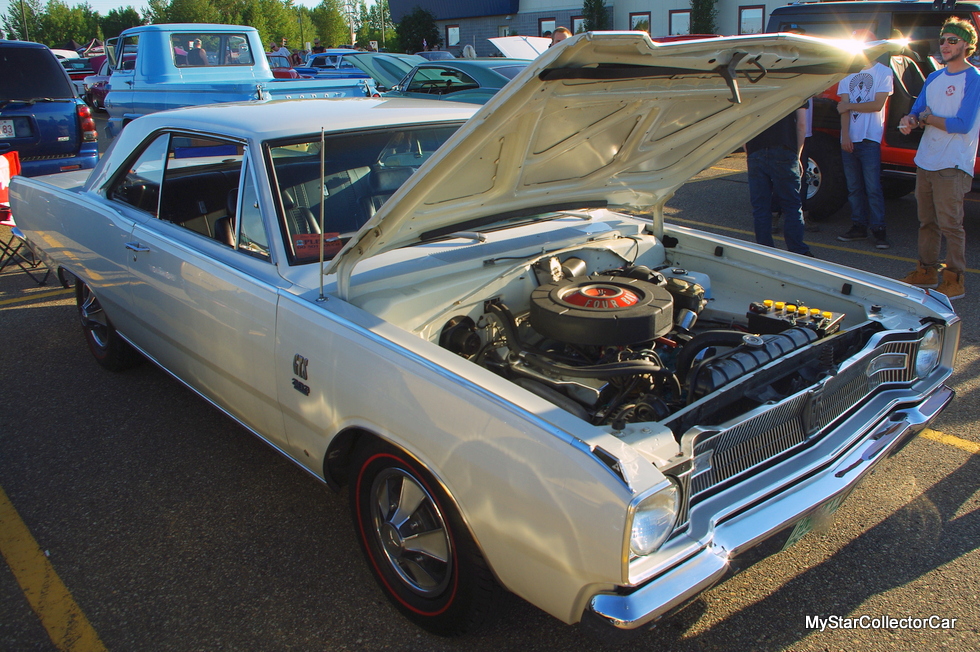 The conservative Dart perception changes in a big way when you stuff a 383 big block under the hood.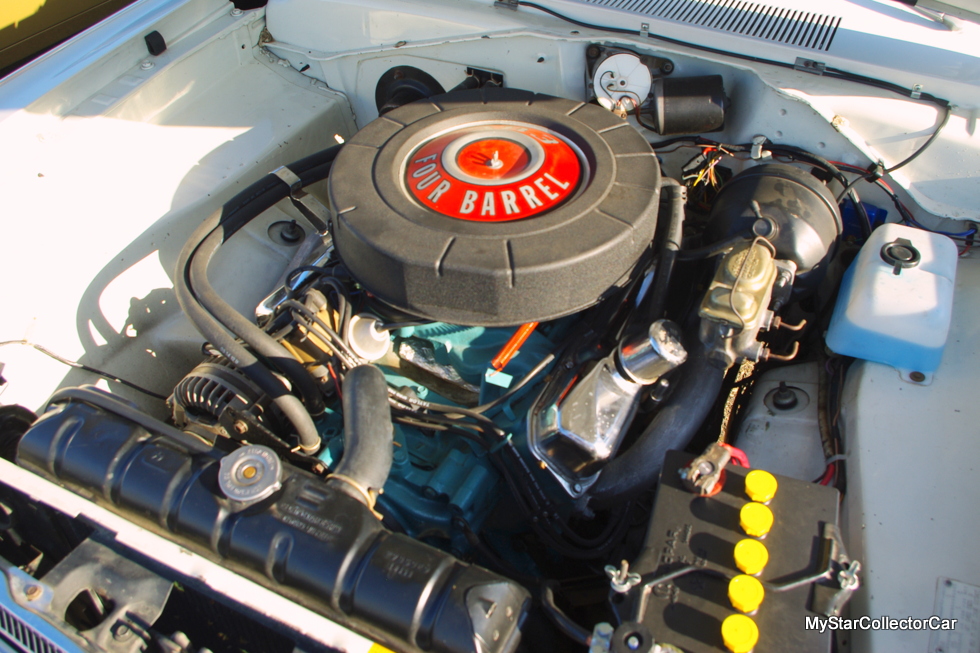 John Vanginkel owned the more familiar version of the Dart when, at the age of 28, he bought a 273-powered '67 GT. He loved the car but life moved on and—every car guy knows the rest of the story.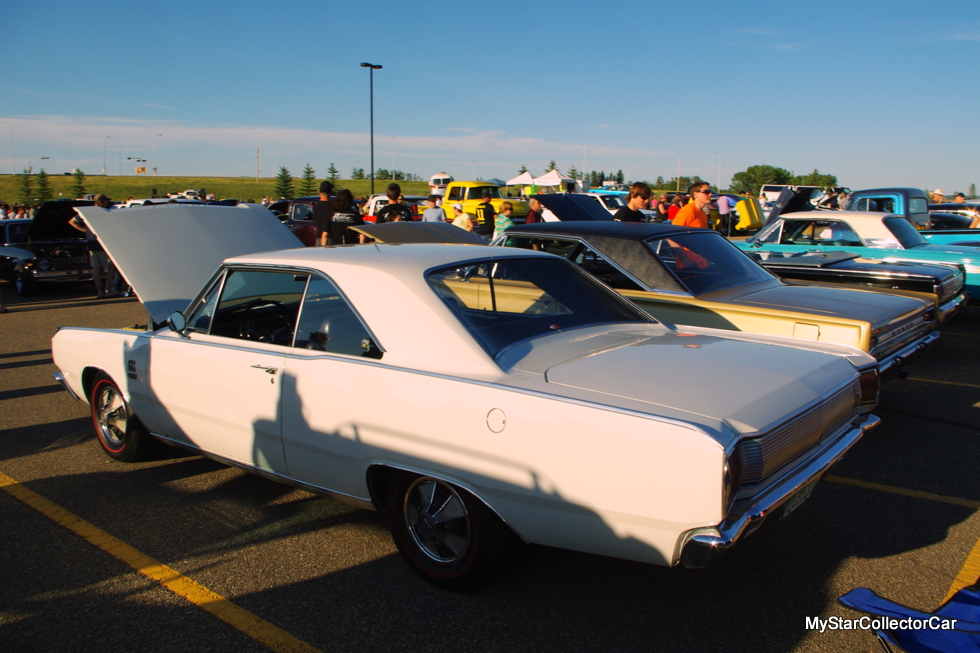 John replaced his gone, but not forgotten car with a much more formidable '67 GTS with a big block 383. These are incredibly rare Mopar muscle cars because they only made them for a few months (Feb-June) back in 1967.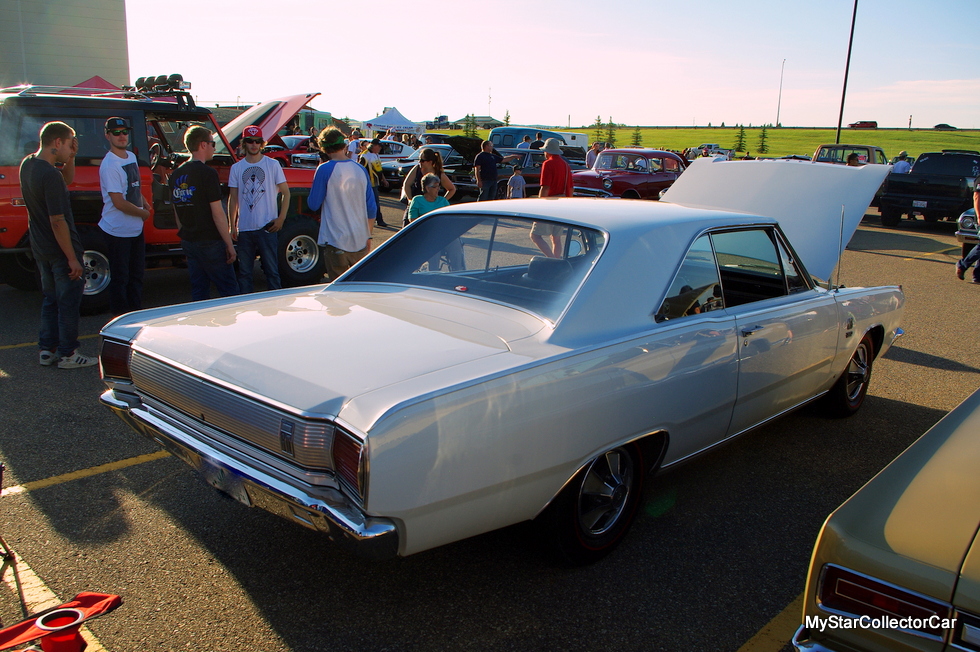 This GTS has a very well documented history and its new custodian (John) is an expert on its biography. He knows the GTS was ordered on May 6, 1967 and it sat on the lot until October 1967. The guy who bought it owned it from 1967-89.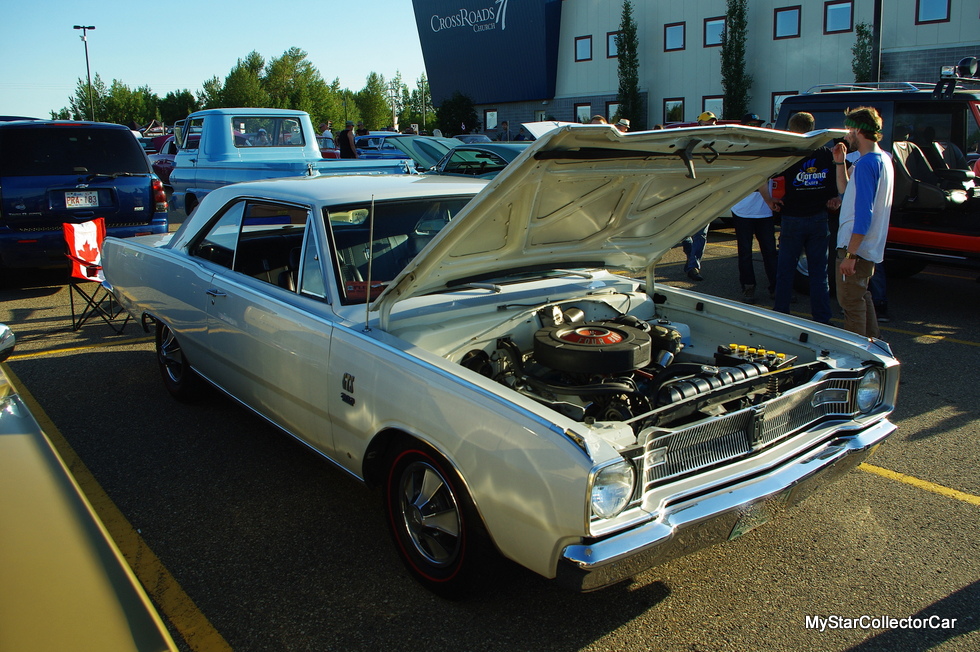 The Dart led a relatively sheltered life so when it came to a dealer's lot as a trade-in the sales guy called his buddy and the lucky new owner picked it up for the trade-in value of 600 dollars. The second owner painted the GTS in 1990 and preserved the relatively low mileage (66,000) car in factory condition.
There's a boatload of documentation with this '67 Dart GTS including the Certicard and owner's manual.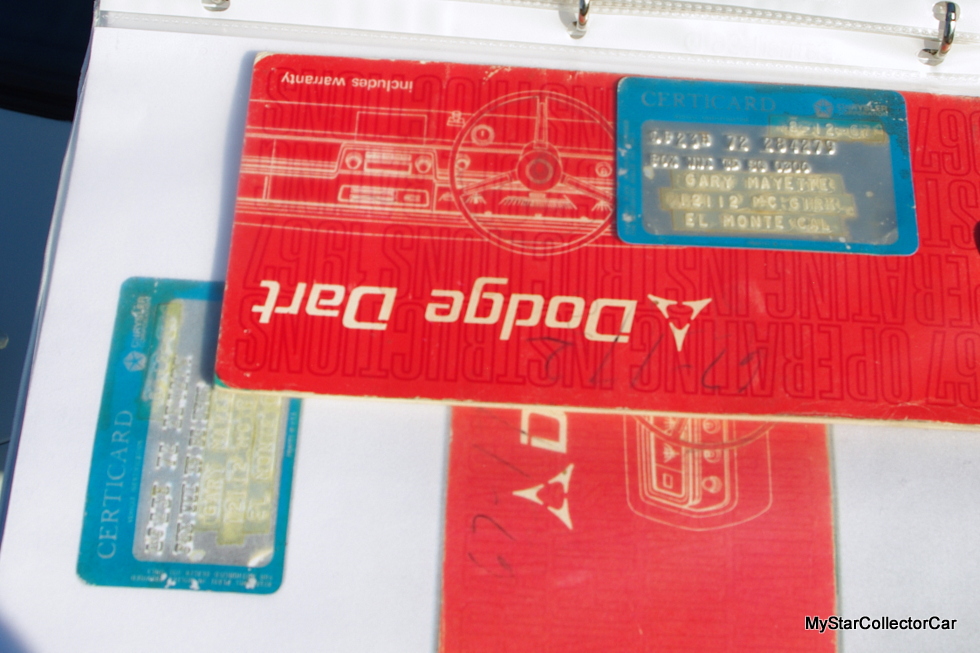 The car wears its years well and one of the more appealing features are the stamped wheel covers because those factory items disappeared really fast when they were replaced with mags—almost within minutes of delivery. This is a black interior, console car, white paint with no vinyl roof and that makes it so rare John says he "hasn't found another one just like it" in his research.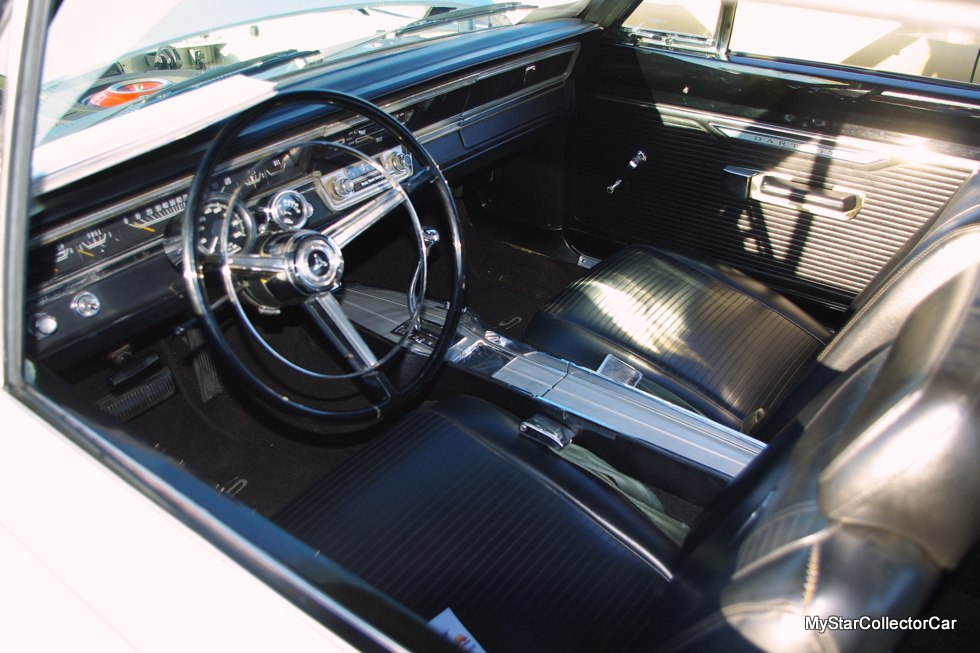 John didn't buy this car to lock it up in a museum—it has 80,000 documented miles on it now and he's run it up since he bought the GTS. He admits he's "not afraid of the rain" and he has run it down a gravel road so the term 'trailer queen' does not apply to this mint Dart GTS.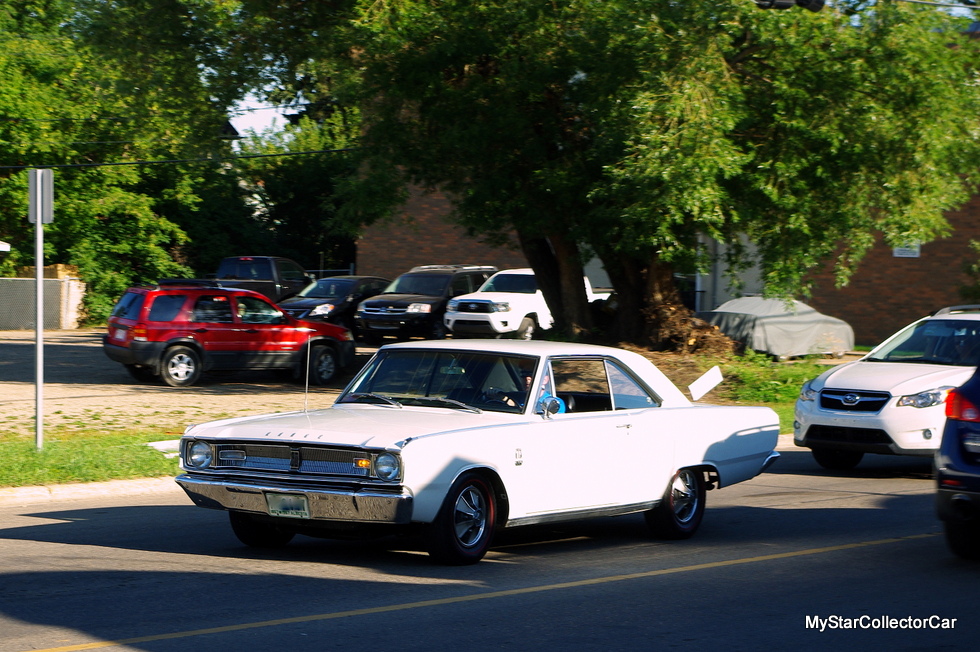 This was originally a 3:23 car but now it runs 2:76 highway gears so the big block loafs at a leisurely 2900 RPM when it's doing 70 miles per hour. John said it only took 1/3 of a tank to get to a show about 75 miles away so the big block isn't excessively thirsty.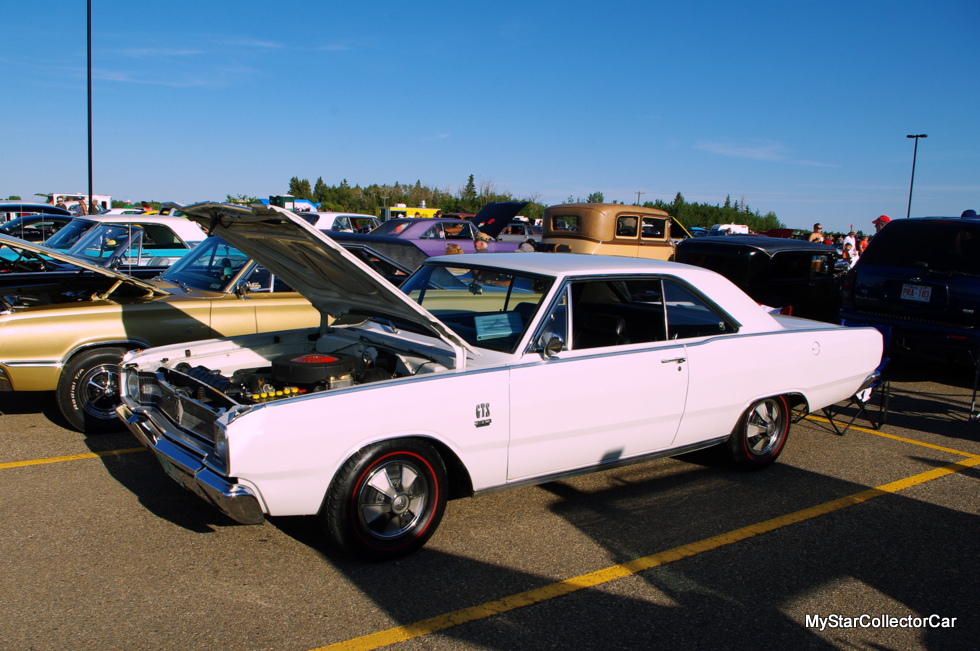 The key to any successful classic car and owner relationship is whether there is a connection with the old piece of iron. John has that covered because he loves his rare Mopar so the connection is real.
Maybe the connection comes from John's long lost '67 Dart GT with the 273 or maybe it's because this big block Dart GTS turned a sedate, reliable car into a street thug.
Jerry Sutherland
CLICK HERE to Like us on Facebook
CLICK HERE to Follow us on Twitter
CLICK HERE to Follow us on Pinterest
Please re-post this if you like this article.