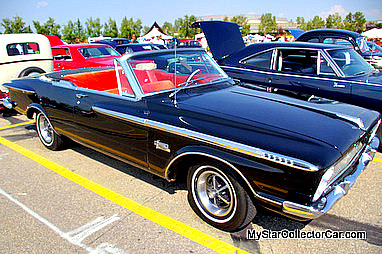 The 1962 Plymouth never evoked the phrase "classic looking" even when it was new.
These cars fell well within the acquired taste paradigm but, in hindsight, that was unfair and biased.
The '62 Plymouth was a clean looking, well-designed car that you just couldn't kill-those are good things to put on any automotive resume but they are still a rare sight at any car show.
The convertible version of the '62 Plymouth is even rarer.
Most people will remember the '62 Dodge from the movie 'It's a Mad, Mad, Mad World' when Dick Shawn demolished a brand new Dart convertible. That's not exactly at a Bullitt Mustang/Charger level of notoriety or film stardom, but it is still very painful to watch a brand new Dart tumble over an embankment. This Plymouth is a cousin of that ill-fated Dodge.
Murray Phillips bought his 1962 Fury based on opportunity, not movie stardom. He was at a gas station in the early 1970s filling up his '68 Road Runner when he saw this pristine and very original 1962 Plymouth Fury convertible. He asked if it was for sale and he bought it for 550 dollars. Clearly the '62 Fury market was at its lowest ebb in the early 70s because 40 years later, this is still an incredible car.
Murray has invested very little in the Plymouth in 40 years-the list is short and includes only a new top and carpets. The 361 V-8 has never been an issue and the car gets 1000 leisurely miles per year to keep the blood flowing in the mechanicals.
This car is a true survivor and Murray strictly adheres to the "only original once" philosophy. He treats the car with the utmost respect but he also admits, "it's the first one out in spring and the last one put away in fall".
Murray is very comfortable around the Fury. He should be since most modern marriages rarely attain the 40-year anniversary mark because…car and owner bonds are often stronger than husband and wife bonds. That's not an issue for Murray because his family is intact and this Fury is part of the family. He measures relationships over decades in every facet of his life.
The demolition of the movie 62 Plymouth convertible only adds to the mystique of this rare, unique piece of Mopar history.
Murray is extremely happy to maintain his own personal history in his Fury.
Jerry Sutherland
For more car stories please follow this link-https://www.mystarcollectorcar.com/
Copyright 2011