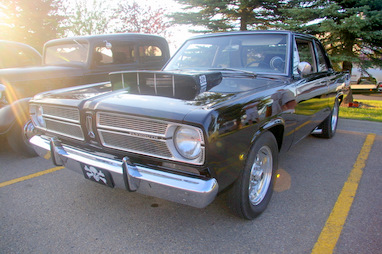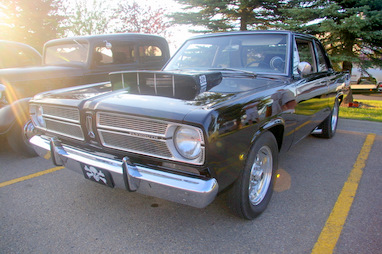 A 1967 Valiant two door sedan clearly lacked the wow factor of that year's frontrunners in the looks department from the Detroit stables.
The Valiants in this configuration served one main purpose: to provide a no-frills source of cheap and reliable transportation.
Practical people drove these cars for practical reasons, none of which included fast quarter mile times and enormous babe-magnet potential for its owners.
Two door sedan Valiants did their jobs and then got retired to a new life as an office cabinet after the crusher terminated them from their old transportation job. Just a day in the life of a non-glamorous member of the car world.
Clarence May saw something special in his 1967 Valiant when he bought it in 1994. He knew that not many of them were saved and he had an opportunity to own an increasingly rare living example of practical 60s transportation.He upgraded to a 340 engine and he is well aware that the power to weight ratio makes his car a wolf in sheep's clothing, including falsely advertised 273 badges.
His car required an enormous amount of body work because it came from an area where rust works triple overtime, but that never even slowed him down. In the end, he got what he wanted: a sleeper with a practical background so he can fit kids and kid carriers in the back seat.
But only when he's not racing his ride in shootouts.