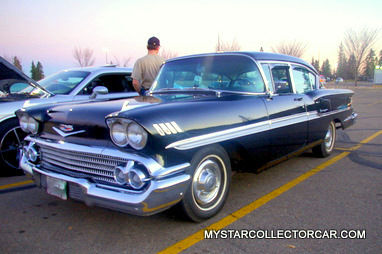 Mike is one of those young guys who happens to own a piece of automotive history.
Usually that kind of relationship can go any number of ways but stock-this is the exception.
When Mike looks at this incredibly nice, original 1958 Chevy 4-door sedan he sees an impeccable history, not a blank canvas for substantial 21st Century techno-mods.
Yup, this car is going to stay exactly like the way it was when its elderly original owner bought it brand new back in the Sputnik satellite era.
Unfortunately the old guy only had 2 more years on his odometer so after he died the car literally sat for another 23 years-his wife didn't drive.
She gave it to her son in her estate and although he did drive the car still didn't see much real world traffic. In 1980 Mike's dad bought the car from the son and it still had a mere 68,000 documented miles. The family may not have driven the old Biscayne but they sure knew how to store it-this car looks like it just came out of showroom inside and out.
Mike's dad ran the clock up another 10,000 miles in 15 years of ownership until he gave Mike the rare opportunity to own the car. Mike had literally grown up with this classic and in a tribute to his dad and the history of the '58 Chevy-it is going to stay bone stock.
The car has some nice options on it so in deference to that reality, Mike is going to add one modification over stock-period correct wide white tires.He's not even fighting an impulse to put air bags on it-that's not even on the table for this young purist Chevy guy…
Two generations later, this '58 Chevrolet Biscayne is clearly still in good hands.
Jerry Sutherland
For more happy  ending car stories please follow this link- https://www.mystarcollectorcar.com/2-features/stories.html