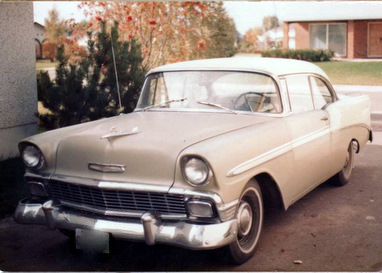 At MyStarCollectorCar.com we often compare the relationship between car and owner to a marriage-we joke about it in most cases but the parallels between marriage and old car ownership are eerily similar.
Dave Lychuk is a textbook example of this concept.
Dave is what the hobby is all about–an average guy who has sacrificed time and effort to maintain a 25-year relationship with a car from the early days of Elvis "the King" Presley's career. He's not a money guy by any stretch of the imagination as a cook but every spare dime he's managed to save has ended up in this 1956 Chevy on July 13, 1984.
Like most relationships, Dave's began with a quest for a suitable partner. Sometimes guys will look for the girl next door, sometimes they'll look for the girl at the local strip joint-either way there's a search involved. Cars are exactly the same-desire can involve turning over a page or 2 before making a major decision.
In Dave's case his dream car was very specific–a 1956 Chevrolet Bel Air. Almost every car guy/car gal relationship has a basis in personal history whether it was Uncle Zeke's courtin' car or a plastic model kit that was coveted, purchased and built back in the era when clean activities like model building were more of a pre-teen activity than scouting for porn on the internet.
Dave's sole reason was a huge family connection to the '55-56 Chevrolet. Dave's dad John's first  car in 1961 was a 1955 Chevrolet 210 4 door sedan (traded in for a brand new '65 Ford to celebrate the arrival of a brand new daughter) and his uncle had a '56 210 4 door sedan. Bernie, Dave's older brother bought the '56 in 1974 for the princely sum of 100 bucks. Adding to this huge family link to the bowtie symbol was a 2nd cousin's '56 Bel Air and a 1st cousin's 1957 150 4-door sedan.
Those are the positives behind the Lychuk family connection to the classic tri-five Chevy but in real life we eventually end up with less family and more memories. Dave's family was no exception when his dad died in 1983 at the age of 56. That number suddenly became more significant and that's when Dave decided that his Chevy had to be a 1956. That point was driven home even more when Dave's brother Bernie, the proud owner of the family '56 Chevy passed away suddenly from a heart attack. .
Dave was living in a remote town of 30,000 people when he spotted the car that would be part of his life for the next 25 years. This was early summer 1984, he was riding by on a pedal bike and the car was sitting in front of a house with a 'for sale' sign.
Dave phoned the owner after seeing the car, told him to keep it until noon and he would get a certified check for the full asking price-the world's easiest sales transaction. Rumor has it that tri-five Chevy sales are typically that simple if the car in question isn't a mouse nest infested, bullet-ridden, decaying, testament to the effects of massive rust on iron.
The car was painted in a "had to be mid-50s" two-tone green, it was powered by a tepid 'blue flame' straight six backed by a slushy 2 speed Powerglide automatic transmission.  But it was a classic 1956 Chevrolet Bel Air 2-door hardtop and Dave was in the game.
Stay tuned for next week's section-Part 2 of the 56 Chevy Dave saga.