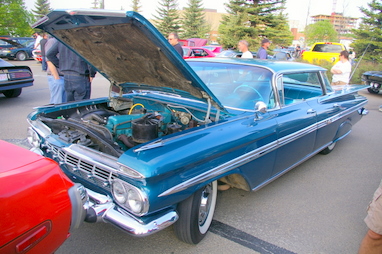 These are the car stories that we really seek out at MyStarCollectorCar.
Alex Inglis was destined to own this incredibly nice '59 Impala 4-door hardtop-thanks to a grandfather with a keen sense of classic old iron.
Originally purchased by the mythical "little old lady"-it came from Indiana not Pasadena and it came with a straight six, not a 426 "SUPER STOCK" Dodge.

That's real life-clearly the old gal didn't care about streetlight Grand Prixs but the comfortable ride of the big Chevy was important to her. She didn't put many miles on this late 50s boulevard cruiser so when Alex's grandfather bought it the Impala had a mere 23,000 original miles on it.
He didn't put many more miles on it so even after Alex bought the car from his favorite grandfather and added 2500 miles on it during a trip across Canada the old Impala still had only 28,000 miles on it.
The car has a television history after a barter exchange with a Tennessee Chevy dealer. In return for a TV commercial appearance with the then new 2005 Impala the dealership waived the cost of a new gas tank and exhaust system-the price of fame.
Alex has owned the car for a short period of time but he's already had his share of old car adventures including a speeding ticket from a Royal Canadian Mounted Police officer. Alex couldn't convert miles to kilometers so he ended up doing 80 MPH in a 50 MPH zone. The Mountie had a sense of humor so he knocked the fine down to the minimum. Alex's shocked expression told him that this was an honest mistake.
The last part of the adventure came when the wiring harness crumbled in the middle of a prairie 300 miles from nowhere. Alex coped like a veteran old car guy-he hot wired it and drove the rest of the 450 miles without lights. That's coping. Alex is keeping this car absolutely stock-the car still has the original GM tires so it's an easy decision even for a young guy.
The only concession to off-stock will be the addition of NOS electric rear antenna and Autopilot. That is a very minor custom (factory correct) addition to the car. No car person jury would convict Alex of brutally modifying this low mileage survivor because Grandpa taught him clear automotive boundaries.
You have to love that commitment to stock-especially with the value of these old Chevys as resto-mod projects.
Jerry Sutherland @mystarcollectorcar.com