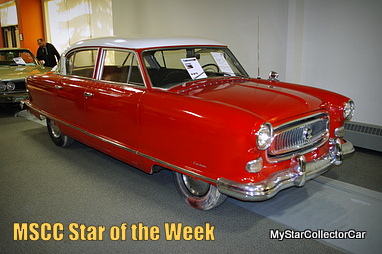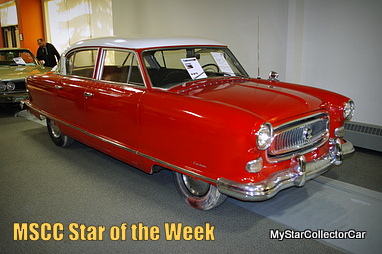 SEPTEMBER 21 MSCC STAR OF THE WEEK: 1954 NASH STATESMAN CUSTOM – STAND OUT AT A CAR SHOW
Car shows are based on similar templates because the most popular rides are also the most common at any given event.
You'll see rows of tri-five Chevys, 1st Gen Camaros, 1ST Gen Mustangs and E-body Mopars at every show because that's where the action is in the car hobby.
These cars draw spectators to a show but the cars that really capture the interest are the cars from the land of misfit toys. They are so unique they become an instant conversation piece because they defy trends.
This MSCC Star of the Week 1954 Nash Statesman Custom is a great example.
You could go to 400 car shows and you won't see one of these—this one was at a weekend auction and it generated more conversation than every Camaro, Cuda and Mustang in the building.
SEPTEMBER 20 MSCC STAR OF THE DAY: CLASSIC MERC – COOL IS FOREVER
There are some cars that will never be branded as cool.
There is no way that some kid in 2074 is going to look at a 2014 Prius and say, "man that is the coolest car I've ever seen".
It won't happen because a 60-year-old Prius will never be cool…not even in 300 years.
This MSCC Star of the Day Merc is another story because it's well over 60 years old and it's Tony Bennett cool.
Cool is forever – a Prius is another story.
MSCC SEPTEMBER 19 STAR OF THE DAY: '60 BUICK – GM BACKED OFF A BIT ON THIS ONE
1959 was a defining moment for Buick because they went all-in with one of the most distinctive front and back ends in the history of cars.
You could ID a '59 Buick by its headlights at midnight from a mile away because they were slightly askew — its taillight treatment was equally distinctive.
1960 was a turning point for Buick because they caved into conventional thinking and straightened out the headlights but they did keep the angled lines.
This MSCC Star of the Day 1960 Buick was in traffic this summer and that distinctive front end may have been watered down but it was still very distinctive.
MSCC SEPTEMBER 18 STAR OF THE DAY: '60 COMET – PARKED SINCE THE NIXON ADMINISTRATION
The Comet was Mercury's answer to the Ford Falcon because they didn't want to be left behind in the compact car wars.
There was a new interest in gas-efficient cars when the sixties debuted and the Comet was the perfect solution for buyers who wanted to stick with the Mercury brand.
They didn't sell like Falcons but the Comet lasted until 1977 so clearly brand loyalty was a factor.
This MSCC Star of the Day 1960 Comet has been parked in the same place since Richard Nixon was running the show.
The sixties live on.
MSCC SEPTEMBER 17 STAR OF THE DAY: '67 PONTIAC GTO: THIS IS ONE GOAT WORTH GETTING
There is no such thing as a bad-looking Pontiac GTO because these cars were a classic piece of iron from day one.
Historians may debate the actual birth date of the muscle car concept but the GTO was the first one that didn't require a Wall Street lawyer income to own.
GTOS (Goats) gave every 16-year-old gas pump jockey hope that he could own a car with some punch because they were the original affordable muscle car.
This MSCC Star of the Day '67 GTO was at a show back in June and if you didn't get this Goat then you don't have a pulse.
MSCC SEPTEMBER 16 STAR OF THE DAY: 1972 MONTE CARLO – PERSONAL LUXURY CAR FROM THE BOWTIE GUYS
Chevy came up with a unique concept with the 1st Generation Monte Carlo.
Basically they wanted to build a car the size of an A-body Chevelle with the luxury of a Caprice.
Monte Carlos were well-received in their initial run and sales peaked in '72 for these 1st Gen personal luxury cars so Chevy's instincts were good on this gamble with a new concept.
This MSCC Star of the Day '72 Monte Carlo was next to a lake in a resort area back in August where it definitely fit in with the upscale leisurely pace.
MSCC SEPTEMBER 15 STAR OF THE DAY: 1940 CHRYSLER WINDSOR CONVERTIBLE – DEFINITELY IN THE SAVE FILE
There's a cruel reality in the world of old iron and it distills down to this simple phrase: "You can't save them all".
Reality creeps in when the car in question is a 1985 Chevy 4-door sedan with no engine, no wheels, no doors and ultimately, no hope.
The question 'save or don't save' gets a little tougher with older cars because they are so much rarer than an '85 Chevy but thousands of 40s, 50s, 60s and 70s rides get baled every month thanks to high metal prices and hard-line green laws.
Hopefully this MSCC Star of the Day 1940 Chrysler Windsor has a brighter, 100% restored to factory specs future because rare doesn't begin to describe this rare Mopar.
For past MSCC Stars of the Day please follow this link.
CLICK HERE to Like us on Facebook
CLICK HERE to Follow us on Twitter
CLICK HERE to Follow us on Pinterest
Star of the Day page sponsored by Southside Dodge