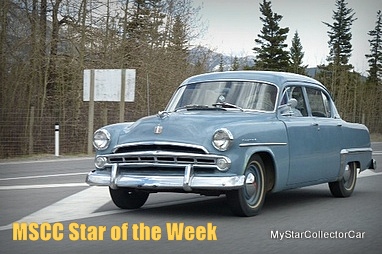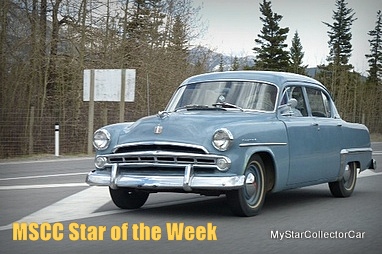 FEBRUARY 16 MSCC STAR OF THE WEEK: 1953 DODGE-THE WEEK ENDS THE WAY IT STARTS
The week began with a nondescript early 1950s Dodge sedan and it ends the same way with another old Dodge.
The key word is "nondescript" and the key question is, "are they really nondescript?"
Four-door sedans get a rough ride in the car hobby and the animosity grows when they are stripped-down four-door sedans with a 6-banger under the hood.
This MSCC Star of the Day '53 Dodge was on the road back in May 2011 and it begged the question.
How could you ever call cool old Dodge 4-door sedans from the early 50s nondescript?
FEBRUARY 15 MSCC STAR OF THE DAY: T PICKUP-OLD SCHOOL WHEN OLD SCHOOL MEANT SOMETHING
Old school is a term that's thrown around with reckless abandon in the car hobby. In most cases, this means a tribute to old school or a 2014 version of old school.
Rust and bare metal seems to be a big factor in old school tribute rides, but what was really going on decades ago in the world of custom rides.
This T pickup was at a show back in 1978 and it carried a lot of 60s tradition despite the disco era timetable.
There's no rust, manufactured or real, no bare metal, the roofline and windshield look pretty stock and that's a vintage Mopar hemi up front.
The MSCC Star of the Day stance is lower, but not crazy low and the fat tires on vintage mags are the only concession to the 1970s. This is real old school, 70s style.
MSCC FEBRUARY 14 STAR OF THE DAY: 1951 FORD-SHOEBOX STYLE IS COOLER THAN A SHOE
Shoebox Fords were a hit from the day they hit the showrooms.
They became instant candidates for customizing because they are already lower and wider than anything else in the price range.
The '49-'51 Fords had another advantage because they had a V-8 option that their competitors at Chevy and Plymouth didn't have back in '51.
This Star of the Day '51 Ford was at a show back in 2011 and it underlined how much cooler a shoebox could be than a shoe.
MSCC FEBRUARY 13 STAR OF THE DAY: 1970 OLDS 4-4-2 DR. OLDSMOBILE'S FINEST MOMENT
Doctor Oldsmobile was a classic ad campaign designed to focus on the muscle car side of the equation at Olds.
He wasn't a white hat guy-in fact, some people saw the Dr. Olds character as evil and creepy but they sold cars with this guy as a point man.
In reality, the cars sold themselves because W-30 4-4-2s were an unstoppable force on the streets back in the day.
This MSCC Star of the Day 1970 Olds 4-4-2 was at a show a few years ago and it really defined what the good doctor was working on back in the glory days of Detroit muscle.
MSCC FEBRUARY 12 STAR OF THE DAY: THE PERFECT MOMENT ON THE STREET…WITHOUT THE PARTY CRASHER
Car show cruises are a defining moment for car guys because they embody the end result of tremendous dedication, skill and patience.
None of this has anything to do with some guy in a jacked-up pickup.
Why this guy thought his truck was worthy of an appearance in a row of classic rides is a mystery for the ages but this photo bombing joker clearly thought it belonged in the picture.
That's why the MSCC Star of the Day is every other vehicle in the picture except his.
MSCC FEBRUARY 11 STAR OF THE DAY: '55 FORD CROWN VICTORIA-THE REGAL WAY TO TRAVEL IN THE 1950S
Ford Crown Victorias are more well known for their police careers in 2014 than their style but back in 1955 they were all about looks.
'55 and '56 Crown Vickies were an exercise in form over function because everything about these cars screamed high-end, not low end Ford.
They made your neighbor's '55 Ford Town Sedan look like a Cinderella before the makeover.
This MSCC Star of the Day '55 Crown Vic was wearing its regal pride at a 2012 car show.
FEBRUARY 10 STAR OF THE DAY: '50 DODGE CORONET THIS IS ALL YOU REALLY NEED
There are many ways to enter the world of old cars. You can dump a lot of cash into a finished project or you can dump a lot of cash, blood sweat and tears into an unfinished project.
A lot of car guys skew toward the obvious choices like Vettes, 57 Chevys, Camaros, Cudas, Chargers and Mustangs and they pay for the privilege.
Far fewer car guys aim for 1950 Dodge Coronet 4-door sedans and that's a shame because these cars are nearly gone.
The MSCC Star of the Day was at a September 2013 auction and this well-preserved survivor sold for three thousand bucks.
It's cool, it's rare and it's affordable-it's all you really need.
Star of the Day page sponsored by Southside Dodge.