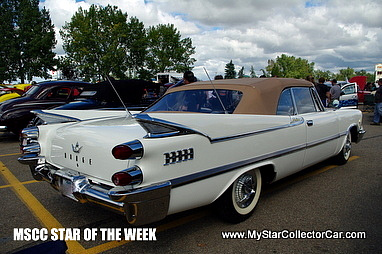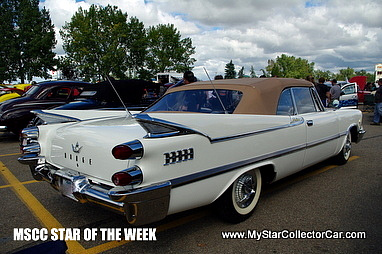 JULY 28 MSCC STAR OF THE WEEK '59 DODGE CUSTOM ROYAL CONVERTIBLE
The MSCC Star of the Week is usually a tough decision because there are so many viable candidates in the MSCC files.
This week wasn't difficult.
A 1959 Dodge Custom Royal D-500 convertible makes the choice easy because this car represents the pinnacle of 50s style.
'59 Custom Royals were statement cars because they were so cool they made Steve McQueen look like a nerd.
This Star of the Week was at a large Mopar show last summer and there was such a big crowd around it the owner could have charged admission all day.
JULY 27 MSCC STAR OF THE DAY: A '57 BEL AIR TWO DOOR HARDTOP-A HIGHLIGHT OF SUMMER VACATION
Most people think mountains, cabins, lakes and beaches for summer vacations but there's another highlight in July.
Car guys take old iron on vacations.
This '57 Bel Air is just one example of how much better summer vacations are when you spot vintage iron on a road trip.
The whole experience becomes a time warp back to an era when a '57 Chevy was common sight on a summer vacation.
This MSCC Star of the Day was on the road yesterday but it could have been 1957.
MSCC STAR OF THE DAY: 1962 CORVAIR 95 WINDOW VAN-FROM THE NEARLY EXTINCT FILES
The Corvair Van had a relatively short run from 1961-65 so sightings of these vehicles are fairly rare in 2013.
This 1962 Corvair 95 made a rare appearance back in June and it stood out in a large collection of unique vehicles.
Corvairs still have a cult following and that shouldn't be a surprise because these rear-engined vehicles were a big step for GM back in 1960.
They were built in an era when giant cars with giant engines placed at the front of the chassis. Detroit was a closed house full of conventional engineering but Corvairs blew the roof off the house.
That's the kind of thinking that makes this MSCC Star of the Day an easy pick.
JULY 25 STAR OF THE DAY: 1970 CHARGER RT- THE PERFECT FIVE MONTHS BEFORE CHRISTMAS GIFT IDEA
Today is exactly five months until Christmas despite the mid-summer feel to the air.
Retailers push the envelope on the Christmas season and ads start popping up the week after Labor Day so why not think about gift giving ideas in July?
This 1970 Charger RT would be high on the list for most real car guys and every real Mopar guy.
This MSCC Star of the Day black beauty was at a June car show and it definitely rocketed to the top of the Christmas wish list.
JULY 24 MSCC STAR OF THE DAY: 46 FORD BUSINESS COUPE-UNDERSTATED, CLASSIC AND VERY COOL.
The 1946 Ford Business Coupe has one of the most iconic rooflines in the history of hot rodding.
This car looked fast standing still and it wasn't long before hot rodders (and moonshiners) built these Fords into land rockets.
This '46 Ford coupe was a 2011 show and it was a little understated by hot rod standards.
It was a fairly sedate color, the mags and the stance took it away from factory stock and there was a Ford 289 under the hood.
These were mild changes but they were just cool enough to make this automotive icon an MSCC Star of the Day.
JULY 23 MSCC STAR OF THE DAY: '53 KAISER-FRAZER HENRY J-GOOD,IDEA WRONG ERA
Henry Kaiser had a great idea back n the late 40s.
He thought there was room for a smaller, inexpensive, efficient car in the North American market so he built the Henry J.
This was an economical little car but its entry-level price was within hailing distance of the bigger entry level Chevys.
The Henry J had better gad mileage but this was an era when gas prices weren't a formidable obstacle so the tie clearly went to the bare-bones Chevy.
Despite the Henry J's short run, car guys saw the magic in these cool little Kaisers so before long they started to pop up at the track (and sometimes on the street) with monster engines under the hood.
This MSCC Star of the '53 Henry J is still stock-for now.
It was at an auction back in June so the future isn't clear for the little econo-box but it's still great to see one of these with a factory look.
JULY 22 STAR OF THE DAY: 1938 OLDSMOBILE-A FACTORY VERSION SURVIVES INTACT
Late 30s cars and trucks have always been fertile ground for the hot rod guys because they bring built-in cool before they're dropped,chopped and channeled into something else.
Custom car guys, World War II and seven decades have taken their toll on cars like this '38 Olds.
They are rarely seen in stock form outside of a museum or private collection because the urge to retro-fit a '38 Olds is strong and the cost of a full-scale restoration can soar past the cost of rodding one.
That's why this one was such a pleasure to see back in 2010 at a show that featured a lot of stock iron.
This Star of the Day is a star because it survived intact-in the world of old iron that's a big feat.
For past Stars of the Day please follow this link.
Sponsored by Southside Dodge, Chrysler, Jeep & RV